Ashrams (Collections Spiritualites) (French Edition): Arnaud Desjardins
A film by Arnaud Desjardins released in 1961.
France 1959, Indian spirituality was known only within restricted circles. Arnaud Desjardins, director and Christian practitioner of yoga, travels to India by car. He intends to deepen his knowledge of yoga.
From ashram to ashram, he meets some of the greatest masters of the twentieth century: Swami Sivananda, Anandamayi Ma and Swami Ramdas. He returns with film and writes a book. These two works reveal to a whole generation that another world is possible.
Arnaud Desjardins (1925-2011) was a leading figure in introducing the broader French public to the philosophies and religious practices of Asia. His films devoted to Tibetan Buddhist leaders, Indian religious teachers, Japanese Zen philosophers, and Afghan Sufis were widely shown on French television in the 1960s and early 1970s, when such topics were largely unknown among non-specialists. His films were often accompanied by books and later radio interviews and talks.
Available from: https://www.amazon.com/Ashrams-Collections-Spiritualites-French-Desjardins/dp/222617821X
Click here for article excerpt from Enlightenment Magazine
Ginsberg's Karma
Ginsberg's Karma is an insightful and entertaining look at a transformative phase in the poet Allen Ginsberg's life — his first trip to India in 1962 would transform him into America's first hippie. While in India, he experimented with mind-altering drugs, spiritualism, and became a political activist. The documentary follows poet Bob Holman as he travels to India to piece together Ginsberg's life there, and interviews many of the writers who knew him during his trip. Ginsberg's adventures and what he experienced in India are the bridge between the Beat generation of the 1950s to the hippie counterculture of the 1960s in America. Funded by the National Endowment for the Humanities. Distributed by Virginia Quarterly Review.
Can only be viewed on YouTube – copy link for YouTube – https://youtu.be/Cl0iH7xUENo
https://www.rattapallax.com/ginsberg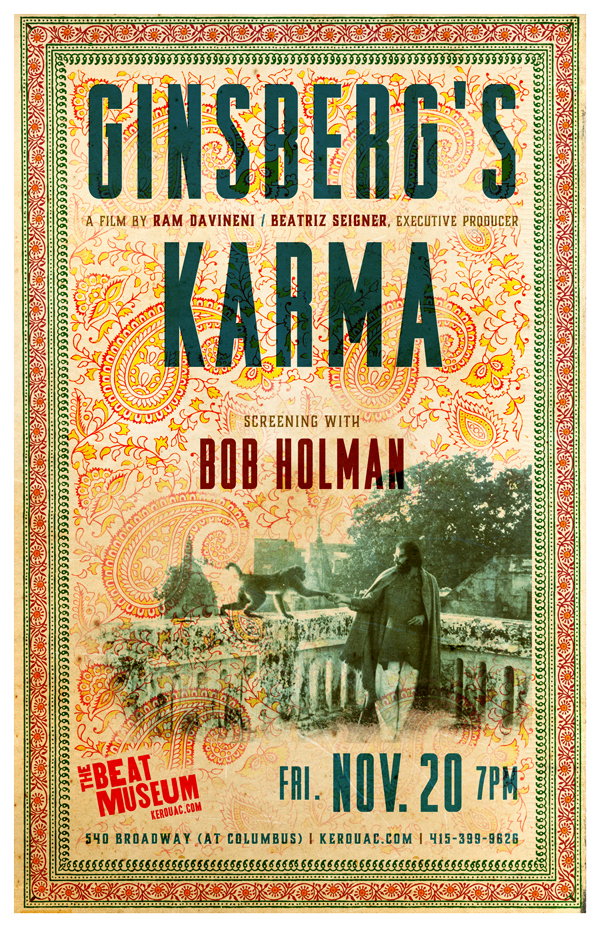 West meets East: BBC Documentary
West meets east when acclaimed actor Dominic West joins his childhood friend Sir James Mallinson on a pilgrimage to northern India and the biggest religious festival in the world, Kumbh Mela. Here, 100 million Hindus have gathered to wash away their sins in the holy rivers near Allahabad, on the banks of Sangam. Jim takes Dom to live with his own sect of holy men, or sadhus, and to witness his ordination as a mahant, a commander of his sect – the first time a westerner has received this honour in this ancient order of master yogis.
Ma & Me: The Anandamayi Ma Documentary
A long-awaited documentary on the life of beloved Indian saint Anandamayi Ma (1896 -1982), known as the Bliss Permeated Mother. The film includes precious archival footage of Ma Herself, moving reminiscences from devotees who actually knew Ma, and personal stories from others who never met Ma but are deeply affected by Her. Most filming was done in 2011, with the exception of archival interviews and footage. Jai Ma!
Rays of the Absolute (the Legacy of Sri Nisargadatta Maharaj)
In 2006, Stephen Wolinsky proposed the idea of traveling to India to film Nisargadatta Maharaj's translators and disciples to explore the legacy Maharaj left behind in his hometown, Mumbai.
In 2007 Zaya and Maurizio Benazzo together with Stephen Wolinsky, Philip Safarik and Fred Good traveled to India to shoot this film. The meeting with the old devotees was both illuminating as well as deeply touching.
Over the next seven and a half years, we all plugged away, going through mounds of material allowing this project to reach completion. The film you are about to see cannot demonstrate the amount of work that went into this project….but let's simply say that finally it is complete…
Nisargadatta did not leave an ashram; he did not leave any teachings nor successors. This movie is a homage to him; a look at his unintended legacy from people that have been inspired by him more then words can express.
This film contains interviews with four of the old Nisargadatta's translators: Ramesh Balsekar, S.K. Mullarpattan, Mohan and Jayashri Gaitonde,plus some old indian devotees and trustees, the publishers of "I Am That" and a visit to the old room in which Maharaj was holding his meetings, his Guru Samadhi Shrine and the place in which some of Maharaj ashes are preserved. In the footage are also presented exclusive photographs of Maharaji's cremation ceremony.
The Sadhu who came to Varanasi from Italy
Varanasi has seen countless mornings over the last few thousand years. And on one of those mornings, Ayush Dinker met a man who was probably one of the most enlightened souls he had ever met and interviewed during his career as a filmmaker. His name was Baba Shiva Das. In 1974, at the age of 22 Baba Shiva Das arrived in India, he felt an attraction – so much so that he decided to spend the remainder of his life in this city. He passed away in May 2020.
A Spiritual Trip to Varanasi, a film by Marco Pino
A short film based on Marco's trip to Varanasi beginning of 2020, before the quarantine. You'll experience the beautiful Ganga Aarti, you'll learn about the life of Indian yogis such as Lahiri Mahasaya, and more. The entire video was shot and edited on an iPhone 11 using LumaFusion. Shot at 4K resolution.
The video includes subtitles in English, Spanish and French. You just need to activate them on your YouTube video player by tapping/clicking on the "cc" and then you can choose your preferred language.
CONTENT 00:17 Intro 00:31 Varanasi small temple puja 01:15 Mantra recitation by the Ganges 01:44 Bathing ghats in Varanasi 02:01 Burning ghats in Varanasi 02:21 Evening Ganga Aarti in Varanasi 03:30 Swami Vishnudevananda talks about the Ganges 05:30 Stories of Indian yogis who lived in Varanasi 07:44 Lahiri Mahasaya Samadhi Mandir Temple in Varanasi 09:03 Visiting Sarnath, Buddhist pilgrimage site near Varanasi 10:11 Outro
Sri Aurobindo Ashram in 1968
From a French documentary, with English subtitles, showing historic footage of the ashram.
Les itinéraires d'Ella Maillart (1973)
In this French-filmed interview at her Swiss Alps chalet in 1973, Ella talks about her time with Ramana Maharshi.
Read about this interview in part 2 of (Ella Maillart of Switzerland Parts 1,2 and 3) here;
https://archive.arunachala.org/newsletters/2017/mar-apr#article.2
https://archive.arunachala.org/newsletters/2017/may-jun
https://archive.arunachala.org/newsletters/2017/jul-aug#article.2
Auroville: The Indian Paradise of Human Unity (2010)
Auroville (2010): Mirra Alfassa or 'The Mother' founded the 'City of Dawn' in Viluppuram in 1968. Her work within the experimental township has promoted a harmonious lifestyle to all who live there.
Meeting the Beatles in India Trailer #1 (2020) | Movieclips Indie
'Meeting the Beatles in India' A Fellow Seeker's Documentary Blends Fab Four Lore and Gentle TM Proselytism.
Ashrams of India: Volume 2, Chapter 21 Uttarakhand.
Rishikesh, where the Beatles learnt to meditate
The Ganges with Sue Perkins: Episode 1 – BBC One.
Sri Ramana Maharshi – JNANI The Silent Sage of Arunachala
The only way out is within.
JNANI is a feature-length documentary focussing on the life and teachings of the great Indian sage, Bhagavan Sri Ramana Maharshi. The film has been widely acclaimed as a masterpiece of spiritual filmmaking.
More info: https://www.stillnessspeaks.com/jnani-silent-sage-arunachala-ramana-maharshi
Ashrams of India: Volume 2, Chapter 19 Tamil Nadu.
Arunachala Shiva – Teachings of Ramana Maharshi
Arunachala Shiva is a profound homage to the spiritual greatness of Bhagavan Sri Ramana Maharshi who is one of India's most well-known Sages. The Film expresses the important aspects of Sri Ramana's life and teachings. It presents the highlights of the thought provoking commentaries from David Godman, James Swartz and John David on Sri Ramana's most important written works. Best Film Material of Sri Ramana, Ramana Ashram and Arunachala.
Blueprints for Awakening. Wisdom Of The Masters
www.blueprintsforawakening.org Interviews with 16 Indian Masters about the teachings of Ramana Maharshi. This unique film presents fresh, modern dialogues about ancient truth. Interviewer Premananda's familiarity with this subject, combined with his many years of experience guiding spiritual seekers, create fascinating, lively interactions with each of the Masters. The questions relate to major topics which we meet on the spiritual journey, such as Enlightenment, Self-enquiry, the Nature of the Mind and the World, Guru and Devotion.
One Track Heart: The Story of Krishna Das
In 1970, Jeffrey Kagel walked away from the American dream of rock 'n' roll stardom, turning down the chance to record as lead singer for the band soon-to-be the Blue Oyster Cult. Instead, he sold all his possessions and moved from the suburbs of Long Island to the foothills of the Himalayas in search of happiness and a little-known saint named Neem Karoli Baba. One Track Heart: The Story of Krishna Das follows his journey to India and back, witnessing his struggles with depression and drug abuse, to his eventual emergence as Krishna Das, world-renowned spiritual teacher and Grammy nominated chant master.
Featuring interviews with Ram Dass (LSD Icon Richard Alpert), Rick Rubin (Grammy Award winning Producer), Sharon Salzberg (NY Times bestselling author), Daniel Goleman (two-time Pulitzer Prize nominee), and many others. Musical score by J Mascis (Dinosaur Jr) & Devadas. https://www.onetrackheartmovie.com/
Breath of the Gods
A Jan Schmidt-Garre film journeying to the origins of modern yoga. Modern yoga, that is, the form practiced daily by tens of millions of people around the world, goes back directly to Lord Shiva according to Indian tradition. At the same time, however, modern yoga originated in the early 20th century, a creation of Indian savant T. Krishnamacharya (1888-1989). That story is far less known and is what this film is all about.
Krishnamacharya's life and teachings are seen through the eyes of the director Jan Schmidt-Garre on his search for authentic yoga. His journey leads him from the legendary students and relatives of Krishnamacharya's to the source of modern yoga, at the palace of the Maharaja of Mysore. From Pattabhi Jois Jan learns the "Sun salutation," from Iyengar the "King of Asanas," the headstand, and finally Sribhashyam reveals to him his father's secret "Life Saving Yoga Session."
A feature-length documentary including rare historical footage as well as lavish reenactments.
http://www.breathofthegods.com
First Tribute to T Krishnamacharya
Película "100 Años de Gratitud"
Film made in commemoration of Sri Tirumalai Krishnamacharya's 100th birthday. Research and Commentary by Sarah Dars. This movie is a must see for every yoga practitioner. We hope you enjoy it as much or more than we do.
Awake: The Life of Yogananda
A documentary about the Indian yogi and guru Paramahansa Yogananda who came to the West in the 1920s to teach yoga and meditation.
The film includes interviews with disciples of Paramahansa Yogananda, as well as with Ravi Shankar, George Harrison, Krishna Das, and others. It was filmed over three years with the participation of thirty countries, including on pilgrimages in India, at Harvard Divinity School and its physics labs, the Centre for Science and Spirituality at the University of Pennsylvania, and the Chopra Centre in Carlsbad, California.
http://www.awaketheyoganandamovie.com
Ashrams of India: Volume 2.
Yogoda Satsanga Society Paramahansa Yogananda
Film shot by Richard Wright on tour in India with Paramahansa Yogananda during 1935 and 1936.
Puri – with the Kriya Yoga Ashram founded by Sri Yukteswar, India 1977
Jesus In Kashmir
A Documentary by the Indian Government.
Ashrams of India: Volume 1, Chapter 8 Jammu and Kashmir.
Out of India – Life & Teachings of Doubting Thomas – Documentary
This 2000 PBS documentary by William Dalrymple is of the life and teachings of the apostle Thomas, who spent over 30 years in India and established seven churches in Southern India (see Ashrams of India: Volume 1, Chaper 11 Kerala).
Thomas the Apostle also called Didymus ("twin") was one of the Twelve Apostles of Jesus according to the New Testament. Thomas is commonly known as "Doubting Thomas" because he doubted Jesus' resurrection when first told of it (as related in the Gospel of John alone); later, he confessed his faith, "My Lord and my God," on seeing Jesus' crucifixion wounds.
According to traditional accounts of the Saint Thomas Christians of modern-day Kerala in India, Thomas is believed to have travelled outside the Roman Empire to preach the Gospel, travelling as far as the Malabar Coast which is in modern-day State of Kerala, India. According to their tradition, Thomas reached Muziris (modern-day North Paravur and Kodungalloor in Kerala) in 52 AD. In 1258, some of his relics were brought to Ortona, in Abruzzo, Italy, where they have been held in the Church of Saint Thomas the Apostle. He is often regarded as the patron saint of India, and the name Thomas remains quite popular among Saint Thomas Christians of India.
https://www.theguardian.com/books/2000/apr/15/books.guardianreview
Lives of Jesus – Part 1 – A Mark Tully Documentary
Four-part series following Mark Tully as he explores and reassesses the life of Jesus. Tully explores in depth the diversity of portraits of Jesus which face us at the approach of the second Christian millennium. He travels to key sites in Israel, Rome and India, amongst others, and investigates the secret of Jesus's abiding power to provoke and lead. Directed by Christopher Salt, fl. 1994-2002; produced by British Broadcasting Corporation, in Lives of Jesus (London, England: BBC Worldwide, 1994).
Sir William Mark Tully, KBE (born 24 October 1935) is the former Bureau Chief of BBC, New Delhi, a position he held for 20 years. He worked with the BBC for a total of 30 years before resigning in July 1994. The recipient of several awards, Tully has authored nine books. He is a member of the Oriental Club. Tully was born in Tollygunge in India. His father was a British businessman who was a partner in one of the leading managing agencies of the British Raj.
Les Chemins Du Possible – S01E03 – Indes : Les Gardiens De L'Eau
"Les chemins du possible" est une série documentaire dédiée à la présentation de différentes initiatives de développement durable à travers la planète. Priscilla Telmon, célèbre photographe et écrivain, prend une nouvelle fois la route pour emmener le téléspectateur sur tous les continents, partout où des hommes ont fait preuve d'ingéniosité pour mieux vivre tout en respectant leur environnement.
Qu'il s'agisse des infrastructures ultra-modernes d'une mégapole comme Tokyo ou du nouveau tourisme éthique développé au Bhoutan, Priscilla Telmon dresse le portrait de différents modes de vie en plein renouveau. Ses voyages l'entraînent également au Mali ou en Inde, où apparaissent de nouveaux modèles économiques fondés sur un commerce réellement équitable entre les peuples.
Grand reporter, photographe, écrivain-voyageur, membre de la Société des explorateurs français, Priscilla Telmon se consacre depuis 1999 à des expéditions de redécouverte qui mêlent l'histoire et l'aventure, dans l'esprit des explorateurs passés. Elle parcourt le globe à la rencontre de ceux qui oeuvrent pour l'environnement, le développement durable et proposent des alternatives concrètes.
Avec, comme toujours, l'écologie en ligne de mire, Priscilla Telmon centre son voyage sur une denrée en voie de disparition en Inde : l'eau.
Une traversée de l'Inde du Nord, du Gujarat jusqu'au golfe de Bengale, à la rencontre des hommes et des femmes qui se battent en faveur d'une meilleure utilisation de l'eau.
Priscilla arrive à Suthri, dans le Gujarat. Pendant quelques jours, elle apprend le fonctionnement du système de la récolte de la rosée dans cette région aride. Alignées sur les collines, les bâches qui condensent l'humidité dans l'air font désormais partie du paysage.
En route vers le Rajasthan : dans la province d'Alwar, elle rencontre Rajendra Singh qui lui parle de son projet de construction de réservoirs pour lutter contre la désertification de la région.
Haut lieu sur le cours du Gange, la ville de Varanassi accueille des pèlerins venus se baigner dans les eaux saintes mais très polluées du Gange. Priscilla rencontre Veer Bhadra Mishra, leader spirituel, grand prêtre de la ville ,mais aussi acteur principal pour le traitement des eaux usées qui tous les jours sont jetées au Gange.
A Bhubaneswar, Le Dr jena dirige un centre de traitement des eaux usées à travers la pisciculture. Avec ce projet, il contribue à désengorger les égoûts de sa ville et à créer des sources de revenus à quelques familles. Ce voyage se termine naturellement au bord de la mer, de la goutte d'eau sur les collines de Suthri à la mer du Golfe de Bengale.
Lonely Planet – South India 1996
The Yoga of Life – Documentary
'The Yoga Of Life' unravels ever evolving perspectives of several yoga students on a yoga teacher training held sweetly in the vibrant soul of South India, while being guided by mentor, Shelley Tomczyk.
God lives in India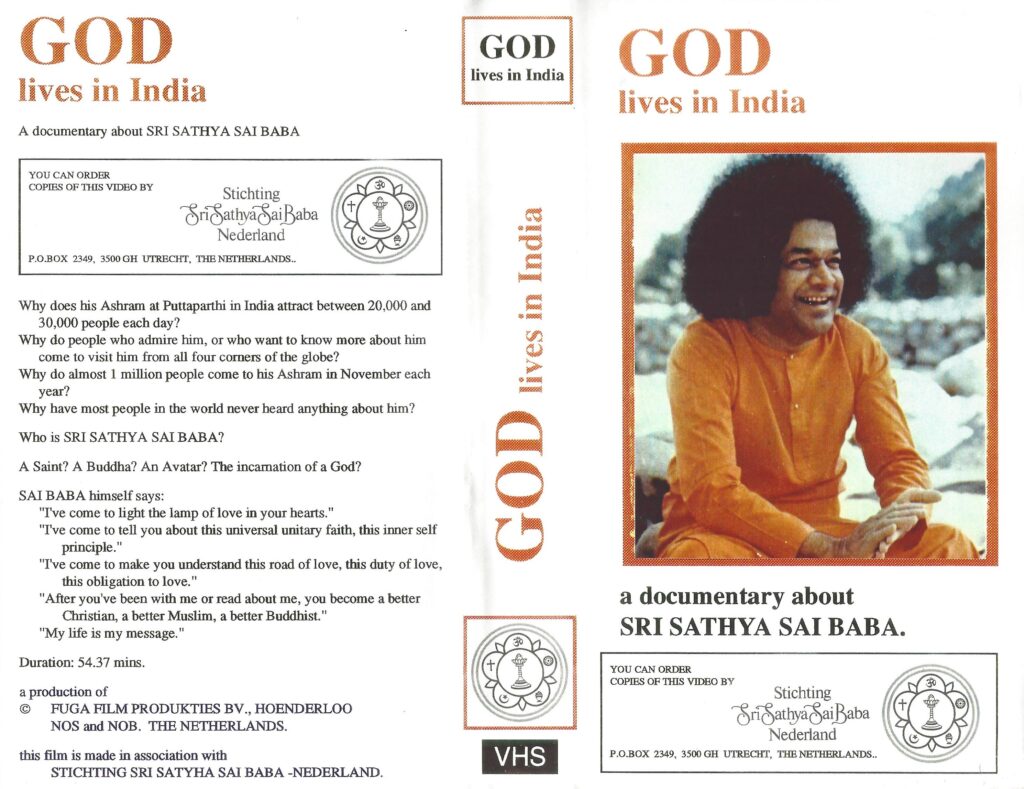 https://www.youtube.com/watch?v=CFZoK7dKqQo&t=1355s
Who is Sai Baba ?
A 1990 documentary by Swiss film maker Victor J. Tognola.
Sathya Sai Baba His Life is His Message
Taken from a film by Richard Bock. This film gives a history of Sathya Sai Baba and explains his teachings, and talks about materialisations.
We see his ashrams Brindavan (Whitefield, Bangalore) and Prasanthi Nilayam (Puttaparthi), as well as the vibhuthi abhishekam, the pouring of vibhuthi onto Shirdi Sai Baba's statue, the amrita miracle at the Sri Ranga Patna Orphanage and excerpts of his famous 1968 birthday discourse.
This, the 5th film Bock made about Sathya Sai Baba, was filmed during a period from the late 1960s to the early 1970s.
Swami Chidananda: A Yogi from Rishikesh
A 1968 documentary made by Yavar Abbas.
In this film, the Director depicts a day in the life of Swami Chidananda's life in the ashram, and the time surrounding his departure on a world tour.
Cave in the Snow: A Western Woman's Quest for Enlightenment: The story of Tenzin Palmo
The story of Tenzin Palmo, an Englishwoman, the daughter of a fishmonger from London's East End, who spent 12 years alone in a cave 13,000 feet up in the Himalayas and became a world-renowned spiritual leader and champion of the right of women to achieve spiritual enlightenment. At the age of 18, she read a book on Buddhism and realized that this might fill a long-sensed void in her life. In 1963, at the age of 20, she went to India, where she eventually entered a monastery. Being the only woman amongst hundreds of monks, she began her battle against the prejudice that has excluded women from enlightenment for thousands of years. In 1976 she secluded herself in a remote cave 13,000 feet up in the Himalayas, where she stayed for 12 years between the ages of 33 and 45. In this mountain hideaway she faced unimaginable cold, wild animals, floods, snow and rockfalls, grew her own food and slept in a traditional wooden meditation box, three feet square – she never lay down. In 1988 she emerged from the cave with a determination to build a convent in northern India to revive the Togdenma lineage, a long-forgotten female spiritual elite.
The Triumph, a Medjugorje documentary – Full Movie
Follow a young man's journey to Medjugorje, where the Virgin Mary has reportedly been appearing since 1981, giving messages and prophecies about the world's future. THE TRIUMPH is now being released online in hopes that the entire world can experience the miracles of Medjugorje firsthand. Please share, and follow the story in APPARITION HILL, the next film by director Sean Bloomfield.