Leonard Cohen talks about the Bhagavad Gita
---
Le yoga, une discipline millénaire
https://www.ina.fr/contenus-editoriaux/articles-editoriaux/le-yoga-une-discipline-millenaire/
---
A short interview with Baba Muktananda in Sydney, Australia, 1974
---
1981 interview with Blanca Schlamm (Atmananda)
Blanca Schlamm (Atmananda) (1904-1985) This photograph was taken while Atmananda was still known as "Miss Blanca" by her students and friends at Krishnamurti's Rajghat School.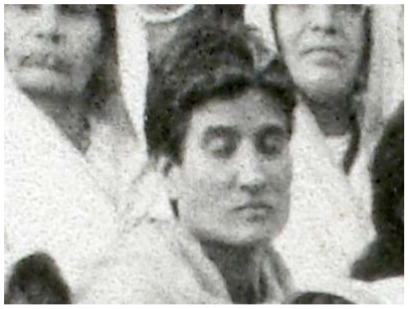 Blanca first travelled to India in 1925, to attend the 50th anniversary celebrations of The Theosophical Society, at its headquarters in Adyar, Madras. She returned to India in 1935, and remained there for the rest of her life. In 1942, she went to Tiruvannamalai, to see Ramana Maharshi, hoping that he would be able to give her the peace of mind she had been unable to obtain from JK's teachings. She stayed for about six weeks.
After an interval of over 12 years, her diary recommences with an entry 'Ramanashram, 17th May 1942.' Whilst there, Blanca felt peace and the power of the higher Self; talked to other seekers; visited the mountain Arunachala and had various visions and dreams. Throughout the rest of her diaries Blanca makes reference to Ramana with deep reverence and affection, but her destiny was to become the disciple of another guru, Anandamayi Ma.
---
1981 interview, Brahmachari Gadadhar, living in the Anandamayi Ma Ashram, Kankhal
As a Westerner brought up in a Western culture, you are now living in an orthodox Hindu Ashram (Anandamayi Ma Ashram) although you are not a Hindu. Did you find it difficult to adapt to this way of life?
I find much in Hindu philosophy and teachings according to my own nature – even the ideals within Hindu society. I could be called a Hindu, although I am not accepted as such by orthodox Hindus. I hold to my relationship to Mother so it doesn't bother me what others say – I am not this or that. I am here only to be with Mother and practice sadhana. It is difficult sometimes. My life in this ashram by Western standards may not be all that great. By Indian standards it's quite nice. This small house inside the ashram has everything I need, and it's kind of the Indians to allow me to live here.
But one should understand that one need not live in abject poverty to meditate. I don't live like the average Hindu. Anyway, I don't belong to any one particular culture; my life is in fact a combination of both Western and Hindu cultures. And I feel at home in both places.
Brahmachari Gadadhar (Gary Yale Empie 1947 – 1982) first met Anandamayi in 1971, and came to stay at her ashram from 1973 onwards. He passed away suddenly in Delhi in early 1982, less than a year after this interview in Kankhal in May 1981.
http://www.newlives.freeola.net/interviews/3_gadadhar.php
From Ma Anandamayee Amrit Varta Vol 6 No 3 July 2002, A YOUNG MAN'S JOURNEY By Elizabeth Sims Moore.
Why would a Christian boy become a Hindu Monk? This is something that parents and friends of Gary Yale Empie have pondered for a long time.
Many years ago, Gary began a pilgrimage. A pilgrimage that would take him form Northwestern University in Evanstan, Illinois to a Buddhist Monastery in Northern India, and finally to Hardwar, India, where he became a devout follower of Sri Anandamayi Ma and the Hindu Religion.
Gary Empie was born on December 19th, 1947 in Oklahoma City, Oklahoma, to Kathryn Elizabeth Empie and Robert Yale Empie. His father, a banker, and now State Banking Commissioner, is a native of the State and prominent. His mother, a former airline stewardess, is active in philanthropic organisations and serves on the Board of Regents of the University of Science and Arts of Oklahoma.
Gary grew up in the First Christian Church of the City. His father was an elder and Gary became a junior deacon when he was in high school. Religion was not just a passing interest to him. He showed a great love for the church from the beginning and was full of questions.
In Sunday School, when other five-year olds were colouring trees and clouds, Gary sat quietly by his teacher asking serious questions, Who is God? Where does he live? How do we know that God is everywhere?
This curiosity increased, and when he was a little older, he began to put his words on paper in realms of poetry and prose. Why do people love? Why do people hate? Hadn't the Bible said, "love thy neighbour as thyself ?" In a tablet, he wrote one day a short poem.
"One seed can start a garden
One drop can start a sea
One doubt can start a hating,
One dream can set one free."
Gary was a good student in high school, and he also entered into the societies and activities around him. Still, he was full of questions. Who am I? What am I here for? Am I responsible for my actions? The Christian belief that Jesus by dying on the cross had taken on the sins of the world did not satisfy. In time, he came to a remarkable conclusion on his own. To be sure of God, to know total awareness of God, one must look within oneself. And if he were to find God this way, it would be a pilgrimage of a lifetime.
His senior year in high school, he told his parents he wanted Eastern Religions and Philosophies.
Dr Edmund Perry, Dean of the Department, had been his advisor when he enrolled, so Gary consulted him. "I want to know about the Oriental Religions," he told him. "Buddhism, Hinduism, maybe Taoism."
"Oh, that will come the second semester," he said. "We'll study them in depth the second semester."
When the second semester came, Dr Perry began his lectures on Buddhism, and Gary's interest soared. Here was a religion that taught people to seek on their own, to find their beliefs through meditation.
In the Christian Religion, people had told him about God and what he was supposed to believe. This was a new concept, one that he could explore.
He finished his freshman year and went home for the summer. He was torn between returning to Northwestern or transferring to Oklahoma State University at Stillwater, where his girl friend, Judy, went to school.
Toward the end of the summer he decided to transfer. The courses in Religion and philosophy should be comparable, if not the same as they were under Dr Perry.
He matriculated and began his sophomore year, but soon he became dissatisfied. The Oriental Philosophies at Oklahoma State University were not what he thought they would be. He made up his mind to return to Northwestern for his junior year.
Gary had made a friend of Dr Perry the first year, and when he reappeared in class, Dr Perry was delighted. At a private conference he told him that he wanted to go to India and study in a monastic setting, that he was deeply interested in Oriental Thought, especially meditation.
It was arranged for Gary to make a pilgrimage into the Himalayas with a group of Tibetan Buddhist Monks in the summer. When the trek was over, he entered a Buddhist school and studied with Kalu Rinpoche, one of the great spiritual leaders in India.
It is not known why Gary did not embrace Buddhism, Probably the reason was it conflicted with his Christian beliefs.
In late summer Gary came home. He told his parents his experiences had left him puzzled, but he was deeply interested in meditation. "I've heard about a meditation retreat in California," he said. "I'd like to go out there and find it."
"What about college?" his father asked, trying to hide his disappointment.
"May be the second semester," Gary answered. "All right?" His father nodded.
So Gary left for California that summer. He was accompanied by two young friends. They wandered through the state and finally found the retreat in northern California in a grove of trees. After getting permission to stay, Gary went into the forest, located a grassy area, drew a circle (twelve feet in diameter) and sat down in the lotus position. Accompanied only by his Bible and a light coverlet, he remained there for forty days and nights while his two young friends took care of his bodily needs. During that time, he read the Bible through, meditated and prayed. Fortunately, the weather remained temperate.
While he was at the retreat, he learned about a Hindu Swami (teacher) who was planning to open an ashram (house of retreat) in Oklahoma City. The swami was an American who had studied in Hardwar, India, for six months, and had met the Hindu Holy Mother, Sri Anandamayi Ma. The Oklahoma Ashram was to be named in her honour.
Gary returned home in the fall, and he decided to enter the Ashram in Oklahoma City. Apparently, he had not given up his belief in Christianity, because he still read his Bible, but he seemed to think that meditation would lead him to what he sought.
He was in the ashram for three years. Not always happy years. For two of those years he was not allowed to see his parents, and all his personal belongings and money were taken from him.
However, he had one experience in the ashram that changed the direction of his life. Since it was named for the Holy Mother, a large portrait of Sri Anandamayi Ma hung above the mantel.
As Gary looked at the picture each day, he came to a decision. He would go to India and study with the great Hindu leader.
Shortly after, he left the ashram and moved back home. "I've always had understanding parents," he told a local editor. "They will never stand in my way. They would rather have me here, but the choice is mine."
The choice was his, a few weeks later he left for India. He entered the ashram at Hardwar where Sri Anandamayi Ma was. Later, he told someone that some of the happiest days of his life had been those he had spent with the Holy Mother.
During that time, he let his blond hair grow long and grew a beard. He adopted the robes and sandals of the Holy Men, and when Sri Anandamayi Ma went to her other ashrams, as far away as New Delhi and Calcutta, Gary went with her. He collected materials and prepared a documentation of Ma's life. Apparently, she began to look on him like a son, for she allowed him to build his own Kutir (small house) on the grounds near hers in Hardwar.
He spent his days in prayer and meditation. When he was through, he would visit the market place where he had many friends. Usually he cooked his own food, preferring the bland tastes of American dishes to the highly spiced Indian fare. Most of his free time was spent in refining the tapes, negatives, movies and cassettes to tell of the life and mission of Ma.
He liked to quote his Indian teacher whom he had gone so far to study with, and especially from her book, Matri Vani.
"By seeking, one will find; the Self is within one's own grasp. God is one's own Self, the breath of one's breath; the life of one's life, the Atma."
During his time in India, Gary became a Yogi which is a follower of Yoga. Yoga is the Hindu system of meditation and self-control involving certain patterns of breathing and exercises.
Some of the most beautiful poetry that he left us was written about his experiences as a Yogi. At the funeral service in Oklahoma City, Reverend Don Alexander quoted these few verses from Gary's last message in prose:
"Be Thou A Yogi"
"Father, the Yogi leaves the world and does Meditation. What good does he do for the world? How is he fulfilling the purpose of creation? How can this be called religion? You have asked a good question, my Son Which every Yogi must answer."
"That love which is so deep That deepens is forgotten, Which people seek, because they know it is theirs. Which makes one cry, and gives joy, In which one cannot say "I" anymore Because he has merged in his beloved- That love is the love of the Yogi. Dear Son, Be thou a Yogi."
"That courage with which all action is done, Which needs nothing, which honours the self in all, Is unaffected and is, with purity, the way to strength. That is the courage of the Yogi. Brave Son, be thou a Yogi."
"That humility which the world mistakenly seeks in degradation, Which comes from oneness with all, Which has self respect and dignity- That is the humility of the Yogi. Precious son, be thou a Yogi."
"That giving of oneself, for which giving is done, Which is an expression of what belongs to all, in which even giving is given, for which all the world begs- That is the gift of the Yogi. My Son, be thou a Yogi."
Gary did not live out his life. He died in New Delhi January, 26th, 1982 of infectious hepatitis. He had been on a pilgrimage to another ashram with Sri Anandamayi Ma when he became ill. It had been his wish that at his death he was to be cremated and the ashes put in the Ganges river, so his parents respected that wish.
His remains were flown home for a Christian funeral service at the church of his childhood in Oklahoma City, then he was cremated.
The following March, Katie and Bob returned to Hardwar, India. The Holy Mother met them at the ashram and blessed the remains, something she had not been known to do for any other follower. Sri Anandamayi Ma placed a garland of flowers on the necks of Gary's parents and one on the small coffin, then a priest of Ma's choosing led the procession to the river. At the edge of the Ganges, the priest gave the ritual of burial, then the ashes were placed on the waters.
Hundreds of people had filled the ashram grounds and gone to the river. They were anxious to tell Gary's parents, in their simple way, what his ministry had meant to them.
The Holy Mother's last words to them were – "Gary will not be back again. He has attained oneness with God."
It would not be the whole story if we said that Gary Empie worked, prayed and meditated and finally found the peace for which he searched. His significant work in India, other than these things, was collecting, editing and refilming the works of Sri Anandamayi Ma, the Holy Mother that he so affectionately called as 'Ma.'
She is revered throughout India, but few in the Western world have read her writings. Now they will be available, through Gary's efforts at the Centre for the Study of World Religions at Harvard University, Cambridge, Massachusetts, where they have just been accepted.
Gary did not live to see Sri Anandamayi Ma's thoughts and ministry studied in America, but they will become known in the study of comparative religions at the Divinity School at Harvard. Gary will be remembered too, for his untiring contribution. His life was a symbol of his belief in the Universality of God, and the oneness of all people in God's Spirit.
Harvard University's Andover-Harvard Theological Library, Cambridge, Massachusetts, has received a unique archive of tapes, slides, and periodicals relating to the influential Indian religious teacher Sri Anandamayi Ma (1896-1982). The archives were compiled by Gary Empie, a young American who lived in one of Sri Ma's ashrams for eight years, until his death in 1981. Sri Anandamayi Ma taught by answering questions put to her, and Empie gathered 139 cassette tapes of these questions and answers, as well as films, slides, and photographs of Ma, and magazines and books relating to her life and work. The archives were presented to Harvard by Mr. and Mrs. Robert Empie and Markell Brooks.
---
Shiv Mathur interviews Swami Shankardas, disciple of Tat Wale Baba
---
BKS Iyengar – last unreleased interview
---
Souljourns – Sri M – A Stunning first-person account of a modern mystic
A 2012 Documentary by Ted Henry and Jody Cleary of the first-person account of Sri M, guru to many and author of what's said to be among India's fastest selling book on spirituality Apprenticed to a Himalayan Master: A Yogi's Autobiography.
Sri M lives in the ashram he created in Madanapalle, India. Born into a Muslim family as, Mumtaz Ali Khan, Sri M is considered to be one of India's leading contemporary mystics. As a young man, Sri M lived for several years high in the Himalayan mountains with his teacher, Sri Maheshwarnath Babaji who in turn was the disciple of Mahavatar Babaji.
In this interview, Sri M tells of meeting in person, Shirdi Sai Baba, Mahavatar Babaji, serpent spiritual beings from another galaxy and many others, comments that stretch one's credulity, and faith, just as Sri M prefers.
Ashrams of India: Volume 1, Chapter 1 Andhra Pradesh.
Souljourns – Sri M – 2018 Interview Part 1, Serpent Spiritual Beings from another planet and others. Part 2 Interview and Lesson, The importance of opening the heart.
---
Souljourns – Bill Aitken – Sai Baba
A Documentary by Ted Henry and Jody Cleary.
Author and travel writer Bill Aitken (Footloose in the Himalaya) spent seven ascetic years in the Mirtola Ashram. There, he met and fell in love with The Maharani Prithwi Bir Kaur of Jind. The Mirtola teaching was, "Love is the guide" and this love brought an end to his restlessness and wanderlust. Aitkens found a home in Oakless, her private residence in Mussoorie's Bala Hissar neighbourhood. Their guru Sri Krishna Prem told Aitken that Prithwi could teach him more than he could. The Maharani was also a devotee of Sri Sathya Sai Baba. In 1982, Sai Baba spent two nights as her guest in Oakless. The Maharani eventually became Aitken's guru. The most extraordinary thing about their 38-year relationship was how quickly the time passed. He was able to take her to the 'off the beaten track' places where royals were unaccustomed, they trekked to all the holy sites of Uttarakhand twice and on separate trips twice to Sri Hemkund Sahib and to the Valley of the Flowers. The Maharani died in 2010.
---
The Maharani Prithwi Bir Kaur of Jind (The Phulkian Dynasty)
This exceptional interview is with a woman, a Queen in reality, who has been a follower of Sathya Sai Baba since the 1960s. Her life has carried her through enormous ups and downs, but through it all, the Spirit and Love of Baba was at her side. This interview was recorded in Brindavan, Whitefield, India in April 2003.
---
Don Mario Mazzoleni: A Catholic Priest Meets Sai Baba
This interview of former Catholic Priest, Don Mario Mazzoleni (left) was recorded in 2000, just before he died. Because of Don Mario's feelings towards Indian Holy man Sai Baba, he was excommunicated by the Vatican. Don Mario is the author of the book, The Catholic Priest and Sai Baba, must reading for those interested in spiritual growth. Don Mario's translator for this interview (and for his book) is Dr Christian Moevs (right), Professor of Italian Literature at the University of Notre Dame, he is a leading world expert on Dante. His own interview can be seen here at https://www.youtube.com/watch?v=fJgIdbzY-1k
---
The Rowdies
A Film about Sathya Sai Baba by James Redmond.
A group of five of Baba's earliest Western devotees speak movingly of their experiences with Him in the late 1960s and early 1970s.
At that time, before the huge crowds that would follow, it was much easier to get close to Baba. Taking part in this story are Howard Levin (first of the five to speak), Bruce Bradbury, Wendel Field, Robert Conger, and Martin Stamp. Others of that group, like Jerry Bass and Phil Gosselin, were not present. They have some extraordinary experiences to share and they do so in the most entertaining way.
Howard Levin, the author of Good Chances, tells some unique and very funny stories, and Bruce Bradbury who wrote the bhajan "Love is my Form" describes how Baba inspired him…
This film was taped in June 1996 at the Feathered Pipe Ranch in Helena, Montana, USA. (76 minutes).
---
Dana Gillespie
From an early age, singer, composer, actor Dana Gillespie of London was destined to sing the blues. She was also destined to follow in the footsteps of Indian Holy Man, Sri Sathya Sai Baba. This internationally acclaimed artist shares her amazing story with Souljourns in two parts.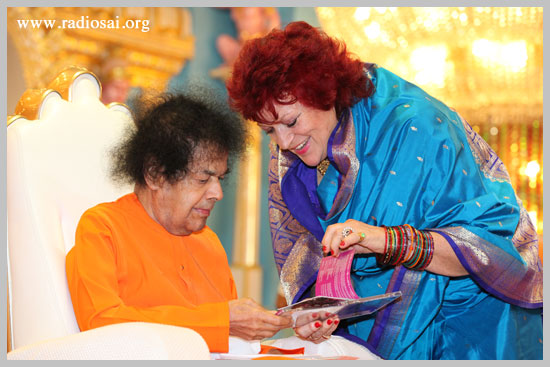 Part 1, she tells how she got to claim an important singing role in the original London production of, Jesus Christ Superstar. After being initially attracted to India to be with Sai Baba, little did Dana know that it would take 12 years before the famous Holy Man would say one word to her. Video for this news interview account of Dana Gillespie comes from Souljourns, YouTube, Radio Sai Global Harmony and the musical, Jesus Christ Superstar, the first musical by Andrew Lloyd Webber and Tim Rice to be produced for the professional stage. Welcome to Souljourns, and to the amazing story of Dana Gillespie. This interview was recorded in April, 2016 in London.
---
Interviewing an Indian Guru: Swami Brahmdev of the Aurovalley Ashram in Rishidwar
Marco Pino's experience at the Aurovalley Ashram, a beautiful ashram near the Himalayas, and an interview he conducts with founder Swami Brahmdev.
Ashrams of India: Volume 2, Chapter 21 Uttarakhand.
---
Sri Sathya Sai Baba's Interview room
A rare video of Sathya Sai Baba in the interview room of his principal ashram Prasanthi Nilayam where he materialises vibhuti, a gold ring and wisdom to the fortunate devotees.
---
A Blue Hand: The Beats in India, with Deborah Baker
Pulitzer Prize nominee Deborah Baker takes us back to the moment when America's edgiest writers looked to India for answers as India looked to the West. In 1961 Allen Ginsberg, ecstatic sensualist and the voice of a generation, left New York by boat for Bombay. Baker follows Ginsberg and his companions as they travel from the ashrams of the Himalayan foothills to the opium dens of Delhi and the burning pyres of Benares. They encounter an India of charlatans and saints, a country of spectacular beauty and spiritual promise and of devastating poverty and political unease. The fifteen months he spent in India had a lasting influence on Ginsberg and on American counterculture. The trip not only changed his life, it helped spawn generations of hippies, hipsters, writers, artists, rock-stars and soul-searchers. This is the story of a search for God, for love, and for peace in the shadow of the atomic bomb. It is also a story of India – its gods and its poets, its politics and its place in expanding the possibilities of the western consciousness. Deborah Baker was in conversation with Charlie Smith, Editor of The Georgia Straight.
Deborah Baker has two children and is married to writer Amitav Ghosh. They divide their time between Brooklyn and Goa. See RECOMMENDED BOOKS – A Blue Hand: The Beats in India by Deborah Baker.
---
Mother Meera: 'All Avatars are connected'
---
An Interview with Annamalai Swami by Jim Lemkin
Review by David Godman:
The interview is seventy-three minutes long, and visually it is superb. The sound is not quite so good. The translations made by Sundaram, Annamalai Swami's interpreter, are sometimes difficult to make out, but with a little concentrated effort, they can all be deciphered. The first ten minutes or so are devoted to a summary of how Annamalai Swami (1906-1995) heard about Bhagavan Sri Ramana Maharshi and came to him in 1928. The remainder is Jim asking questions about Self-realisation and practice. Annamalai Swami replies to them in a typical eloquent and forceful way. This interview will be a great treat for anyone who has appreciated Annamalai Swami's Guru bhakti and his simple but practical teachings.
---
2000 Interview with Swami Kaleshwar 
Sri Kaleshwar (8 January 1973 – 15 March 2012). Ashrams of India: Volume 1, Chapter 1 Andhra Pradesh.
---
Daria in India
Filmed in 2014 near the Kamakhya Devi Temple nestled high up on the Nilachal Hill, in the west of Guwahati, Assam. This Italian woman Daria recalls that she first came to India 12 years previously with her mother, when they were travelling from London to Malaysia. She eventually met her guru, who gave her the mala, mantra and a new name – Durga Nat and she was a reborn as a new human being.