Page under construction over the next few months
for a comprehensive
publications list and downloads for Tibet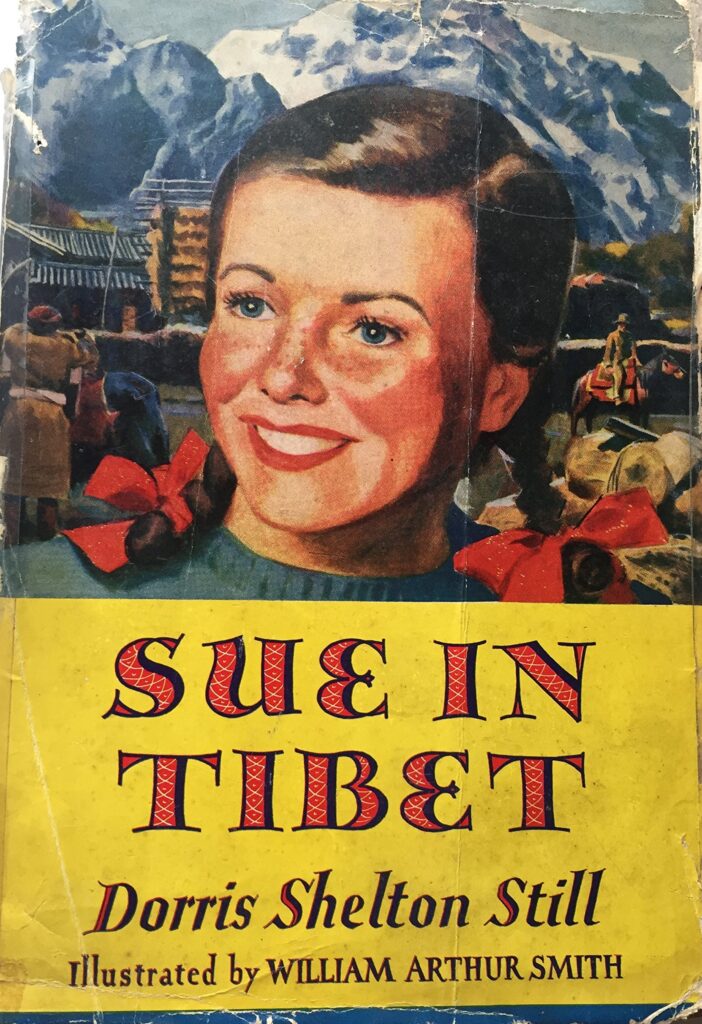 BBC: The amazing adventures of Sue in Tibet and her creator
Girls did not often star in the adventure stories of the early 20th Century, but the chance discovery of a little-known book by the daughter of an American missionary who lived in a Tibetan border town led researcher Tricia Kehoe to uncover an extraordinary life story, one marred by tragedy.
https://www.bbc.com/news/world-asia-35118740
Groovy Books about Tibet
This expanded page is built upon Barbara Lipton's 1973 document that was originally prepared for and included in THE MUSEUM New Series publication.
Lipton, librarian at the Newark Museum compiled the document as a selected annotated bibliography that cannot claim to be exhaustive. It had been prepared according to the following criteria: 1. Only material originally written in or translated into English (with three exceptions) and in book form has been included; 2. Only books written by Westerners, with the exception of several works by the so-called Indian "pundits" who were working directly under the British, are included; 3. Books relating solely to mountain climbing expeditions are excluded; 4. Books listed are for the most part primary sources, written by the travellers (their names in bold text) themselves, the only exceptions being several particularly notable works dealing with the subject.
Westerners in Tibet
1327 – 1950
Christianity was supposedly first introduced to Tibet by a Franciscan monk, Odoric of Pordenone, who thus should have been the first Westerner to penetrate Lhasa, in 1327, where he set up a mission. In his writings, he compared Tibetan and Christian religions, arguing that they shared a head figure, monasteries, and chanting celibate monks. Berthold Laufer (1874 – 1934) wrote an article in T'oung Pau titled Was Odoric of Pordenone ever in Tibet?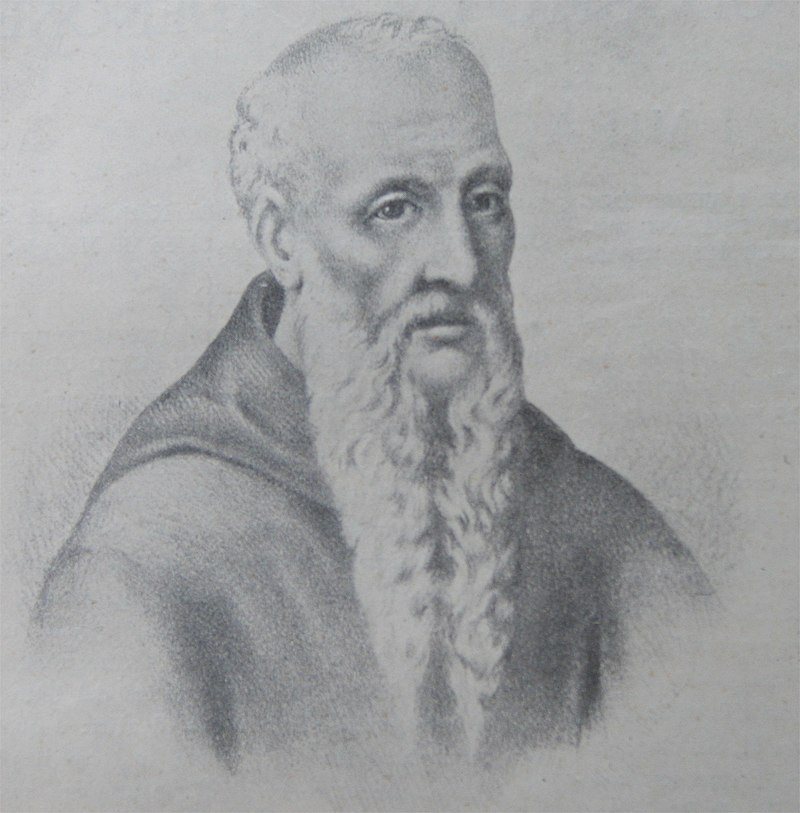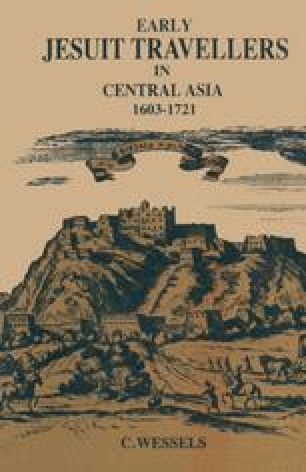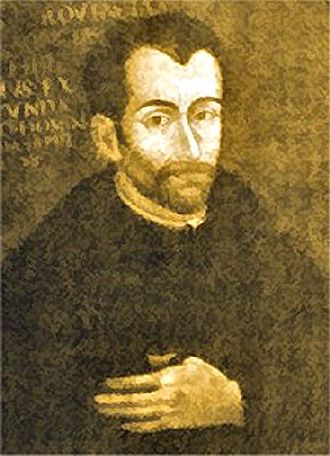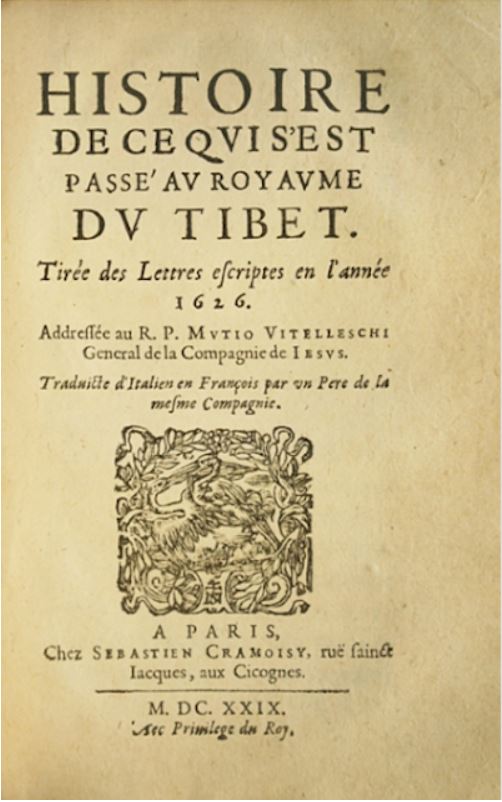 At the beginning of the 17th century, two Portuguese Jesuit fathers, Antonio de Andrade and Manuel Marques, went from Agra (India) in 1624 on a reconnaissance trip to Tibet.
They believed that there existed forgotten Christian communities in the Himalayan region. Four months from their departure from Agra they crossed the Himalayan crest and entered Tibet, the first Europeans to do so if one does not accept Odoric's claim three centuries earlier.
Andrade established what is believed to be the first Catholic mission on Tibetan soil.
Father António de Andrade (1580 – March 19, 1634) was a Jesuit priest and explorer from Portugal. He entered the Society of Jesus in 1596. From 1600 until his death in 1634 he was engaged in missionary activity in India.
Andrade's two extensive accounts of Tibet, written in 1624 and 1626, were published in the Portuguese original in Lisbon in 1626 followed by a Spanish translation in Segovia (Spain) in 1628 and a publication in Cracow (Poland) in the same year, and quickly translated into all the major European languages; they had a significant influence on European knowledge of and attitudes toward Tibet.
The of voyage of Grueber and d'Orville.
Albert d'Orville, (also known as Albert Le Comte d'Orville) (1621 – 1662 in Agra, India) was a Belgian Jesuit priest, missionary in China and cartographer.
Son of noblemen spent much of his youth at the court of the duke of Neuburg. He joined the Society of Jesus in 1646, and while studying theology at the Catholic University of Leuven he attended the 'Chinese lectures' given by Martino Martini an Italian Jesuit missionary, then visiting the University of Leuven. D'Orville later joined Martino Martini in Rome before accompanying him on his return journey to China.
Soon he was called to Peking and appointed to accompany Johann Grueber on a journey back to Europe. Grueber was sent to Rome in order to defend Jesuit astronomer Adam Schall against the accusation of 'fostering superstitious practices' (motivated by his working on the Chinese calendar).
Johann Grueber (1623 – 1680) was an Austrian Jesuit missionary and astronomer in China, and noted explorer. He joined the Society of Jesus in 1641 and went to China in 1656, where he was active at the court of Peking as professor of mathematics and assistant to Father Adam Schall von Bell.
As it was impossible to journey by sea on account of the blockade of Macau by the Dutch, they conceived the daring idea of going overland from Peking to Goa (India) by way of Tibet and Nepal. This led to Grueber's memorable journey (d'Orville died on the way), which won him fame as one of the most successful explorers of the seventeenth century (Tronnier). They first travelled to Sinning-fu, on the borders of Kan-su; thence through the Kukunor territory and Kalmyk Tartary (Desertum Kalnac) to Lhasa. They crossed the difficult mountain passes of the Himalayas, arrived at Kathmandu, Nepal, and thence descended into the basin of the Ganges: Patna and Agra, the former capital of the Mughal empire. This journey lasted 214 days.
Dorville died at Agra, a victim of the hardships he had undergone. Jesuit Father Heinrich Roth, a Sanskrit scholar, substituted for Dorville and with Grueber carried on the overland journey through Persia and Turkey, reaching Rome on the 2 February 1664. Their journey showed the possibility of a direct overland connection between China and India, and the value and significance of the Himalayan passes.
Biographer Richard Tronnier says: "It is due to Grueber's energy that Europe received the first correct information concerning Thibet and its inhabitants". Although Oderico of Pordenone had traversed Tibet, in 1327, and visited Lhasa, he had not written any account of this journey. Antonio de Andrada and Manuel Marquez had pushed their explorations as far as Tsaparang on the northern Setledj.
Emperor Leopold I requested that Grueber return to China via Russia in order to explore the possibility of another land route through central Asia, but the journey ended at Constantinople as Grueber fell seriously sick. He was obliged to return. Though in poor health Grueber lived another 14 years as preacher and spiritual guide in the Jesuit schools of Trnava (Slovakia) and Sárospatak (Hungary) where he died in 1680.
While Grueber and d'Orville were not the first Europeans to cross Tibet, Grueber was the first who brought back with him a genuine record of the land and its people. Although a Jesuit, he did not go to Lhasa as a missionary like his precursors and his immediate successors; he went on a real geographical mission, imposed by the necessity of finding a new route to Europe, a route which at the time was supposed to be still untrodden.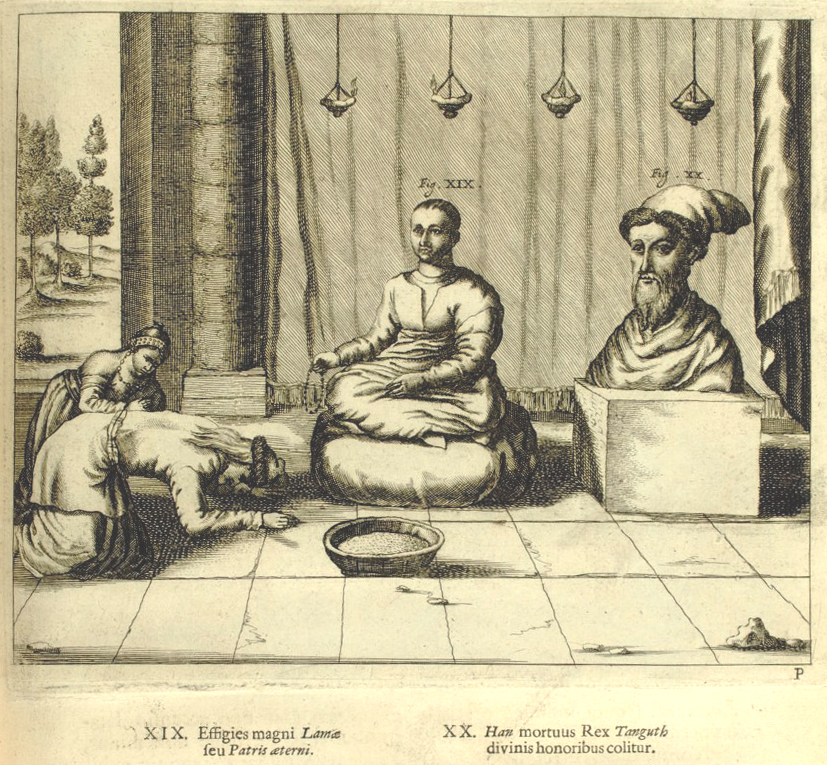 British Expedition to Tibet | 3 Minute History
Peter Aufschnaiter's Eight Years In Tibet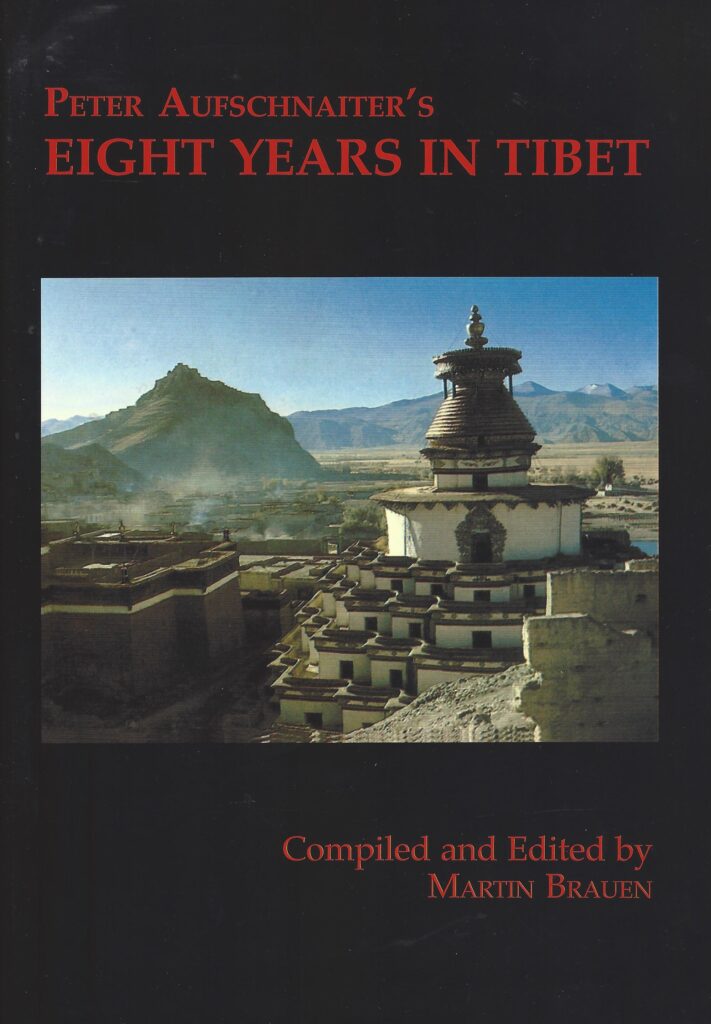 Inside Tibet (1943)
FILM REPORT: On the journey of a U.S. military and diplomatic mission from Gangtok, India, to Lhasa, Tibet during World War II. The party journeys through Natu La and Kechu La passes, stops at the British trail station, Gyantse, reviews troops of Tropji Regiment and is ferried across the Brahmaputra River. Scenes of Tibetan natives, terrain, travel facilities, housing a New Year religious festival, the Dalai Lama's palaces in Lhasa, monasteries and other religious buildings. – National Archives and Records Administration – ARC Identifier 40103 / Local Identifier 226.5 – Inside Tibet – Joint Chiefs of Staff. Office of Strategic Services. Field Photographic Branch. (01/04/1943 – 10/01/1945).
Out Of This World
Lowell Jackson Thomas Jr. Out of this World; across the Himalayas to Forbidden Tibet. N.Y.; The Greystone Press, 1950.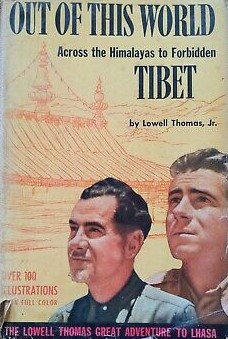 Lowell Thomas. Jr , was invited to accompany his father on a trip to Tibet in 1949 in order to publicise to America and the world the Tibetans, serious problem of defense against Communism.
Lowell Thomas Jr. (1923 – 2016) was an American politician and film producer who collaborated with his father, the accomplished reporter and author Lowell Thomas, on several projects before becoming an Alaskan state senator in the early 1970s, and later the lieutenant governor of Alaska. In the 1980s, he owned and operated Talkeetna Air Taxi, an Alaska bush flying service.
In 1949, Thomas and his father were invited by the Tibetan government to make a film there with the hope that their reports would help persuade the US government to defend Tibet against the Chinese. The trip lasted 400 days, and the father and son were the last Westerners to reach Lhasa before the Chinese invasion and occupation.
CBS did not broadcast the resultant film, Expedition to Lhasa, Tibet, until years later, but his book about the expedition, Out of This World, published in 1950 became a bestseller.
In 1960, after the 14th Dalai Lama of Tibet was given refuge in India, he wrote the book The Silent War in Tibet. "Mr. Thomas describes the brutal Chinese Communist invasion of Tibet beginning in 1950…" and about the armed Tibetan resistance by citizens and lamas which began in the mid 1950s. He told the Anchorage Daily News, "I guess it was the greatest adventure I ever had." In 2006, the Dalai Lama bestowed the International Campaign for Tibet's Light of Truth Award on Lowell Jr and referred to him as "one of the grandfathers of modern day Tibet."
Voyage au Tibet interdit (Bande-annonce)
In 2004, Priscilla Telmon left Hanoi for 5,000 kilometres of solitary adventure through the Himalaya. It follows the route of the explorer Alexandra David-Neel, the second Western woman to visit Tibet, and the first Western woman to visit Lhasa and to speak to the Dalai Lama.
En 2004, Priscilla Telmon quitte Hanoi, au Vietnam, pour 5000 kilomètres d'aventure solitaire à travers l'Himalaya. Elle suit l'itinéraire de l'exploratrice Alexandra David-Neel, qui en 1924 fut la première occidentale à rentrer clandestinement dans Lhassa, la cité interdite du pays des neiges. Pour la jeune femme, ce périple sur les chemins du ciel représente un pèlerinage de plus de 6 mois de marche, de découverte et de cheminement intérieur pour renouer avec le souffle, et l'esprit des grandes expéditions passées. Mais c'est aussi et surtout un véritable hommage aux mille peuples de l'Himalaya, menacés par la marche du monde, et une façon de mesurer ce qui du Tibet d'aujourd'hui ressemble encore au pays des neiges éternelles qu'Alexandra a connu…
Woman with altitude: this adventurer is recreating the journey of Alexandra David–Neél
100 years since the Suffragettes first won women the right to vote, many International Women's Day events are looking to further equality and opportunity for women around the world – and for some, like adventurer Elise Wortley, celebrating the historic achievements of our forebears is an opportunity in itself. Wortley has set out on an ambitious trek across the mountainous Indian Himalayan region to follow in the footsteps of legendary female explorer Alexandra David-Neél, who undertook a treacherous 14-year trans-Himalayan journey to Tibet in 1924. Find out more at tempusmagazine.co.uk @tempusmagazine. https://tempusmagazine.co.uk/news/the-adventure-of-a-lifetime-tempus-talks-to-extreme-explorer-elise-wortley
Ashrams of India: Volume 1, Chapter 18 Sikkim.
The Yogis of Tibet – a rare documentary film
For the first time, the reclusive and secretive Tibetan monks agree to discuss aspects of their philosophy and allow themselves to be filmed while performing their ancient practices. This extraordinary 2002 film that salutes the spiritual disciplines and practices of Tibetan yogis who have mastered their minds and bodies as part of their devotion to the dharma.
The Alexandra David-Néel: J'irai au pays des neiges
This 2012 biographical telefilm retraces the journey of Alexandra David-Néel, accompanied by Aphur Yougden, a child lama who was to become her adopted son, for 13 years of wanderings from India to the lands of the Himalayas and the Tibetan plains, and of their arrival in Lhasa on Feb. 28, 1924.
First trip to Tibet and meeting with the Panchen Lama in 1916
Wikipedia mentions that this Prima Donna, on the 13th of July 1916, without asking for permission, left for Tibet from Sikkim, accompanied by Yongden and a monk. She planned to visit two great religious centers close to her Sikkim retreat: the monastery of Chorten Nyima and Tashilhunpo Monastery, close to Shigatse, one of the biggest cities of southern Tibet. At the monastery of Tashilhunpo, where she arrived on 16 July, she was allowed to consult the Buddhist scriptures and visit various temples. On the 19th, she met with the Panchen Lama, by whom she received blessings and a charming welcome: he introduced her to his entourage's persons of rank, to his professors, and to his mother (with whom David-Néel tied bonds of friendship and who suggested to her to reside in a convent). The Panchen Lama bade and proposed her to stay at Shigatse as his guest, what she declined, leaving the town on 26 July, not without having received the honorary titles of a Lama and a doctor in Tibetan Buddhism and having experienced hours of great bliss. She pursued her escapade at Tibet by visiting the printing works of Nartan (snar-thang) before paying a visit to an anchorite which had invited her close to the lake Mo-te-tong. On 15 August, she was welcomed by a Lama at Tranglung.
Ashrams of India: Volume 1, Chapter 18 Sikkim.
Alexandra David-Néel: from Sikkim to Forbidden Tibet (English subtitles)
Alexandra David Neel, du Sikkim au Tibet interdit: Avant 1923, le Tibet était représenté sur les cartes par une tache blanche. Alexandra David-Néel sera la première à dessiner cette face cachée du monde. Alexandra David-Néel fut la première Occidentale à entrer à Lhassa, la ville interdite. Cet exploit la rendit mondialement célèbre. A travers le témoignage pittoresque et touchant de Marie-Madeleine Peyronnet, sa dernière gouvernante, qui repart sur ses traces, vivez l'histoire de cette exploratrice hors du commun, morte à 101 ans, juste après avoir fait renouveler son passeport.
Alexandra David Neel – Reportage – Visites privées
Retour sur l'incroyable vie d'Alexandra David Neel, infatigable voyageuse et première femme au monde à pénétrer au sein de la ville sainte de Lhassa au Tibet.
Portrait d'Alexandra David Neel la célèbre exploratrice et écrivaine bouddhiste
Le parcours de la célèbre exploratrice commenté par sa secrétaire et amie, Marie Madeleine Peyronnet, sa biographe et par Priscilla Telmon qui a marché dans ses pas jusque Lhassa. Une belle évocation avec des extraits d'interviews d'Alexandra elle-même.
Tintin in Tibet