Page remains under construction over the next few months for a comprehensive publications list and downloads for Tibet
---
Real Groovy Books about Tibet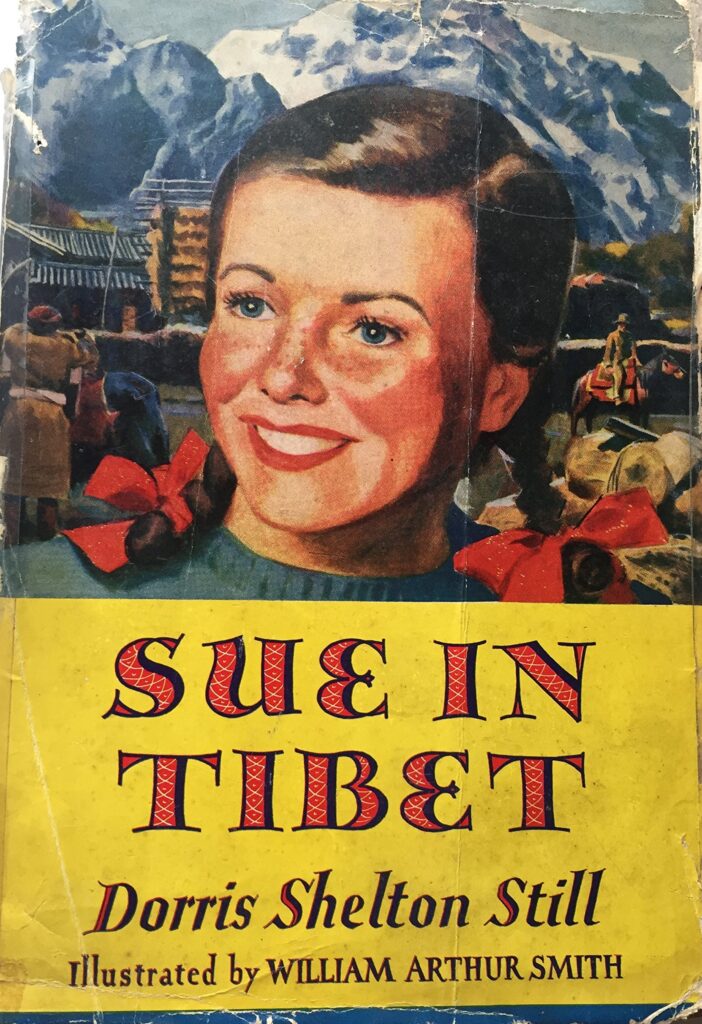 BBC: The amazing adventures of Sue in Tibet and her creator
Girls did not often star in the adventure stories of the early 20th Century, but the chance discovery of a little-known book by the daughter of an American missionary who lived in a Tibetan border town led researcher Tricia Kehoe to uncover an extraordinary life story, one marred by tragedy.
https://www.bbc.com/news/world-asia-35118740
---
Lama: A Novel of Tibet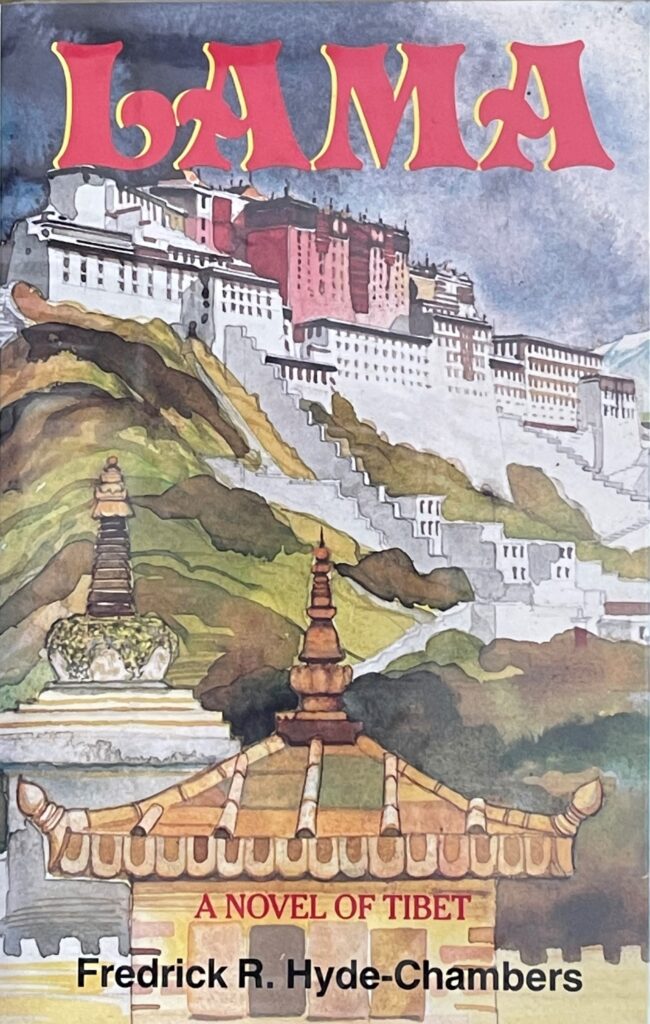 Politics is the central character in this tale about the Chinese invasion of Tibet during the late 1950's. Tsun Rinposhay, a Buddhist abbot, flees his monastery when it is about to be destroyed by the Chinese. Secretly, Tsun carries gold for the Tibetan resistance. More precious than gold, however, is a petition he carries asking the United Nations to help his country in its struggle against the Chinese. Seemingly composed of contradictions, Tsun is a former bandit and warrior who is now pledged to celibacy and the teachings of Buddhism. Unfortunately, he and many of the other characters often speak in political slogans. It's not just that there is little opportunity to observe the "spontaneous enjoyment of life that is the reaction of every Tibetan" but that the author pits his Tibetan characters, who are too obviously good, against the powerful Chinese, who are even more obviously evil. Surprisingly, even many of the battle scenes are limp. As a small band of refugees waits to be attacked by a Chinese airplane, we are told "the tension mounted." The author does a better job with the complex Tibetan and Buddhist philosophies that underpin his story. However, the belief that "this life is but a passing reflection" does not make the suffering easier to understand. Confronted by a plague of bedbugs, for example, Tsun does not kill them; instead, he pushes them outside through a crack. But even he is "never quite sure how much was due to piety and how much to the appalling smell the bugs emitted when crushed." New York Times July 14 1985.
---
More Real Groovy Books about Tibet
This expanded page is built upon Barbara Lipton's 1973 document that was originally prepared for and included in THE MUSEUM New Series publication.
Lipton, librarian at the Newark Museum compiled the document as a selected annotated bibliography that cannot claim to be exhaustive. It had been prepared according to the following criteria: 1. Only material originally written in or translated into English (with three exceptions) and in book form has been included; 2. Only books written by Westerners, with the exception of several works by the so-called Indian "pundits" who were working directly under the British, are included; 3. Books relating solely to mountain climbing expeditions are excluded; 4. Books listed are for the most part primary sources, written by the travellers (their names in bold text) themselves, the only exceptions being several particularly notable works dealing with the subject.
---
Westerners in Tibet 1327 – 1950
Christianity was supposedly first introduced to Tibet by a Franciscan monk, Odoric of Pordenone, who thus should have been the first Westerner to penetrate Lhasa, in 1327, where he set up a mission. In his writings, he compared Tibetan and Christian religions, arguing that they shared a head figure, monasteries, and chanting celibate monks. Berthold Laufer (1874 – 1934) wrote an article in T'oung Pau titled Was Odoric of Pordenone ever in Tibet?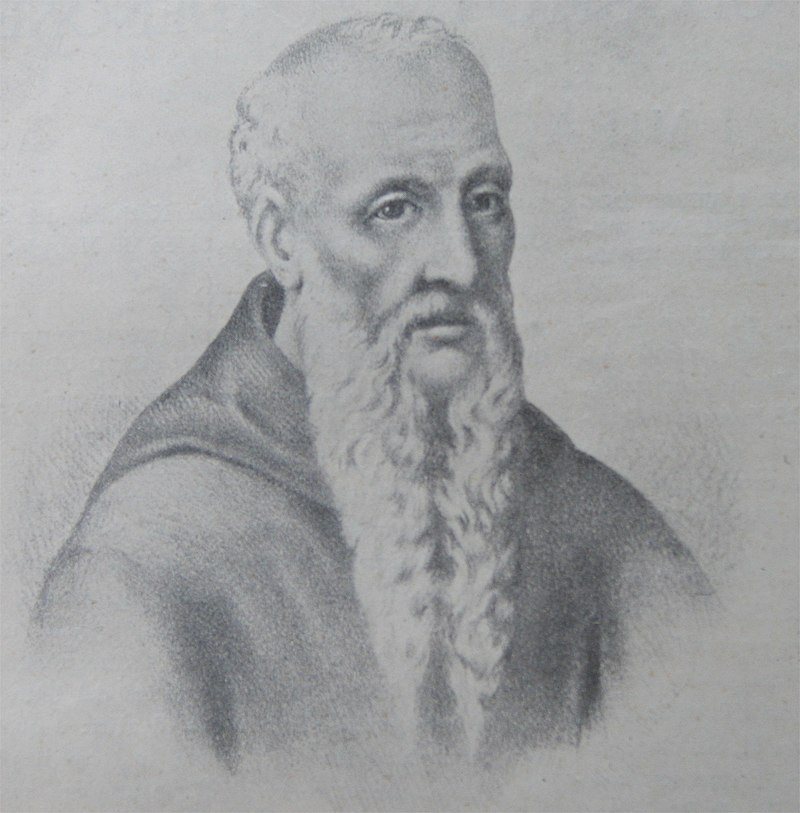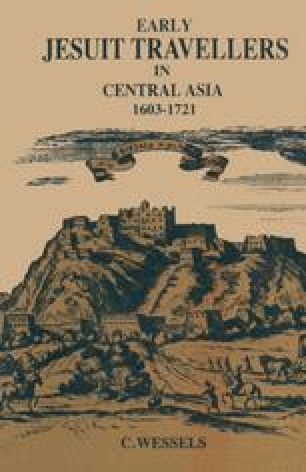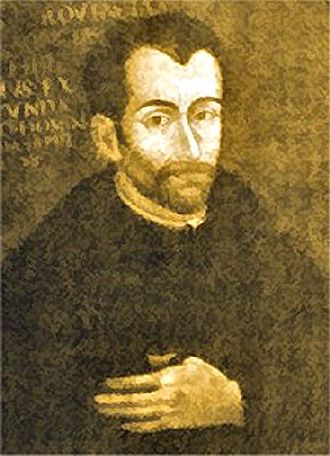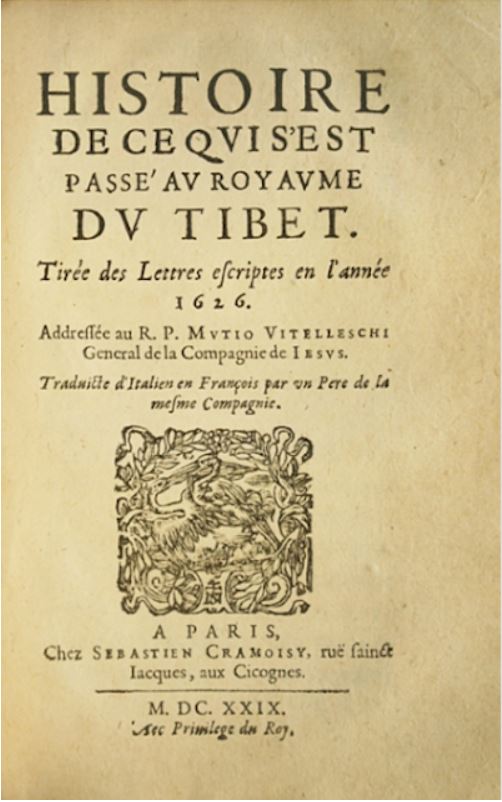 At the beginning of the 17th century, two Portuguese Jesuit fathers, Antonio de Andrade and Manuel Marques, went from Agra (India) in 1624 on a reconnaissance trip to Tibet.
They believed that there existed forgotten Christian communities in the Himalayan region. Four months from their departure from Agra they crossed the Himalayan crest and entered Tibet, the first Europeans to do so if one does not accept Odoric's claim three centuries earlier.
Andrade established what is believed to be the first Catholic mission on Tibetan soil.
Father António de Andrade (1580 – March 19, 1634) was a Jesuit priest and explorer from Portugal. He entered the Society of Jesus in 1596. From 1600 until his death in 1634 he was engaged in missionary activity in India.
Andrade's two extensive accounts of Tibet, written in 1624 and 1626, were published in the Portuguese original in Lisbon in 1626 followed by a Spanish translation in Segovia (Spain) in 1628 and a publication in Cracow (Poland) in the same year, and quickly translated into all the major European languages; they had a significant influence on European knowledge of and attitudes toward Tibet.
---
John MacGregor (pseudonym). Tibet; a Chronicle of Exploration. N.Y. & Washington;  Praeger, 1970.
Excellent book of explorations up until 1904.
Download:
https://archive.org/details/in.ernet.dli.2015.553402
---
Cornelius Wessels. Early Jesuit Travellers in Central Asia, 1603-1721. The Hague; Martinus Nijhoff, 1924.
Cornelius Nicolaas Petrus Wessels (1880 – 1964) was a Dutch Jesuit, known for his historical works on the early Catholic Missions in Central Asia, especially Tibet, and in the East Indies.
His main work, Early Jesuit Travellers in Central Asia, 1603-1721, first published in 1924, was notable for its thoroughness and the exhaustiveness of the documention referred to; and thus was seminal in the knowledge of the activities and travels of Bento de Góis, Father António de Andrade, Francisco de Azevedo, Estêvão Cacella, Johann Grueber, Albert d'Orville and Ippolito Desideri. The book includes a comprehensive map of such travels by the Dutch cartographer C. Craandijk.
Download:
https://ia801609.us.archive.org/3/items/in.ernet.dli.2015.150266/2015.150266.Early-Jesuit-Travellers-In-Central-Asia1603-1721.pdf
---
Turner et Pourunguir. Voyages au Thibet, faits en 1625 et 1626, par le père d'Andrada. et en 1774, 1784 et 1785.
Download:
https://archive.org/details/voyagesauthibetf00andr/page/n3/mode/2up
---
Peron et Rillecorq. Recoeil de Voyages du Thibet. Paris; 1796.
New edition of a French translation which appeared in 1628 under the title Relation de la Nouvelle Decouverte du Grand Catay, ou bien du Royaume de Thibet. The narrative of the Portuguese Father Antonio de Andrade who went to Tibet in 1624.
Father António de Andrade (1580 – 1634) was a Jesuit priest and explorer from Portugal. He entered the Society of Jesus in 1596. From 1600 until his death in 1634 he was engaged in missionary activity in India. Andrade was one of the first known Europeans to have crossed the Himalayas and reached Tibet, establishing the first Catholic mission on Tibetan soil.
Andrade's two extensive accounts of Tibet, written in 1624 and 1626, were published in the Portuguese original in Lisbon in 1626 followed by a Spanish translation in Segovia (Spain) in 1628 and a publication in Cracow (Poland) in the same year, and quickly translated into all the major European languages; they had a significant influence on European knowledge of and attitudes toward Tibet.
Modern translations of Andrade's accounts into Italian and French are found in Toscano (1977) and Didier (2002). An English translation of Andrade's writings relating to Tibet was published in 2017 by Sweet and Zwilling.
---
Athanasius Kircher. China Illustrata. Amsterdam; 1667.
Contains abstracts of letters addressed to Kircher from Father Lohann Grueber who visited Lhasa for two months in 1661. The letters were originally published in Notize varie dell' Iniperio della China (lacopo Carlieri, ed.). Florence, 1687
Athanasius Kircher (1602 – 1680) was a German Jesuit scholar and polymath who published around 40 major works, most notably in the fields of comparative religion, geology, and medicine. Kircher has been compared to fellow Jesuit Roger Joseph Boscovich and to Leonardo da Vinci for his enormous range of interests.
---
M. Thevenot. Relations De Divers Voyages Curieux, Vol. LV: Qui n'Ont Point Esté Publiées. Paris; 1672.
The of voyage of Grueber and d'Orville.
Albert d'Orville, (also known as Albert Le Comte d'Orville) (1621 – 1662 in Agra, India) was a Belgian Jesuit priest, missionary in China and cartographer.
Son of noblemen spent much of his youth at the court of the Duke of Neuburg. He joined the Society of Jesus in 1646, and while studying theology at the Catholic University of Leuven he attended the 'Chinese lectures' given by Martino Martini an Italian Jesuit missionary, then visiting the University of Leuven. D'Orville later joined Martino Martini in Rome before accompanying him on his return journey to China.
Soon he was called to Peking and appointed to accompany Johann Grueber on a journey back to Europe. Grueber was sent to Rome in order to defend Jesuit astronomer Adam Schall against the accusation of 'fostering superstitious practices' (motivated by his working on the Chinese calendar).
Johann Grueber (1623 – 1680) was an Austrian Jesuit missionary and astronomer in China, and noted explorer. He joined the Society of Jesus in 1641 and went to China in 1656, where he was active at the court of Peking as professor of mathematics and assistant to Father Adam Schall von Bell.
As it was impossible to journey by sea on account of the blockade of Macau by the Dutch, they conceived the daring idea of going overland from Peking to Goa (India) by way of Tibet and Nepal. This led to Grueber's memorable journey (d'Orville died on the way), which won him fame as one of the most successful explorers of the seventeenth century (Tronnier). They first travelled to Sinning-fu, on the borders of Kan-su; thence through the Kukunor territory and Kalmyk Tartary (Desertum Kalnac) to Lhasa. They crossed the difficult mountain passes of the Himalayas, arrived at Kathmandu, Nepal, and thence descended into the basin of the Ganges: Patna and Agra, the former capital of the Mughal empire. This journey lasted 214 days.
d'Orville died in Agra, a victim of the hardships he had undergone. Jesuit Father Heinrich Roth, a Sanskrit scholar, substituted for d'Orville and with Grueber carried on the overland journey through Persia and Turkey, reaching Rome on the 2 February 1664. Their journey showed the possibility of a direct overland connection between China and India, and the value and significance of the Himalayan passes.
Biographer Richard Tronnier says: "It is due to Grueber's energy that Europe received the first correct information concerning Thibet and its inhabitants." Although Oderico of Pordenone had traversed Tibet, in 1327, and visited Lhasa, he had not written any account of this journey. Antonio de Andrada and Manuel Marquez had pushed their explorations as far as Tsaparang on the northern Setledj.
Emperor Leopold I requested that Grueber return to China via Russia in order to explore the possibility of another land route through central Asia, but the journey ended at Constantinople as Grueber fell seriously sick. He was obliged to return. Though in poor health Grueber lived another 14 years as preacher and spiritual guide in the Jesuit schools of Trnava (Slovakia) and Sárospatak (Hungary) where he died in 1680.
While Grueber and d'Orville were not the first Europeans to cross Tibet, Grueber was the first who brought back with him a genuine record of the land and its people. Although a Jesuit, he did not go to Lhasa as a missionary like his precursors and his immediate successors; he went on a real geographical mission, imposed by the necessity of finding a new route to Europe, a route which at the time was supposed to be still untrodden.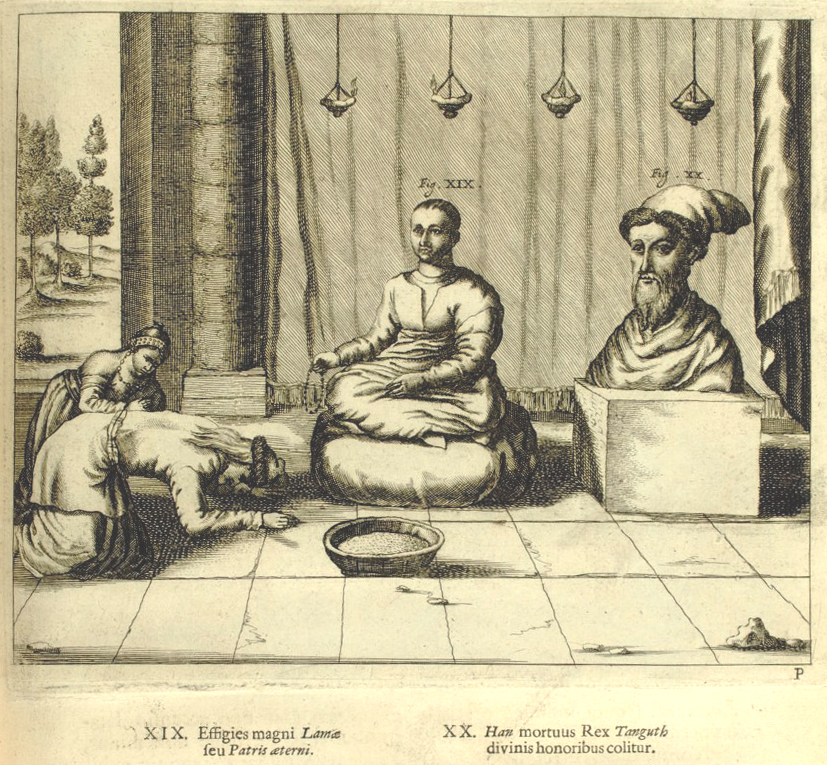 While Grueber and d'Orville were not the first Europeans to cross Tibet, Grueber was the first who brought back with him a genuine record of the land and its people. Although a Jesuit, he did not go to Lhasa as a missionary like his precursors and his immediate successors; he went on a real geographical mission, imposed by the necessity of finding a new route to Europe, a route which at the time was supposed to be still untrodden.
---
Filippo De Filippi (ed.). An Account of Tibet, the Travels of lppolito Desideri of Pistoia, 5 l., 1712-1727. London; George Routledge & Sons Ltd., 1931. Revised edition, 1937.
A well edited book of personal experiences taken from manuscripts and letters found in the "Lettres Edifiantes et Curieuses ecrites des Missions 'etrangeres" by Legobien and Du Halde. Vol. XV, in the "Biblioteca Pistoiensis" by Zacaria, and from private libraries.
Ippolito Desideri or Hippolyte Desideri (1684 – 1733) was an Italian Jesuit missionary and traveller and the most famous of the early European missionaries to visit Tibet. Desiderati visited Lhasa in 1716, staying some five years, before being recalled by Pope Clement himself in 1721. He was the first European to have successfully studied and understood Tibetan language and culture.
Download:
https://archive.org/details/in.ernet.dli.2015.499027/page/n105/mode/2up
---
Thomas Astley (ed.). A New General Collection of Voyages and Travels. London; T. Astley, 1747.
Contains a section on the early European travellers to Tibet as well as a general account of Tibet and bibliographical references to Europe, in hooks of the time on Tibet and Central Asia.
Voyages and travels in China, 1655-1722. Description of China, of Korea, eastern Tartary and Tibet. Travels through Tartary, Tibet, and Bukhâria, to and from China, 1246-1698.
Compiled by John Green, but known as the Astley collection.
Download:
https://archive.org/details/b30414283_0001/page/n13/mode/2up
---
Clements Robert Markham (ed.). Narratives of the Mission of George Bogle to Tibet and of the journey of Thomas Manning to Lhasa. London; Trubner & Co., 1876.
Primary source for story of mission by George Bogle who was sent by Warren Hastings, first Governor-General of India, in 1774 to explore establishing trade relationship between British India and Tibet. A great eccentric, Thomas Manning's account of his journey in 1811 is filled with stories of his personal troubles, but he gives valuable insight into social habits of the people. Markham's own explanatory notes need careful checking for accuracy.
Download:
https://archive.org/details/in.ernet.dli.2015.39715/page/n7/mode/2up
---
Samuel Turner. An Account of an Embassy to the Court of the Teshoo Lama in Tibet. London; W. Rulrner & Co., 1800.
Interesting account of Turner's mission to Tibet, of his dealings with officials, of the manners, customs and religion of the people, and of his meeting with the infant Teshoo Lama who conducted himself, at 18 months old, with astonishing dignity, decorum and apparent understanding.
In February 1782, news reached the headquarters of the East India Company in Calcutta of the reincarnation of the Panchen Lama, Warren Hastings proposed despatching a mission to Tibet with a message of congratulations designed to strengthen the amicable relations established by George Bogle during his 1774 visit to Tibet. Turner was appointed chief of the Tibet mission on the 9th of January 1783 with fellow EIC employee and amateur artist Samuel Davis as "Draftsman and Surveyor." Following the route previously taken by Bogle, Turner arrived in Bhutan in June 1783 and stayed at the summer place of the Druk Desi, the country's ruler until 8 September. He then moved on to arrive at Shigatse in Tibet's Tsang Province on 22 September 1783 where an audience with the infant Panchen Lama followed on 4 December. Turner returned to the Governor-General's camp at Patna in 1784 where he reported that although unable to visit the Tibetan capital at Lhasa, he had received a promise that merchants sent to the country from India would be encouraged. For his efforts in Bhutan and Tibet, Turner received the sum of £500.00 from the EIC.
Download:
https://archive.org/details/accountofembassy00turn
---
Évariste Régis Huc. Recollections of a Journey through Tartary, Thibet, and China, during the years 1824, 1845 and 1846. 2 vols. N.Y. Appleton & Co., 1952.
A condensed translation, reprint o f the translation by Mrs. Percy Sinnett, issued by Longman & Co. of "Souvenirs d'unVoyage dans la Tartarie, le Thibet, et la Chine, pendant les ann6es 1844, 1845 et 1846, par M. Huc, Pretre Missionaire de la Congregation de Saint-Lazare."
A classic among travel books with good notes on people, manners and customs. He re-counted-and apparently believed in-many "miraculous" events, so perhaps cannot be trusted in details.
Évariste Régis Huc, C.M., also known as the Abbé Huc (1813 – 1860), was a French Catholic priest, Lazarite missionary, and traveller. He became famous for his accounts of Qing-era China, Mongolia (then known as "Tartary"), and especially the then-almost-unknown Tibet in his book. He and his companion Joseph Gabet were the first Europeans who had reached Lhasa in 1846 since Thomas Manning in 1811.
Download:
https://archive.org/details/dli.ernet.16119
The Chinese empire: a sequel to Recollections of a journey through Tartary and Thibet.
Download:
https://archive.org/details/gri_33125010659114
---
Nikolay Mikhaylovich Przhevalsky. Mongolia, the Tangut Country and the Solitudes of Northern Tibet. Translated by E.D. Morgan. London; S. Low, Marston, Searle and Rivington, 1876.
Nikolay Mikhaylovich Przhevalsky, (1839-1888) was a Russian traveller who made five trips to the region. The first lasted from November 1870 to September 1873. With three men he set out from Kyakhta, south of Lake Baikal, travelled through Urga (Ulan Bator), crossed the Gobi Desert, and reached Kalgan, 100 miles northwest of Peking. On the return he explored the Ordos Plateau to the Ala Shan Range and Koko Nor and mapped parts of the upper Hwang Ho and the upper Yangtze. Finally he penetrated Tibet and reached the Drechu River.
The main objective of the second expedition (1877-1878) was to reach Lhasa through east Turkistan. Starting from Kuldja (44°N, 82°E), Przhevalsky went by way of the Tien Shan Range and Takla Makan Desert, traveling 200 miles along the foot of the Astin (Altyn) Tagh Range. He claimed to have rediscovered the great salt lake of the Chinese classical writers, Lop Nor, in the desert at 41°N, 91°E. This was one of the most interesting, yet controversial, of all his discoveries. Von Richthofen disputed the claim on the grounds that the lake was of fresh, not salt, water and that it was too far south. Sven Hedin, in two visits to Lop Nor (1895, 1900), established that Przhevalsky's lake shifts west as a result of wind and sandstorms. Hedin also found a dried salt basin, presumably the old original Lop Nor, and a number of lakes of recent origin. Kozlov dated some of these from 1750, thus agreeing with Hedin.
The third expedition tried to reach Lhasa (1879-1880). Setting out from Lake Zaysan near the northern border of Sinkiang, Przhevalsky crossed the Dzungaria region to Hami (43°N, 93°E). Thence he went south over the Astin Tagh Range and penetrated the Tsaidam swamp and the great valley of the Kyaring Tso. Reaching Nagchu Dzong, 170 miles north of Lhasa, he was turned back by order of the Lama. He went northeast, reached the upper Hwang Ho, and crossed the Gobi Desert to Kyakhta (51°N, 47°E).
Przhevalsky's fourth journey was in the mountains between Mongolia and Tibet (1883-1885). Starting from Urga, he crossed the Gobi Desert to Koko Nor and the Tsaidam region and thence to the Astin Tagh and the Shan Kunlun. He revisited Lop Nor and confirmed his previous findings of 1878 on this interesting region. He returned to Siberia by crossing the Tien Shan to Issyk Kul, a lake on the west border of Sinkiang.
Przhevalsky's fifth and final expedition was toward Lhasa (1888), a goal he always held but never reached. On November 1, 1888, Przhevalsky died at Karakol on Issyk Kul. As a monument, a large cross was set up, and as a memorial, the town of Karakol was renamed Przhevalsk.
Download:
https://archive.org/details/b29352769_0001/page/n7/mode/2up
---
Thomas Thornville Cooper. Mishmee Hills; an account of a journey made in an attempt to penetrate Tibet from Assam to open new routes for commerce. London; King, 1873.
Download:
https://archive.org/details/cu31924023498367/page/n3/mode/2up
---
William Gill. The River of Golden Sand: being the narrative of a journey through China and Eastern Tibet to Burmah. (Colonel Henry Yule, ed.) London; John Murray, 1883. (condensed by Edward Colborne Baber).
A geographer and experienced traveller, this is a bright personal narrative of a trip made in 1877.
Download:
https://archive.org/details/rivergoldensand01yulegoog
---
Sarat Chandra Das. Journey to Lhasa and Central Tibet. London; Murray, 1902, 1904. (ed. W.W. Rockhill).
Interesting, generally accurate information gathered by an lndian pundit during his trip to Tibet in 1881.
Born in Chittagong, eastern Bengal to a Bengali Hindu Vaidya-Brahmin family, Sarat Chandra Dash attended Presidency College, as a student of the University of Calcutta. In 1874 he was appointed headmaster of the Bhutia Boarding School at Darjeeling. In 1878, a Tibetan teacher, Lama Ugyen Gyatso arranged a passport for Sarat Chandra to go the monastery at Tashilhunpo. In June 1897, Das and Ugyen Gyatso left Darjeeling for the first of two journeys to Tibet. They remained in Tibet for six months, returning to Darjeeling with a large collection of Tibetan and Sanskrit texts which would become the basis for his later scholarship. Sarat Chandra spent 1880 in Darjeeling poring over the information he had obtained. In November 1881, Sarat Chandra and Ugyen Gyatso returned to Tibet, where they explored the Yarlung Valley, returning to India in January 1883. Along with Satish Chandra Vidyabhusan, he prepared Tibetan-English Dictionary.
For a time, he worked as a spy for the British, accompanying Colman Macaulay on his 1884 expedition to Tibet to gather information on the Tibetans, Russians and Chinese. After he left Tibet, the reasons for his visit were discovered and many of the Tibetans who had befriended him suffered severe reprisals.
For the latter part of his life, Das settled in Darjeeling. He named his house "Lhasa Villa" and played host to many notable guests including Sir Charles Alfred Bell and Ekai Kawaguchi.
Download:
https://archive.org/details/in.gov.ignca.14921/page/n11/mode/2up
---
Sarat Chandra Das. Narrative of a Journey to Lhasa 1881-1882. Calcutta; 1885.
Download:
https://archive.org/details/dli.pahar.1089/page/162/mode/2up
---
Sarat Chandra Das. lndian Pandits in the Land of Snow. Calcutta; Baptist Mission Press, 1893. (ed. Nobin Chandra Das).
Written in flowery lndian style from Buddhist and oriental point of view. Author was headmaster of the Tibetan Boarding School at Darjeeling and introduces much Tibetan legendary lore.
Download:
https://archive.org/details/bub_gb_HZxDAAAAYAAJ
---
Annie Westland Marston. The Great Closed Land; a plea for Tibet. N.Y.; Fleming H. Revell Co., 1894.
A Moravian missionary, this is an account of Protestant Missions to Tibet and of the four years' work of her sister Eleanor Polhill and her husband Cecil Polhill among the Tibetans.
China, India and Tibet (1885-1900). Cecil Polhill felt drawn towards the people of Tibet, and he laboured on the Sino and Indo-Tibetan borders, perhaps under some of the most difficult conditions of all the seven for the best part of fifteen years. In 1900, a violent uprising, known as the Boxer Rebellion, swept across China. Many missionaries and many thousands of Chinese Christians were murdered. All mission work ceased until the danger subsided. Polhill was by this time married with five children, and both his wife and son were very ill. He returned to England, in 1900, but his wife and son died within a few years.
Download:
https://archive.org/details/cu31924023493749
---
Gabriel Bonvalot. Across Thibet: Being A Translation Of  "de Paris Au Tonkin À Travers Le Tibet Inconnu" Translated by C.B. Pitman. N.Y.; Cassell. 1892.
Bonvalt was accompanied by Prince Henry d'Orleans and Father Dedeken on a trip across Tibet in 1890. Somewhat patronising but interesting description.
Download:
https://archive.org/details/acrossthibetbei00pitmgoog
---
William Woodville Rockhill. Diary of a Journey Through Mongolia and Tibet in 1891 and 1892. Washington, D.C.; Smithsonian Institution, 1894.
William Woodville Rockhill (1854-1914) was a United States diplomat, best known as the author of the US's Open Door Policy for China, the first American to learn to speak Tibetan, and one of the West's leading experts on the modern political history of China. A diplomat in China and the first American Tibetologist.
The Land o f the Lamas; notes of a journey through China, Mongolia and Tibet. London; Longmans, Green & Co., 1891. Excellent colourful, descriptive, detailed, accurate observations. The author had enormous interest in the people and their life.
Tibet: A Geographical, Ethnographical, And Historical Sketch, Derived From Chinese Sources; Volume 1. Reprint from the journal of the Royal Asiatic Society of Great Britain and Ireland, 1891.
Download:
https://archive.org/details/acrossthibetbei00pitmgoog
---
Hamilton Bower. Diary of a Journey Across Tibet. London; Rivington, Percival & Co., 1894.
Matter-of-fact style describing a trip made in 1891-92 accompanied by Dr Thorold of the Indian Medical Service and Atma Ram, a sub-surveyor.
Download:
https://archive.org/details/acrossthibetbei00pitmgoog
---
Fernand Grenard. Tibet; the Country and its Inhabitants. Translated by A. Teixteira de Mattes. London; Hutchinson & Co. 1904.
An account of the travels of Jules-Léon Dutreuil de Rhins and his party in Tibet from 1891-94. Jules-Léon Dutreuil de Rhins was murdered by hostile villagers in June 1894.
Download:
https://archive.org/details/cu31924062697804
---
William Carey. Adventures in Tibet – Including the Diary of Miss Annie R. Taylor's Remarkable Journey
Annie Taylor entered Tibet through China in 1892-93 without a companion and penetrated almost to Lhasa. A missionary, she kept a shop and lived in Yatung on the Tibetan border for many years. A story of great human interest.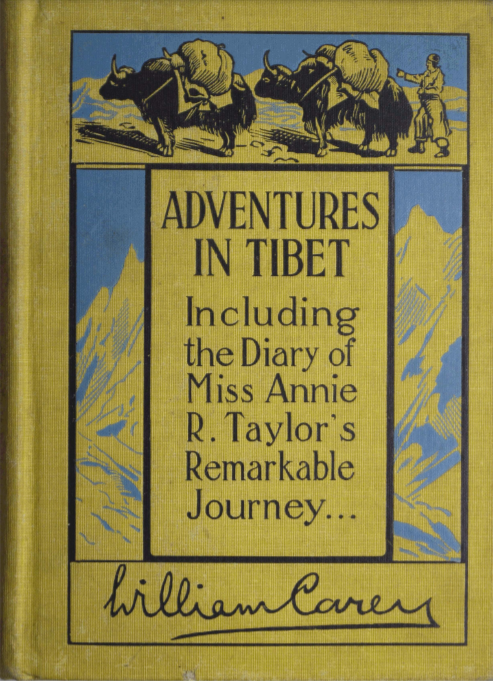 Download:
https://archive.org/details/dli.pahar.1550
---
Thomas Hungerford Holdich. Tibet, the Mysterious. N.Y.; F.A. Stokes Co., 1906.
An account of Tibetan exploration, based partly on Graham Sandberg's exploration of Tibet, perpetuating some of its inaccuracies.
Samuel Louis Graham Sandberg (1851-1905) was a Tibetan scholar. He went to India in 1885. When on a holiday in Darjeeling he made his first acquaintance with the Tibetan language, and in 1888 he published Manual of the Sikkim-Bhutia Dialect.
Over the following seventeen years he learned much of the secret explorations of Tibet, and wrote in the press and magazines about the topography of Tibet and routes through the country.
He published An Itinerary of the Route from Sikkim to Lhasa: Together with a Plan of the Capital of Tibet in 1901.
On the eve of the British expedition in 1904 he published a systematic treatise The Exploration of Tibet: its History and Particulars from 1623 to 1904.
Sandberg drafted the letter from Lord Curzon, the Viceroy, to the Grand Lama, the rejection of which precipitated the expedition of 1904.
In 1894, he published Manual of Colloquial Tibetan, in 1902, A Tibetan-English Dictionary.
Download:
https://archive.org/details/tibetmysterious00thom
---
William Jameson Reid. Through Unexplored Asia. Boston; Dana Estes & Co., 1899.
Travelled in 1894 through north-eastern Tibet with George Burton.
Download:
https://archive.org/details/throughunexplor00reidgoog/mode/2up
---
Alexander Cunningham. Ladak; Physical, Statistical and Historical with notices of the surrounding countries. London; W.H. Allen & Co., 1854.
The first major Western description of the area. This is a standard work of reference on Ladakh. Divided into 17 chapters, it describes all aspects of Ladakh with each chapter taking up a different aspect. This work describes the Geography, Mountains, rivers, Lakes and springs, Roads Passes and Bridges, Climate, Productions, Commerce, Government, People, History, religion and language. 31 illustrations, many in colour, are a part of this book.
Cunningham writes "I have endeavoured in the following pages to give, to the hest of my ability, and according to my means of information, a full and accurate account of Ladak. I have twice visited the country, in 1846 and again in 1847, and on each occasion by a different route; I have read every work that I could procure (and I have neither spared pains nor expense) regarding Ladak or Tibet. I therefore am willing to think that the various information which I have collected, may not prove altogether uninteresting, even to the general reader. For the antiquary and scientific enquirer, there are several subjects which I would fain hope may merit attention."
Download:
https://ia902604.us.archive.org/4/items/ladakphysicalsta00cunnrich/ladakphysicalsta00cunnrich.pdf
---
lsabella Lucy Bird Bishop. Among the Tibetans. N.Y.; F.H. Revell Co., 1894.
A record of Isabella Bishop's 1889 journey into Ladakh. It is a fascinating account of her encounters with the region's natives and her observations of their lifestyles, as well as an insight into the difficulties of travelling in such areas in the late nineteenth century.
Isabella Lucy Bird, married name Bishop, was a nineteenth-century British explorer, writer, photographer, and naturalist. With Fanny Jane Butler she founded the John Bishop Memorial hospital in Srinagar. She was the first woman to be elected Fellow of the Royal Geographical Society.
Download:
https://ia601605.us.archive.org/26/items/in.ernet.dli.2015.31866/2015.31866.Among-The-Tibetans.pdf
---
Ahmad Shah. Four Years in Tibet. Benares; Y.J. Lazarus & Co., 1906.
The author took a journey in Kashmir and Ladakh, also known as lower Tibet, for four years from 1890 to 1894, making his way to Leh from Srinagar, via the Zoji La and Kargil. An interesting part of this book is his observations on the claim of the Russian traveller who claimed that he saw references of Jesus Christ in these parts. A Christian missionary, he investigates claims made in the book "The Unknown Life of Jesus Christ" by Nikolai Notovich, which made claims that there is a lost gospel of Jesus' life in India and Tibet. Aside from his investigation into Notovich's claims, he makes observations of the Tibetan culture of the time. The book is the product of extensive research and study of his four years? stay in Tibet. He gives brief accounts of the Tibetan culture of the time. Written more than a century ago, the writer provides an interesting look at life in Tibet, including its inhabitants, religion, burial customs, and marriage among other topics. The subject matter of the book is good and it contains 15 chapters, discuss about the Tibetan history and culture.
Download:
https://ia800707.us.archive.org/17/items/fouryearsintibet00ahma/fouryearsintibet00ahma.pdf
Ahmad Shah. Pictures of Tibetan Life. Benares; E.J. Lazarus & Co., 1906.
Download:
https://ia601809.us.archive.org/10/items/dli.pahar.1745/1906%20Pictures%20Of%20Tibetan%20Life%20By%20Shah%20S.pdf
---
Susie Carson Rijnhart. With the Tibetans in Tent and Temple. Cincinnati, Foreign Chris-tian Missionary Society, 1901.
Susanna "Susie" Carson Rijnhart, (later Moyes, 1868-1908) was a Canadian medical doctor, Protestant missionary, and Tibetan explorer. She was the second Western woman known to have visited Tibet, after Hannah Royle Taylor (1855 – 1922). Known as Annie Royle Taylor, English explorer and Evangelical missionary to China. She was the first Western woman known to have visited Tibet. She attempted to reach the "forbidden" city of Lhasa in 1892–1893
Rijnhart lived and travelled among the Tibetans from 1895–1899. Her child died and her husband Peter disappeared during this period. A member of the Foreign Christian Missionary Society, she later remarried.
Download:
https://ia800207.us.archive.org/3/items/withtibetansinte00rijn/withtibetansinte00rijn.pdf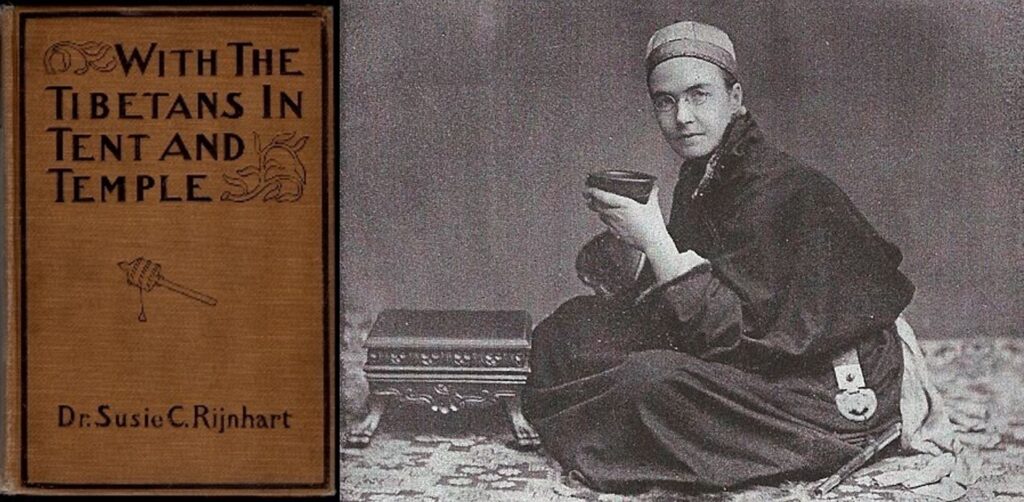 ---
Montagu Sinclair Wellby.Through Unknown Tibet. Philadelphia; Lippincott, 1898
In 1896, Capt. Wellby travelled across northern Tibet from west to east. This is a complete personal account, well-written in an easy, factual style.
Download:
https://ia902806.us.archive.org/17/items/throughunknownt00wellgoog/throughunknownt00wellgoog.pdf
---
(Captain) Henry Hugh Peter Deasy. In Tibet and Chinese Turkestan; being the record of a 3 year exploration. London; T.F. Unwin, 1901.
Travelled in north-western Tibet from 1896–1899 with Mr. Arnold Pike. Very thorough, nicely written personal account. "I had long entertained the desire to travel in some unknown country, and in the spring of 1896, when circumstances were favourable, the wish was transformed into a settled purpose. The vast extent of the territory marked 'unexplored' on the map of Tibet, then recently published, at once attracted me, and it was to this inhospitable and almost inaccessible land that I resolved to proceed."
Download:
https://ia800204.us.archive.org/23/items/cu31924023489879/cu31924023489879.pdf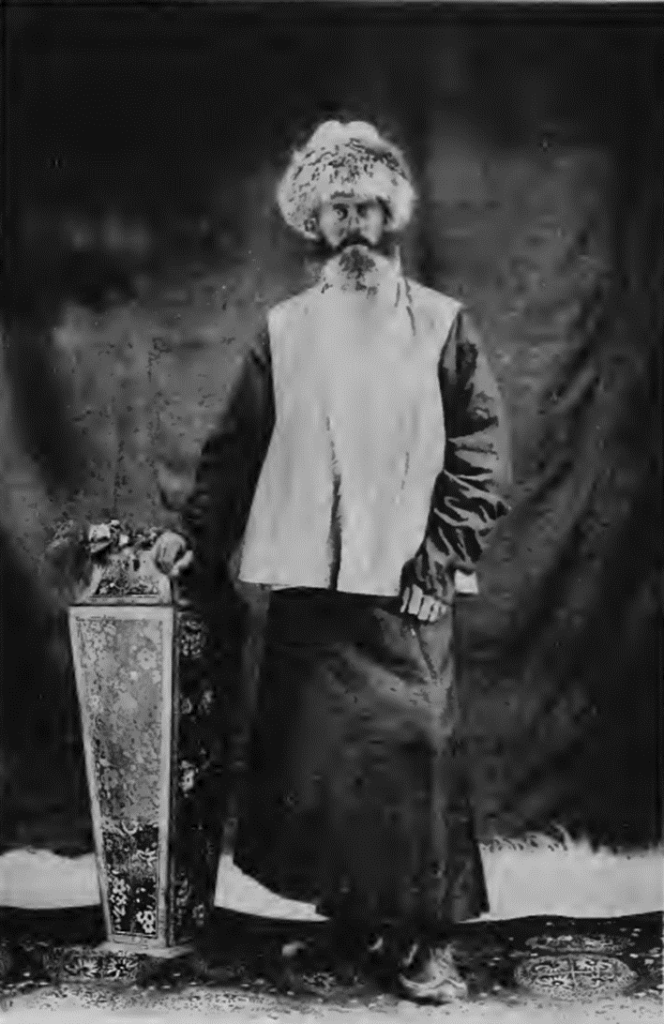 ---
August Hermann Francke. A History of Western Tibet: One of the unknown empires London; S.W. Partridge X Co., 1907. A Moravian missionary-scholar stationed in Ladakh.
Rev. August Hermann Francke (1870 – 1930) was a German Tibetologist. He worked in Ladakh and Lahul from 1896 to 1908 and published the Ladakh chronicles (La dvags rgyal rabs) with an English translation. He served as the first professor of Tibetan at the Berlin University.
Download:
https://ia800907.us.archive.org/16/items/historyofwestern00ahfr/historyofwestern00ahfr.pdf
---
Arnold Henry Savage Landor. In the Forbidden Land. An account of a 1897 journey in Tibet, capture by the Tibetan authorities, imprisonment, torture and ultimate release.
He travelled to Nepal and Tibet, and wrote of his experiences in two books: In the Forbidden Land (1898) and Tibet and Nepal (1905).
Download:
https://archive.org/details/inforbiddenlanda00land
An explorer's adventures in Tibet.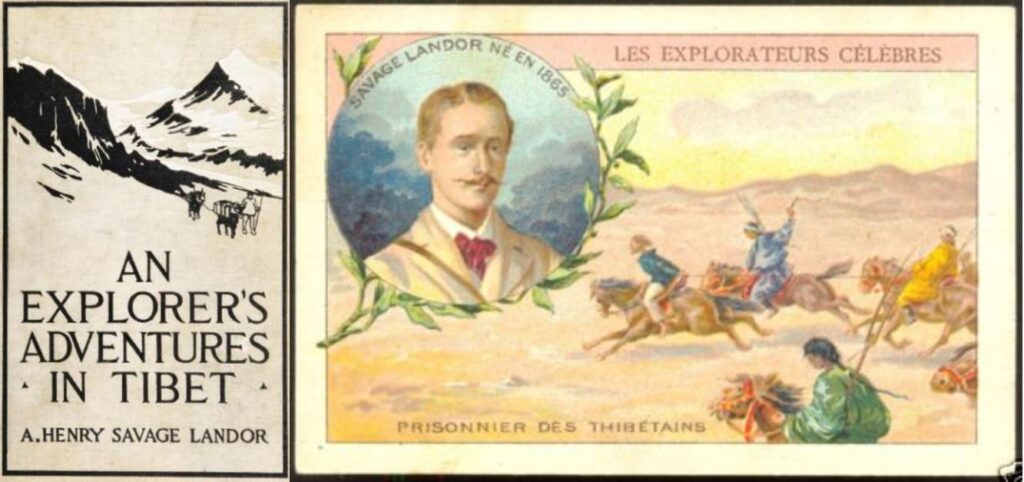 Download:
https://archive.org/details/cu31924023493699
---
Arnold Henry Savage Landor. In the Forbidden Land. 2 vols. N.Y. & l on don; Harper & Bros., 1899.
Account of a trip made in 1897 under conditions of great hardship, where he was captured, severely tortured and fired at for observing Tibet. He travelled to Nepal and Tibet, telling of his experiences in two books: In the Forbidden Land (1898) and Tibet and Nepal (1905).
Download:
https://ia903009.us.archive.org/26/items/inforbiddenlanda0000land/inforbiddenlanda0000land.pdf
---
Albert L. Shelton. Pioneering in Tibet; a personal record of life and experience in Mission fields. N.Y.; Fleming H. Revell Co., 1921.
Albert Leroy Shelton (1875 – 1922) was an American medical doctor and a Protestant missionary in China, especially in Batang in the Kham region of eastern Tibet, from 1903 until 1922.
Download:
https://archive.org/details/pioneeringintibe0000shel/page/10/mode/2up
---
Flora Beal Shelton. Shelton of Tibet. N.Y.; George H. Doran Co.1923. A biography of Dr Albert Shelton by his widow, penned soon after his death. Sunshine and Shadow on the Tibetan Border. Cincinnati; Foreign Christian Missionary Society, 1912.
Albert Leroy Shelton (1875 – 1922) was an American medical doctor and a Protestant missionary in China, especially in Batang in the Kham region of eastern Tibet, from 1903 until 1922. He authored a popular book about his experiences and collected Tibetan cultural items and sold them to museums. He was shot and killed by brigands in 1922 while traveling by mule near Batang.
He and his wife Flora Beal Shelton had two children: Dorris Shelton Still, born 25 August 1904 and Dorothy Madelon, born 27 May 1907, both in Kangding, China.
The Sheltons travelled to China with medical doctor Susanna Carson Rijnhart, who had attempted to visit Lhasa, Tibet in 1898. Her husband and infant child died in that attempt.
On arrival in China, the Sheltons and Rijnhart travelled up the Yangtze River by boat, foot, and horseback through the rugged eastern ranges of the Himalayas reaching the frontier trading centre of Kangding, then called Tachienlu, on March 15, 1904.
In 1908, the Sheltons and another missionary family, the Ogdens, established a mission at Batang, a town of 350 Tibetan families, in the Kham region of Tibet, a seventeen-day overland journey westward from Kangding. This was the first Christian mission to be established in Batang. In 1909 medical missionary Zenas Sanford Loftis joined the Sheltons and Ogdens, but he perished from smallpox two months after his arrival.
Shelton was an indefatigable traveller via muleback who utilized his medical knowledge to gain access to both Chinese and Tibetan officials and to ensure his welcome throughout the region. Kham was a battleground between China, attempting to gain control of the area, and the Khampa Tibetans resisting the Chinese.
Download:
https://ia801803.us.archive.org/18/items/sheltonoftibet0000shel/sheltonoftibet0000shel.pdf
---
Doris Shelton Still. Sue In Tibet. 1942.
Dorris was the eldest daughter of the Sheltons, the American missionary family stationed in the remote Sino-Tibetan border town of Batang between 1908 and 1921. Batang was not a strange or exotic land for Dorris, it was home. Clues to the Sheltons' life come from Sue's story too.
Download:
https://archive.org/details/dli.pahar.2805/page/n1/mode/2up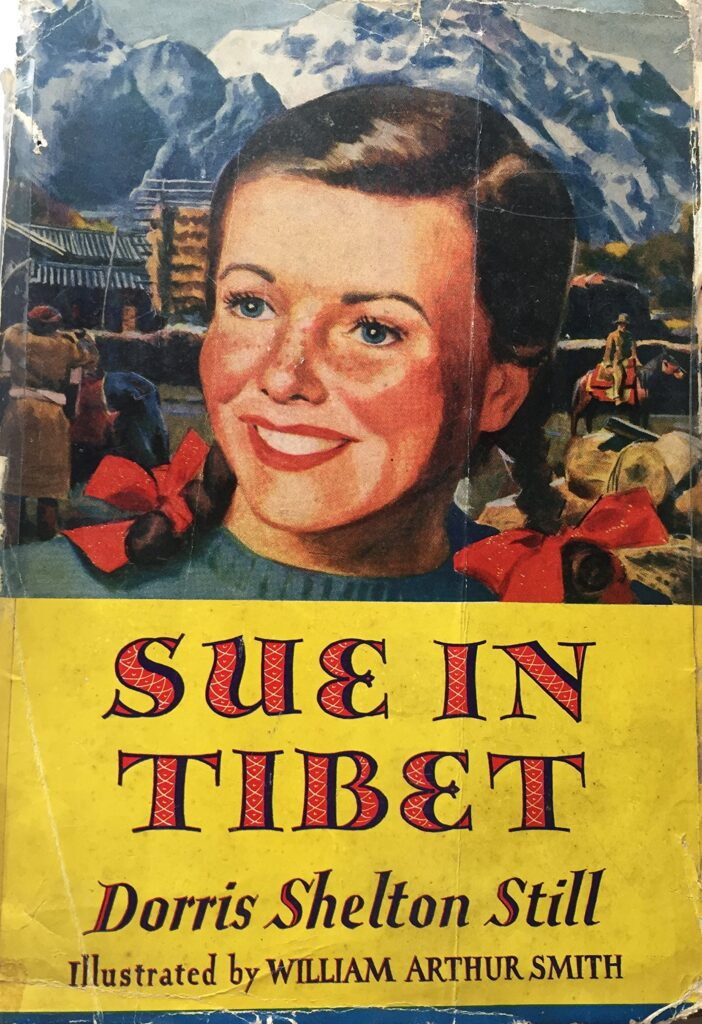 ---
Adolphe Reeve Heber and Kathleen M Heber. In Himalayan Tibet. Philadelphia; J.B. Lippincott Co., 1926.
Trip to Ladakh. A record of 12 years spent in the topsy-turvy land of lesser Tibet; with a description of its cheery folk, their ways & religion, of the rigours of the climate & beauties of the country, its fauna and flora (Himalayan Tibet & Ladakh. First published 1903).
Download:
https://ia801505.us.archive.org/4/items/in.ernet.dli.2015.40105/2015.40105.In-Himalayan-Tibet.pdf
https://ia903202.us.archive.org/33/items/dli.granth.88115/88115.pdf
https://archive.org/details/himalayantibet0000aree/page/n5/mode/2up
---
Frederick O'Connor. On the Frontier and Beyond: A Record of Thirty Years Service. London; I. Murray. 1931.
Memoires of a British official. Lieutenant-Colonel Sir William Frederick Travers O'Connor was an Irish diplomat and officer in the British and British Indian armies. He is remembered for his travels in Asia, cartography, study and publication of local cultures and language, his actions on the Younghusband expedition to Tibet, which began in December 1903 and lasted until September 1904.
Download:
https://archive.org/details/dli.ernet.527933/page/n5/mode/2up
---
British Expedition to Tibet | 3 Minute History
---
Peter Aufschnaiter's Eight Years In Tibet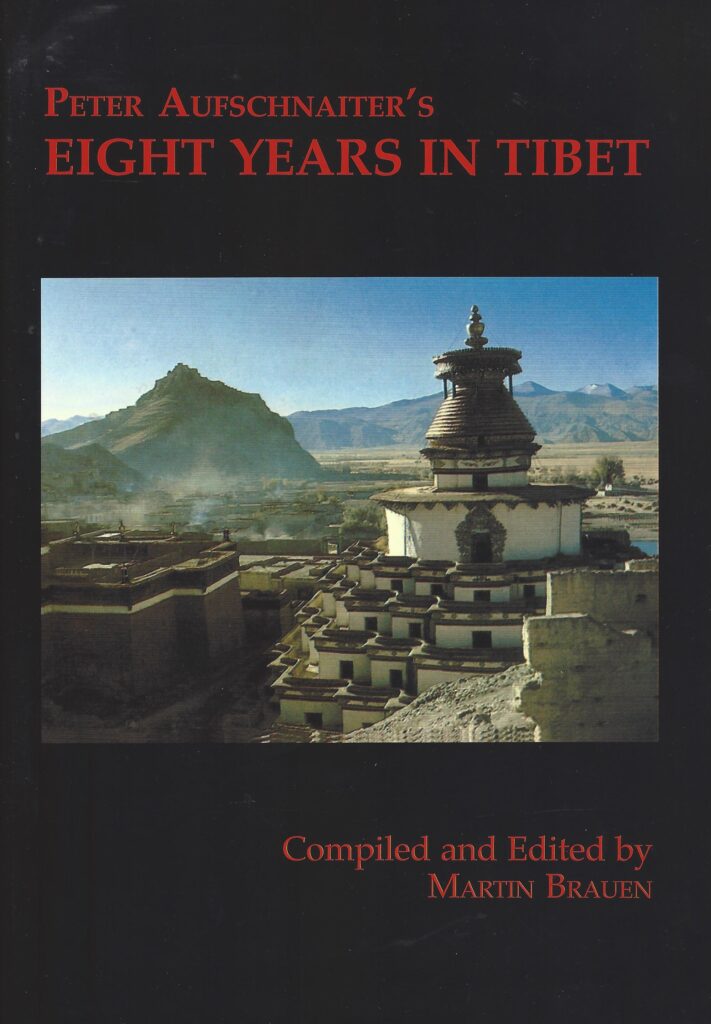 ---
Inside Tibet (1943)
FILM REPORT: On the journey of a U.S. military and diplomatic mission from Gangtok, India, to Lhasa, Tibet during World War II. The party journeys through Natu La and Kechu La passes, stops at the British trail station, Gyantse, reviews troops of Tropji Regiment and is ferried across the Brahmaputra River. Scenes of Tibetan natives, terrain, travel facilities, housing a New Year religious festival, the Dalai Lama's palaces in Lhasa, monasteries and other religious buildings. – National Archives and Records Administration – ARC Identifier 40103 / Local Identifier 226.5 – Inside Tibet – Joint Chiefs of Staff. Office of Strategic Services. Field Photographic Branch. (01/04/1943 – 10/01/1945).
---
Out Of This World
Lowell Jackson Thomas Jr. Out of this World; across the Himalayas to Forbidden Tibet. N.Y.; The Greystone Press, 1950.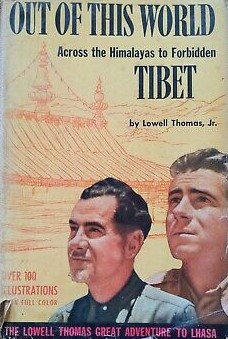 Lowell Thomas. Jr , was invited to accompany his father on a trip to Tibet in 1949 in order to publicise to America and the world the Tibetans, serious problem of defense against Communism.
Lowell Thomas Jr. (1923 – 2016) was an American politician and film producer who collaborated with his father, the accomplished reporter and author Lowell Thomas, on several projects before becoming an Alaskan state senator in the early 1970s, and later the lieutenant governor of Alaska. In the 1980s, he owned and operated Talkeetna Air Taxi, an Alaska bush flying service.
In 1949, Thomas and his father were invited by the Tibetan government to make a film there with the hope that their reports would help persuade the US government to defend Tibet against the Chinese. The trip lasted 400 days, and the father and son were the last Westerners to reach Lhasa before the Chinese invasion and occupation.
CBS did not broadcast the resultant film, Expedition to Lhasa, Tibet, until years later, but his book about the expedition, Out of This World, published in 1950 became a bestseller.
In 1960, after the 14th Dalai Lama of Tibet was given refuge in India, he wrote the book The Silent War in Tibet. "Mr. Thomas describes the brutal Chinese Communist invasion of Tibet beginning in 1950…" and about the armed Tibetan resistance by citizens and lamas which began in the mid 1950s. He told the Anchorage Daily News, "I guess it was the greatest adventure I ever had." In 2006, the Dalai Lama bestowed the International Campaign for Tibet's Light of Truth Award on Lowell Jr and referred to him as "one of the grandfathers of modern day Tibet."
---
Voyage au Tibet interdit (Bande-annonce)
In 2004, Priscilla Telmon left Hanoi for 5,000 kilometres of solitary adventure through the Himalaya. It follows the route of the explorer Alexandra David-Neel, the second Western woman to visit Tibet, and the first Western woman to visit Lhasa and to speak to the Dalai Lama.
En 2004, Priscilla Telmon quitte Hanoi, au Vietnam, pour 5000 kilomètres d'aventure solitaire à travers l'Himalaya. Elle suit l'itinéraire de l'exploratrice Alexandra David-Neel, qui en 1924 fut la première occidentale à rentrer clandestinement dans Lhassa, la cité interdite du pays des neiges. Pour la jeune femme, ce périple sur les chemins du ciel représente un pèlerinage de plus de 6 mois de marche, de découverte et de cheminement intérieur pour renouer avec le souffle, et l'esprit des grandes expéditions passées. Mais c'est aussi et surtout un véritable hommage aux mille peuples de l'Himalaya, menacés par la marche du monde, et une façon de mesurer ce qui du Tibet d'aujourd'hui ressemble encore au pays des neiges éternelles qu'Alexandra a connu…
---
Woman with altitude: this adventurer is recreating the journey of Alexandra David–Neél
100 years since the Suffragettes first won women the right to vote, many International Women's Day events are looking to further equality and opportunity for women around the world – and for some, like adventurer Elise Wortley, celebrating the historic achievements of our forebears is an opportunity in itself. Wortley has set out on an ambitious trek across the mountainous Indian Himalayan region to follow in the footsteps of legendary female explorer Alexandra David-Neél, who undertook a treacherous 14-year trans-Himalayan journey to Tibet in 1924. Find out more at tempusmagazine.co.uk @tempusmagazine. https://tempusmagazine.co.uk/news/the-adventure-of-a-lifetime-tempus-talks-to-extreme-explorer-elise-wortley
Ashrams of India: Volume 1, Chapter 18 Sikkim.
---
The Yogis of Tibet – a rare documentary film
For the first time, the reclusive and secretive Tibetan monks agree to discuss aspects of their philosophy and allow themselves to be filmed while performing their ancient practices. This extraordinary 2002 film that salutes the spiritual disciplines and practices of Tibetan yogis who have mastered their minds and bodies as part of their devotion to the dharma.
---
The Alexandra David-Néel: J'irai au pays des neiges
This 2012 biographical telefilm retraces the journey of Alexandra David-Néel, accompanied by Aphur Yougden, a child lama who was to become her adopted son, for 13 years of wanderings from India to the lands of the Himalayas and the Tibetan plains, and of their arrival in Lhasa on Feb. 28, 1924.
First trip to Tibet and meeting with the Panchen Lama in 1916
Wikipedia mentions that this Prima Donna, on the 13th of July 1916, without asking for permission, left for Tibet from Sikkim, accompanied by Yongden and a monk. She planned to visit two great religious centers close to her Sikkim retreat: the monastery of Chorten Nyima and Tashilhunpo Monastery, close to Shigatse, one of the biggest cities of southern Tibet. At the monastery of Tashilhunpo, where she arrived on 16 July, she was allowed to consult the Buddhist scriptures and visit various temples. On the 19th, she met with the Panchen Lama, by whom she received blessings and a charming welcome: he introduced her to his entourage's persons of rank, to his professors, and to his mother (with whom David-Néel tied bonds of friendship and who suggested to her to reside in a convent). The Panchen Lama bade and proposed her to stay at Shigatse as his guest, what she declined, leaving the town on 26 July, not without having received the honorary titles of a Lama and a doctor in Tibetan Buddhism and having experienced hours of great bliss. She pursued her escapade at Tibet by visiting the printing works of Nartan (snar-thang) before paying a visit to an anchorite which had invited her close to the lake Mo-te-tong. On 15 August, she was welcomed by a Lama at Tranglung.
Ashrams of India: Volume 1, Chapter 18 Sikkim.
---
---
Alexandra David-Néel: from Sikkim to Forbidden Tibet (English subtitles)
Alexandra David Neel, du Sikkim au Tibet interdit: Avant 1923, le Tibet était représenté sur les cartes par une tache blanche. Alexandra David-Néel sera la première à dessiner cette face cachée du monde. Alexandra David-Néel fut la première Occidentale à entrer à Lhassa, la ville interdite. Cet exploit la rendit mondialement célèbre. A travers le témoignage pittoresque et touchant de Marie-Madeleine Peyronnet, sa dernière gouvernante, qui repart sur ses traces, vivez l'histoire de cette exploratrice hors du commun, morte à 101 ans, juste après avoir fait renouveler son passeport.
---
Alexandra David Neel – Reportage – Visites privées
Retour sur l'incroyable vie d'Alexandra David Neel, infatigable voyageuse et première femme au monde à pénétrer au sein de la ville sainte de Lhassa au Tibet.
---
Portrait d'Alexandra David Neel la célèbre exploratrice et écrivaine bouddhiste
Le parcours de la célèbre exploratrice commenté par sa secrétaire et amie, Marie Madeleine Peyronnet, sa biographe et par Priscilla Telmon qui a marché dans ses pas jusque Lhassa. Une belle évocation avec des extraits d'interviews d'Alexandra elle-même.
---
Tintin in Tibet