Series: Westerners in India.
The following article is an excerpt from Ashrams of India.
The Razor's Edge
It is thought that sometime in the late 1920s, a young traveller from America bumped into Swami Ramdas one night at the Meenakshi Temple in Madura, the two of them had previously met three years earlier in the caves of Elephanta. The young American would eventually gain fame, albeit anonymously, in W. Somerset Maugham's 1944 novel The Razor's Edge. Given the name Larry Darrell by Maugham in the book, that same American, in real life following the advice of Ramdas, went to see Ramana Maharshi. Through the grace and light of the Maharshi, the anonymous American awakened to the absolute, although today among the Maugham scholars it is thought that Darrell is a composite character, made up of the different people Maugham had met and partly fictional.
The novel follows the idea that since time immemorial people have sought out enlightenment and spiritual awakening. As was the case of the novel's young character, the American pilot Laurence Darrell after he had personally witnessed a devastating wartime event during World War 1 that changed his perspectives on life. He leaves his fiancée and the opportunities for an affluent lifestyle and sets out on a journey in search truth regarding life. He travelled to India eventually studying with a highly venerated Maharshi in a South Indian ashram that is presided over by a Guru who is clearly Ramana Maharshi, but is identified in the book as Shri Ganesha. He experiences enlightenment and after several years at the ashram, Darrell returns to America with the aim of living, so far as it is possible, the life of a sadhu.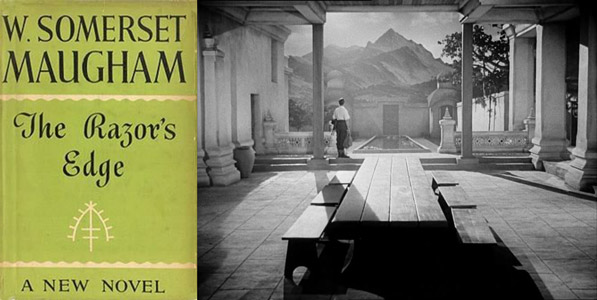 When The Razor's Edge was published it immediately became a best-seller, and is thought to be Maugham's most successful novel. He sold the film rights to Twentieth Century Fox soon after it's publication. Maugham worked on the screenplay but not a single word of Maugham's dialogue was used in the released film that was a critical and financial success and nominated for four Oscars. Maugham declined to write a sequel for Fox and never worked in Hollywood again. The film was remade in 1984 and was a commercial failure.
---
Related:
More interesting reading: http://the-wanderling.com/