Peer Wertin (Swami Ramanagiri) (his original name was Per Alexander Wertin) was a natural born Western mystic, a member of the Swedish Royal Family, who renounced an inheritance to become a holy man in India and attained Moksha (liberation) under Ramana Maharshi.
In his youth he came across Swami Vivekananda's Raja Yoga and found he had an immediate affinity with the subject matter, so much so that he began to develop yogic siddhis soon after beginning the practices. He came to India in 1945 on a two-year scholarship to study philosophy at Banaras Hindu University. While in Benares he met Alfred Sorensen (Sunyata) who invited him to stay in Almora. In early 1949 he went to Tiruvannamalai to meet Ramana Maharshi for the first time. He did self-enquiry intensively for forty days in Bhagavan's presence and was rewarded, on Sivaratri day 1949, with a direct experience of the Self. He returned to Almora, and in March 1950 he had a premonition that Bhagavan was about to pass away. Swami Ramanagiri made it to Ramanasramam in time. On the black-and-white film that was taken around the time of Bhagavan's passing away he can be seen paying his respects to the body of Bhagavan shortly before it was interred. There is a line of people filing past the body; he is the tall, thin foreigner with long hair (see MOVIE REELS).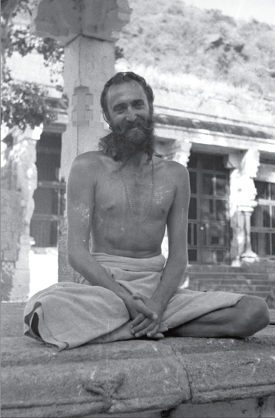 http://sri-ramana-maharshi.blogspot.com/2009/01/swami-ramanagiri.html
https://archive.arunachala.org/ramana/devotees/sw-ramanagiri/2010-jan-mp
The Samadhi shrine of Ramanagiri is at Kutladampatti Falls, near Vadippatti village, which is about 25 km from Madurai.
The Ramanagiri Swamigal Ashramam is the samadhi tomb Swami Ramanagiri. The Ashram is surrounded by mango farms and is a home for peacocks.
10.126330727403591, 78.01750003509609
https://www.google.com/maps/place/Ramanagiri+Swamigal+Ashramam,+Kutladampatti+Falls/@10.1261968,78.0137436,3158m/data=!3m1!1e3!4m8!1m2!2m1!1sRamanagiri+Swamigal+Ashramam,+Kutladampatti+Falls!3m4!1s0x0:0x16d0e3b083e85de4!8m2!3d10.1263324!4d78.0174994