Series: Westerners in India.
The following article is an excerpt from Ashrams of India.
In 1911, Frank Humphreys, a policeman stationed in India, became the first westerner to discover Sri Ramana. He wrote articles about him which were first published in The International Psychic Gazette in 1913. Sri Ramana only became relatively well known in and out of India after the publication of two books in 1934 and 1935 by Paul Brunton, who had first visited him in January 1931. Some of the other foreign visitors that followed included Maud A. Piggot who in 1932 is thought to be the first English lady to visit Sri Ramana, Grant Duff (Douglas Ainslie) (1865 – 1948) was a Scottish poet, translator, critic and diplomat born in Paris, France, visited in 1935, American anthropologist and writer Walter Yeeling Evans-Wentz in 1935, Paramahansa Yogananda (accompanied by his secretaries Richard Wright and Ettie Bletsch)in November 1935, Maurice Frydman, a Polish-Jewish devotee (and so was Lucia Osborne), who was a research engineer working in Bangalore was a frequent visitor from 1935, Major A.W. Chadwick in November 1935, English Poet Lewis Thompson in approximately 1935 and stayed for 7 years, S.S. Cohen, an Iraqi  Jew, who made Ramanasramam his home in 1936, 33 year old Dutchman Sadhu Ekarasa (Dr G.H. Mees) came in 1936, Oliver Lacombe (L'Attache Culturel, Consulat General de France, Calcutta) was a French doctor of philosophy who came for darshan in May 1936, Dr Suzanne Alexandra (Sujata Sen) in 1936, Alfred Julius Emmanual Sorensen (Sunyata) was a Danish devotee made the first of four trips to Ramana in 1936, British scholar and Theosophist Duncan Greenlees, came in October 1936 for a few days, Pascaline Mallet, a French writer and seeker, whose 1938 book Turn Eastwards which detailed her nine-month pilgrimage in India in 1937, David McIver in 1938, Somerset Maugham in January 1938 visited for a few hours (his 1944 novel The Razor's Edge models its spiritual guru after Sri Ramana), American engineer Guy Hague arrived in Sri Ramanasramam in 1938 after travelling the world, he stayed 2½ years, Cuban-American writer of the 1920s and 30s Mercedes de Acosta stayed for three days in 1938, renowned American painter Eliot C. Clark visited in 1938, Eleanor Pauline Noye arrived in 1939 and stayed for 10 months, French devotee Ethel Merston visited Sri Ramana in 1939, Ella Maillart was a Swiss travel writer and photographer who remained in India from 1939 to 1944 and resided mostly in Tiruvannamalai, Lucia Osbourne  with their children Catherine, Frania and Adam, arrived in 1941/42, Blanca Schlamm (Atmananda), an Austrian concert pianist in 1942, William Samuel stayed and sat in the silence with Ramana Maharshi for 14 days in April 1944, Alexander Phipps (Madhava Ashish) visited in 1944, Arthur Osborne in 1945, American Robert Adams also stayed for three years from 1946 (disputed as to whether he was ever at the ashram), Swiss Henri Hartung first came in 1947 for ten days, American Thelma Rappold spent three years with Ramana Maharshi from 1947, Krishna Prem (Ronald Nixon) met Ramana Maharshi in 1948, Swedish Royal Family member Peer Wertin (Swami Ramanagiri) in 1949 and in 1950, Dutch teacher and writer Wolter A. Keers was taken to Ramanasramam in 1950 by Roda Maclver, wife of David MacIver, Henri Le Saux, also known as Swami Abhishiktananda, had numerous contacts with Sri Ramana Maharshi, spending several weeks and months in the caves of Arunachala between 1950 and 1955 in deep meditation.
Among the first westerners to come and stay at the ashram were Paul Brunton (the pen name of Raphael Hurst) (21 October 1898 – 27 July 1981) and Bhikshu Prajnananda (former military officer known later as Swami Prajnananda, founder of the English ashram in Rangoon) who lived in a two-room cottage to the north of the tank in Palakothu. Brunton was a British philosopher, mystic and traveller who had left a journalistic career to live among the yogis, mystics and holy men to study Eastern and Western esoteric teachings. He has been credited with introducing Ramana Maharshi to the West through his books A Search in Secret India published in 1934 and The Secret Path published in 1935.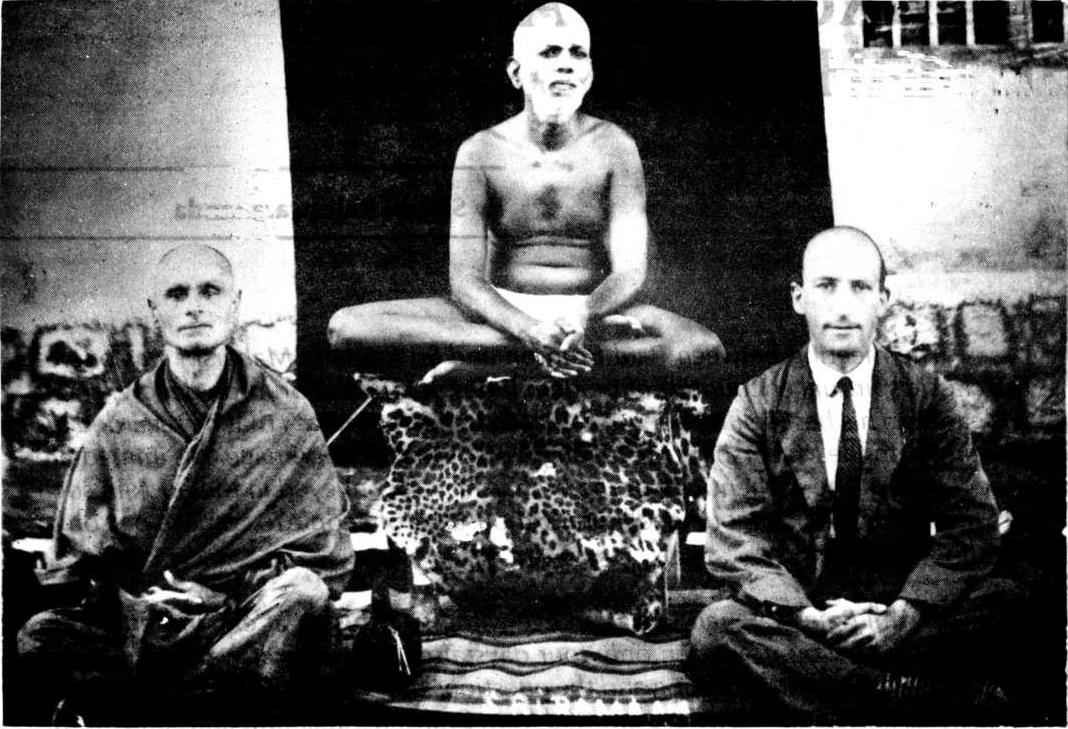 German born American Walter Yeeling Evans-Wentz (1878 – 1965) pioneered the study of Tibetan Buddhism, mostly known for publishing an early English translation of The Tibetan Book of the Dead in 1927, Tibet's Great Yogi Milarepa (1928), Tibetan Yoga and Secret Doctrines (1935), and The Tibetan Book of the Great Liberation (1954), visited Ramana Maharshi in 1935. In 1946, he wrote the preface to Yogananda's well known Autobiography of a Yogi.
Maurice Frydman who lived in India for five decades was also known as Bharatananda. He was a disciple of Mahatma Gandhi and lived in his ashram, where he made the spinning wheel that Gandhi used. He was close to Nehru, and was associated with Sri Ramana Maharshi and J. Krishnamurti. He was also a long-time friend of Nisargadatta Maharaj, who considered him a Jnani. Frydman edited and translated Nisargadatta Maharaj's recorded conversations into the 1973 book I Am That. When he died in 1976 in India, Nisargadatta was by his bedside. In an article that Maurice wrote very late in his life, he lamented the fact that he didn't fully appreciate Ramana Maharshi's teachings and presence while he was alive.
After reading A Search in Secret India Major A.W. Chadwick O.B.E. (1890 – 1962) who was in the British army serving in South America, resigned his post and came to Sri Ramanasramam in November 1935, and remained there for the rest of his life, establishing himself at the heart of the ashram in a way no other Westerner could ever repeat. He was one of the few who had a relaxed relationship with Ramana. His cottage was like a foreign embassy in the heart of the ashram as he was able to mediate for so many who found at times the ways of the ashram difficult. He became Sadhu Arunachala and is buried in the ashram. He translated all the original works of Sri Ramana into English and wrote the book A Sadhu's Reminiscences of Ramana Maharshi (1961).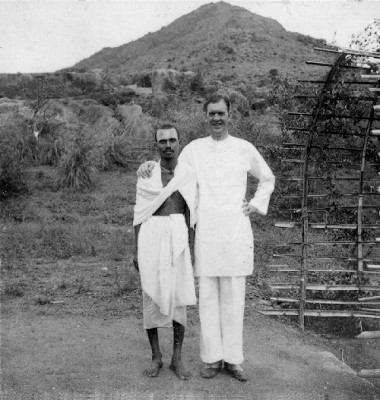 S.S. Cohen who was an Iraqi Jew, was an accountant who made Ramanasramam as his home in 1936. He authored Guru Ramana, Residual Reminiscences of Ramana, and Reflections on Talks with Sri Ramana Maharshi. He is buried in the Korangu Thottam compound of Ramanasramam, he was a realised Jnani.
Dr Mees studied Buddhism, the Sufis and all the major religions and cultures of the world. In 1936 he toured in India and while halting in Bangalore a friend suggested to go and meet "a wonderful living Sage in the nearby town of Tiruvannamalai." Within twenty-four hours he knew his search was over: he had found his Sat-Guru! He gave up his career, his ambitions, and settled in Tiruvannamalai and later bought a property in Kerala by the sea at Varkala. He travelled constantly between Varkala and Tiruvannamalai until 1954.
Dr Suzanne Alexandra Curtil, popularly known as Sujata Sen, was a gifted dancer, medical doctor, the first Theravadin Buddhist priestess in eight hundred years, and a feminist! Born in Paris in 1896, at age 18 she joined The Theosophical Society, and went to India in 1925 to attend the annual Theosophical convention at Adyar, where she met Sri Jinawansaswami and soon after became a Buddhist nun. She later met Tromo Geshe Rinpoche in Kalimpong, who had spent years in solitary meditation in the caves of Tromo in Southern Tibet. Dressed inconspicuously as a young Nepali man, she joined a caravan to Lhasa, but fell ill on the way and never reached her destination.
In 1927, Suzanne left her life as a nun to marry an Indian army surgeon, Ranjit Sen, and together they had one child. When the marriage was dissolved, Suzanne resumed her vows. After seeing a newspaper article about Ramana Maharshi she went to Ramanasramam in December 1936, settling down in Big Street, Tiruvannamalai, where she ran a desperately needed medical practice in the town. When World War 2 broke out her mother and her daughter Monica came out to India and stayed for 10 years. Eventually, in 1945 she decided to leave and to go to Swami Ramdas, who was himself an admirer of Ramana Maharshi. At this traumatic moment of parting, Ramana did not say a single word, but she heard him say "There is no separation. All gurus are one. They are the indwelling self of everyone. I shall ever remain as the Jewel shining in the lotus of your heart." Almost as soon as she had arrived in Ramdas's ashram, he willingly gave her the initiation she had craved for so many years but never received from Ramana Maharshi. The atmosphere being much warmer and friendlier with Ramdas, she stayed on for 18 months.
Suzanne and Monica were not present on the last day of the Maharshi's physical life. But when Suzanne did return to Tiruvannamalai there was a change in her in that she no longer had the desire to find a Master. Through her friendship with the Benedictine monk Swami Abhishiktananda, Suzanne became reconciled also with her original faith, the Roman Catholic religion. The quest for a Master was futile now that she knew the Divine Master reigned in her own heart. The Biographical and Autobiographical book, The Hill of Fire was written by her daughterMonica Bose (Arunachala is also known as the Hill of Fire) and published in 2002.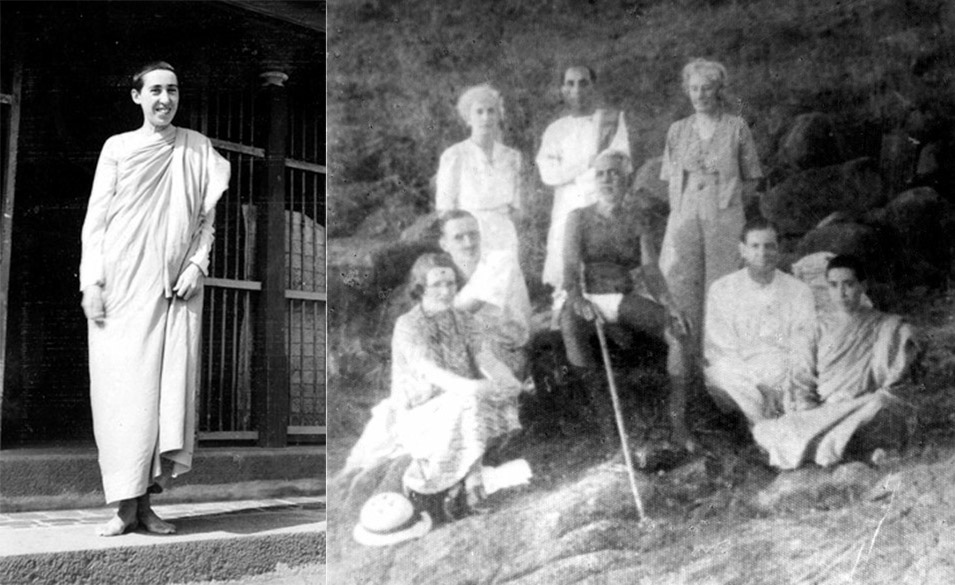 Alfred Julius Emmanuel Sorensen (1890 – 1984) also known as Sunyata, was a Danish natural born mystic who lived in India for 40 years. In 1929, he met Rabindranath Tagore in Devon, England, they got on well, and Tagore invited Sorensen to visit him at Santiniketan, his centre near Calcutta. He went to India the same year and stayed 18 months, travelling on his own after staying with Tagore for only a short while. Sometime within those 18 months (or possibly just after his second return), he was befriended by a young American on his way to Swami Ramdas to pay homage and his respects as well as offer his thanks and gratitude for sending him to the Bhagavan Sri Ramana Maharshi several years earlier. The young American was to become famous anonymously some years later in Somerset Maugham's book The Razor's Edge. The meeting was a turning point for Shunyata because the man, basically no different than himself, had awakened to the absolute under the auspices of the sage Ramana Maharshi. He returned briefly to the West, and then went back to India and stayed for the next 40-odd years. On his return, he lived in a tree on a small island in the Ganges near Haridwar. Students from the college in the town would swim out to the island and he would climb down from the tree to talk to them. In 1934, he became the gardener to the Nehru family the Nehru family on their estate 'Khali,' near Binsar, not far from Almora. During which time one of their friends offered Sorensen a piece of land on Crank's Ridge where he could live. The remains of Alfred Sorensen's cave near Crank's Ridge can still be seen. While in India, Sorensen was initiated into Dhyāna Buddhism, but it was Ramana Maharshi who was to provide the biggest influence on his spiritual life. He had read Paul Brunton's classic A Search in Secret India (1934), and soon after he met Brunton who arranged for Sorensen's first visit to Ramana. Sorensen made four trips to the Tiruvannamalai ashram between 1936 and 1946. It was during his visit to Sri Ramana that Paul Brunton told him that Ramana had referred to him as a 'janam-siddha' or rare born mystic. Sorensen's life is captured in the 2015 biography Dancing with the Void: The Innerstandings of a Rare-born Mystic by Betty Camhi and Gurubaksh Rai.
Duncan Greenlees who stayed for a few days in October 1936 would later write that the kind welcome given by the ashram people was his first impression, none of the arrogant and ignorant contempt for foreigners as he had met at times elsewhere, "but rather an eager kindliness and anxiety to make me feel at home in what must be a strange environment." "Of course, living in the ashram has its strains and stresses. I have known moods of black despondency and disgust, of quick irritation, of what seemed at the moment like disillusionment. When the body's impurities are stirred up by a fast ready for elimination, there is a time when they seem to rule the body and pains of every kind increase. So, when the mind is to be purged by a great Soul like this Maharshi, many dark things of the past are stirred to life again before they can be expelled. But I must add that those who are in the ashram are very gentle, considerate and kindly when they see us dropping into such a mood."
Pascaline Mallet, the French writer's 1938 book Turn Eastwards was appreciated by Sri Ramana. In the second edition of Self Realization by B. V. Narasimha Swami included a short excerpt from a book entitled Turn Eastwards by Pascaline Mallet who visited the ashram in 1937. For reasons unknown, this excerpt was deleted from the subsequent editions; In May 1938, Bhagavan Ramana, after having gone through the whole book of Mme. Pascaline Mallet's book Turn Inwards, spoke for about an hour on that book. He said that the writing was full of feeling and the writer was sincere. The book is written in a simple style and finishes off with remembrance of Himself. Bhagavan Ramana thinks that the book was well written. He interprets 'Turn Eastwards' as 'Turn to the Source of Light.'
David MacIver belongs to the very early group of western devotees who came under the powerful influence of Ramana Maharshi. He was, perhaps, the first westerner to build a house in Ramana Nagar. During his stay with Bhagavan, he helped Munagala Venkataramaiah to translate many of the works of Ramana Maharshi. He also while staying with Bhagavan, went to Malakara, Kerala and lived with Swami Atmananda. He passed away there on September 19th 1981 after a prolonged illness.
American engineer Guy Hague who originally came from Long Beach, California arrived in Sri Ramanasramam in 1938 after travelling the world, he stayed 2½ years. There has been considerable speculation among the Maugham scholars as to whether the character of Larry Darrel in the book The Razor's Edge is derived from Guy Hauge. There are similarities, but there is no evidence that Maugham had met Hague either in India or anywhere else. It is also thought that Hague was not at Sri Ramanashram, or even in India, on the day that Maugham visited the ashram. The current consensus is that Larry Darrel is a composite character derived partly from different people Maugham had met and partly from imagination.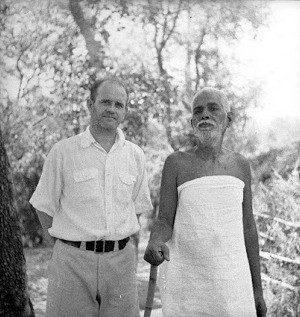 Cuban-American writer Mercedes de Acosta (1893 – 1968) travelled to Arunachala to meet Ramana Maharshi in 1938 after reading Brunton's book A Search in Secret India,and stayed for three days. This visit made a tremendous impact on her. She later wrote in her 1960 autobiography Here Lies the Heart that these were the three most significant days of her life.
Eleanor Pauline Noye arrived in 1939 and stayed at the ashram for ten months. She made a second trip, arriving several months before Ramana's Mahanirvana in 1950. She can be seen in archival films walking amidst a crowd of devotees directly behind Ramana.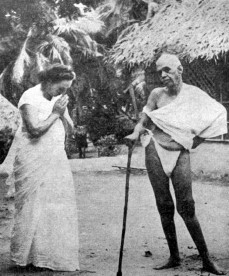 Ethel Merston was one Gurdjieff's first students at his Institute in France. Travelling the world, she settled in India in 1934. She worked with J. Krishnamurti, Anandamayi Ma, Sri Aurobindo and The Mother, among others and chose as her guru Ramana Maharshi. She first met him while living in a rural village near Benares where for seven years she managed a farm. She left the village for Ramana Maharshi's ashram, and was with him until his death in 1950. In her memoirs, she gave a first-person account of his death, and also the meeting between The Mother and Anandamayi Ma, with whom she travelled for some time. Though making India and Ramanasramam her permanent home, she returned to England periodically in the 1950s. After her last trip around the world, she returned to Ramanasramam in 1959 and built a house in Tiruvannamalai, living there until her death in March 1967. The spiritual biography of Ethel Merston A Woman's Work With Gurdjieff, Ramana Maharshi, Krishnamurti, Anandamayi Ma & Pak Subuh by Mary Ellen Korman was published in 2009.
William Samuel (1924 – 1996) sat with Ramana Maharshi in 1944. While a 21 year old captain in the US Army and a veteran of three years fighting with the Chinese Nationalist army against the Japanese in China, he took a period of R&R at the ashram where he stayed for two weeks in April of 1944. He writes in one of his books The Awareness of Self-Discovery about his time with Ramana Maharshi. "Some years ago, I was honoured to be the first American student of a renowned teacher in India. For fourteen days a group of us sat at the feet of this "Master," during which time he spoke not one word – not so much as a grunt – until the final day when he bade us farewell and assured us we had learned much. And to my surprise, I had… It took months before the seeds of those silent days began to sprout one by one, revealing that there are indeed many things for which the uptight, recondite babble of books and teachers is more hindrance than a help."
Alexander Phipps (Madhava Ashish) visited in 1944, and his guru Ronald Nixon (Krishna Prem) visited in 1948. Madhava Ashish (1920 – 1997) was a Hindu mystic with many European followers, who began his life as a conventional member of the old officer class.
Writer Arthur Osborne (1906 – 1970) was initially was a follower of the French metaphysician René Guénon. One of the members the René Guénon group, David MacIver, sent the Osborne family a photograph of Ramana Maharshi and two of Bhagavan's books, cautioning them that Ramana Maharshi was not a guru as he did not give initiations or accept anyone as a disciple. But Arthur and Lucia Osborne were captivated by the picture wanted to go to India and meet Ramana Maharshi. During a summer holiday Kashmir in 1942, they were met by David MacIver who also owned a cottage opposite Ramanasramam. After a few weeks, Osborne had to return to Bangkok, Lucia and the three children went with McIver to Tiruvannamalai.
Parting at the Lahore railway station, Lucia and the children went on to Bombay and then south, and Arthur went to Calcutta and then on to Thailand. From My Life And Quest, Arthur writes that his daughter Catherine was the first to see Bhagavan. She stepped into the hall where he used to sit, a small, beautiful child with curly gold hair, bearing a tray of fruit in her hands, the customary offering. Bhagavan pointed to the low table beside his couch where such offerings were placed, and she, misunderstanding, sat down on it herself, holding the tray in her lap. There was a burst of laughter. "She has given herself as an offering to Bhagavan," someone said. A day or two later my wife entered the hall and sat down. Immediately Bhagavan turned his luminous eyes on her in a gaze so concentrated that there was a vibration she could actually hear. She returned the gaze, losing all sense of time, the mind stilled, feeling like a bird caught by a snake, yet glad to be caught. An older devotee who watched told her that this was the silent initiation and that it had lasted about fifteen minutes. Usually it was quite short, a minute or two.
Osborne returned to Bangkok he was taken as a POW and held for three and a half years by the Japenese. Osborne arrived in Ramanasramam in 1945, following his internment to be reunited with his family. He describes hi first meeting with Ramana Maharshi in My Life And Quest, "I entered the ashram hall on the morning of my arrival, before Bhagavan had returned from his daily walk on the hill. I was a little awed to find how small it was and how close to him I should be sitting; I had expected something grander and less intimate. And then he entered and, to my surprise, there was no great impression. Certainly far less than his photograph had made. Just a white-haired, very gracious man, walking a little stiffly from rheumatism and with a slight stoop. As soon as he had eased himself on to the couch he smiled at me and then turned to those around and to my young son and said: 'So Adam's prayer has been answered; his Daddy has come back safely.' I felt his kindness but no more. I appreciated that it was for my sake that he had spoken English, since Adam knew Tamil."
Apart from a three year period in Madras and another time in Calcutta from 1952 to 1958 for work, he made Tiruvannamalai his home, spending the rest of his life there writing and raising his children (who were the first Western children at Ramanasramam). Their bungalow was built by his wife Lucia and four workmen, without a plan and without an architect. Osborne authored many books about Ramana Maharshi, he also founded and published the ashram journal The Mountain Path which still enjoys a global circulation. He died in 1970, his body much weakened by the effect of his years in the internment camp.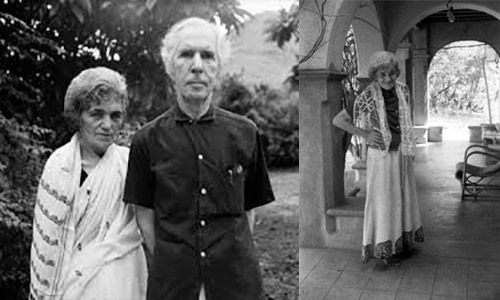 The photo of Lucia Osborne at the bungalow near Ramanasramam, Tiruvannamalai on the 29th of January 1981, was taken from the 2004 book New Lives, 54 Interviews with Westerners on their search for spiritual fulfilment in India (newlives.freeola.net) Compiled, edited and mainly photographed by Malcolm Tillis. Lucia spoke fluent Tamil and practised Homeopathy.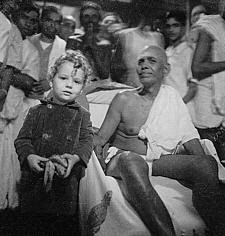 Robert Adams (1928 – 1997) was an Advaita teacher from Manhattan, New York. As a child, he would often be visited at night by an old man who sat on the end of his bed. When he was about 14, he went to the library and passed by the philosophy section and saw a book on yoga masters. Not knowing what yoga was about he opened a book (Who am I? by Ramana Maharshi) and there was a picture of Ramana Maharshi, it was the same old man who had been appearing to him on the end of his bed.
Later he discovered that he had a siddhi power in so much that he could manifest what he wanted. In his early teens, he used that power by saying "God God God" which gave him a God experience, a kind of samadhi trance that never left him. At the age of 16, he often visited Christian mystic Joel S. Goldsmith in Manhattan, who became his first teacher, helping him to better understand his enlightenment. Goldsmith sent him on to Paramahansa Yogananda at the Self-Realization Fellowship in Encinitas, California. When he asked Yogananda if he was his guru, Yogananda said no, and that Ramana Maharshi was and that he should go to him as soon as possible.
He arrived in Ramanasramam in 1946 at the age of 18 and stayed until a few months before Ramana Maharshi's passing. He had many conversations with the Maharshi about everyday things. Ramana Maharshi would often bring food to his room. Robert's sojourns are not mentioned in any of the books compiled about the significant events of the ashram.
From 1950 Adams spent 17 years travelling around India and stayed with Nisargadatta Maharaj for 6 months, Anandamayi Ma, Neem Karoli Baba, Swami Ramdas, Swami Brahmananda 'the Staff of God' in Varanasi and others, but he never met anyone who exuded such compassion, such love, such bliss as Ramana Maharshi.
Swami Brahmananda was about 90 years old and had three disciples who had been with him for about 50 years. He was invited to sit by him, perhaps being the first westerner to do so, he stayed for a few days listening to him say nothing. On the third day, he announced that his body was in pain, but he still had work to finish on this plane and was going to leave his body the next day at 3.00 pm and would take on the body of a younger person. He said that someone would slip on the street and crack his head and that he would take up that body. At 3.00 pm the next day he died while sitting in the lotus posture. Adams and the disciples heard a commotion outside, and sure enough, a young man had slipped on the street in the rain and hit his head. A crowd had gathered that included a doctor who pronounced him dead. All of a sudden, the young man got up and ran into the forest. No one ever heard of him again.
The Robert Adams wikipedia page says that none of his claims of visiting India or Ramana Maharshi's ashram have ever been verified by anyone except himself. His claims of living in Arthur Osborne's house have been questioned by Katya Osborne and Michael James and found to be likely untrue.
Swiss Henri Hartung first came in 1947 for ten days, while in Bombay he met a Brahmin who told him without astonishment "I was waiting for you, I have to escort you to the Maharshi." Two days and two nights later they reached the ashram.
Thelma Rappold spent three years with Ramana Maharshi from 1947 at Sri Ramanasramam. She met her husband (also an American) in Tiruvannamalai during those years. When she first met Sri Ramana, he said to her "You are what you are – accept it. When the time comes to give it up do it with grace." At the ashram, she found her true home and teacher, it was as if she had lived several lifetimes in those few years that she was there with him.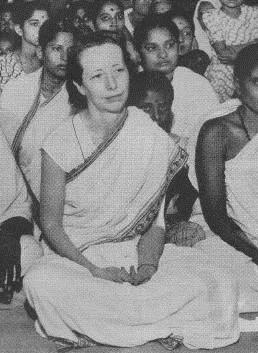 When Krishna Prem (Ronald Nixon) met Ramana Maharshi in 1948, Ramana remarked, "Krishna Prem is a rare combination of a jnani (person of Knowledge) and a bhakta (person of Devotion)." Ronald Henry Nixon (1898 – 1965) was a British spiritual aspirant who went to India in the early 20th century. Together with his spiritual teacher Sri Yashoda Mai (1882 – 1944), he founded the Mirtola Ashram, in Mirtola, near Almora.
Peer Wertin (Swami Ramanagiri) was a natural born western mystic, a member of the Swedish Royal family, who renounced an inheritance to become a holy man in India and attained Moksha (liberation) under Ramana Maharshi.
In his youth he came across Swami Vivekananda's Raja Yoga and found he had an immediate affinity with the subject matter, so much so that he began to develop yogic siddhis soon after beginning the practices. He came to India in 1945 on a two-year scholarship to study philosophy at Banaras Hindu University. While in Benares he met Alfred Sorensen (Sunyata) who invited him to stay in Almora. In early 1949 he went to Tiruvannamalai to meet Ramana Maharshi for the first time. He did self-enquiry intensively for forty days in Bhagavan's presence and was rewarded, on Sivaratri day 1949, with a direct experience of the Self. He returned to Almora, and in March 1950 he had a premonition that Bhagavan was about to pass away. Swami Ramanagiri made it to Ramanasramam in time. On the black-and-white film that was taken around the time of Bhagavan's passing away he can be seen paying his respects to the body of Bhagavan shortly before it was interred. There is a line of people filing past the body; he is the tall, thin foreigner with long hair (see MOVIE REELS).
Wolter A. Keers was a Dutch teacher and writer who lectured on yoga and Advaita in Europe. Roda MacIver, the wife of David MacIver, took Keers to Ramanasramam in 1950. He travelled extensively in India during the 1950s, becoming a disciple of both Ramana Maharshi and Atmananda Krishna Menon. He returned and began teaching in Brussels during the 1970s. He also translated the book I am That by Nisargadatta Maharaj into Dutch. He left his body in 1985 by stretching out on the floor in his living room in front of a photo of Sri Ramana Maharshi and then passed away.
Henri Le Saux also known as Swami Abhishiktananda (1910 – 1973) was a French Benedictine monk who, having moved to India in 1948 in search of a more radical form of spiritual life, adopted sannyasa in accordance with Indian tradition and became one of the pioneers of Hindu-Christian dialogue. He had numerous contacts with Sri Ramana Maharshi, spending several weeks and months in the caves of Arunachala between 1950 and 1955 in deep meditation. A leading thinker in the development of the dialogue between Christianity and Hinduism, and a leader in the Christian Sanyas and the Ashram Movement, he founded the Christian ashram 'Shantivanam.' He was the author of many books, including Saccidananda: A Christian Experience of Advaita, and The Further Shore.
Gary Snyder and Joanne Kyger had stayed with the Osborne's briefly in Janurary 1962, staying in a little room on the top of the house from which they could look out at Arunachala through a mass of bougainvillea. Gary Snyder was once described by fellow poet Allen Ginsberg in October 1955 at the Six Gallery reading for the first public performance of Ginsberg's poem 'Howl,' as "a bearded youth of 26, formerly a lumberjack and seaman, who had lived with the American Indians." Snyder's uncles had all gone to sea or worked in logging camps. Ginsberg also said that Snyder was "perhaps more remarkable than any of the others." Jack Kerouac who was also in the audience later recalled that Snyder as "the only one who didn't look like a poet." Kerouac thought Snyder as one of "the old-time American heroes." Three years later, Kerouac published The Dharma Bums, a novel featuring Snyder as the mountain-climbing, haiku-hatching hero, Japhy Ryder.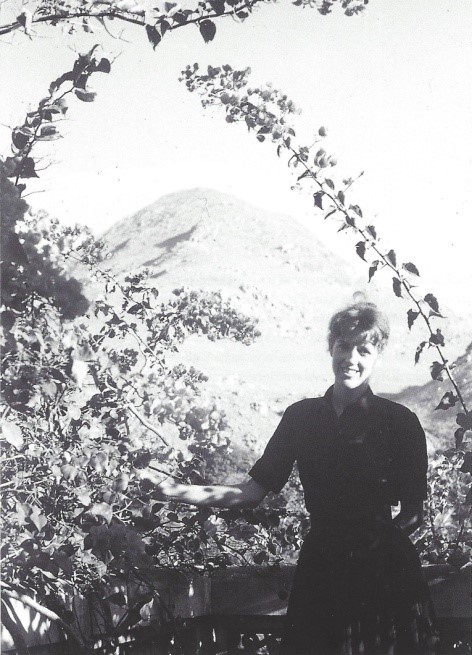 Joanne Kyger at the Osborne home in 1962, staying in a little room on the top of the house from which she and Gary Synder could look out at Arunachala through a mass of bougainvillea, as mentioned in Gary Snyder's publication Passage Through India.
Gary was a serious student of Zen Buddhism. Before arriving in India, while in Kyoto to become enlightened, he was desperate for Joanne to join him from California, "If you come to Kyoto and study meditation and Buddhisim with me you will lose your ego" to which she replied "why would I want to lose my ego?, I have tried for years to have one."
From Deborah Baker's book A Blue Hand: The Beats in India "Don't you want to study Zen and lose your ego?" Gary Snyder asked Joanne Kyger upon her arrival in Japan and learning of her decision not to stay. "What!" Joanne had replied with koanlike economy. "After all this struggle to obtain one?"
Author David Godman arrived in Tiruvannamalai in 1976 after reading Arthur Osborne's book, The Teachings of Ramana Maharshi in his Own Words. After three days in the ashram, he spent the next eighteen months in Arthur and Lucia Osborne's home, taking a room at the back of the house. Arthur had passed away a few years before. Despite his intention to stay in India for only six weeks, he has been there almost continuously ever since, residing mainly in Tiruvannamalai. In 1978, he began to do voluntary work for Sri Ramanasramam. He looked after their library from 1978 to 1985, edited their magazine for a short period of time, and from 1985 onwards did research for his various books. In 1993, he went to Lucknow and spent four years with Sri. H.W.L. Poonja a well known devotee of Sri. Ramana Maharshi. He returned to Tiruvannamalai in 1997 and has since been researching and writing new books on Ramana Maharshi.