A collection of books of spiritual interest for the modern traveller. Contact Us, if you have any other recommendations for books that should also be added to this list!
---
Recommended Books:
---
If Truth Be Told. A Monk's Memoir: Om Swami
The life story of Om Swami and his journey to becoming a monk. As an 18-year-old, Om Swami headed to Australia to realise his worldly dreams and aspirations. He struggled to make his ends meet but two years down the line he was a multimillionaire earning $250,000 a year. He always had a burning desire to explore his spirituality.
Available from: http://omswami.com/book/kundalini-an-untold-story
Inside Maharishi's Ashram, A Personal Story: Rhoda Orme-Johnson
Inside Maharishi's Ashram is a personal account of one woman's spiritual journey, her experiences of being close to and working with the Indian guru Maharishi Mahesh Yogi, with the Transcendental Meditation organization and movement, including her twenty years as a faculty member at Maharishi International University (MIU).
Available from Amazon.com
In The Steps of the Yogis: Vijayananda
French physician Dr A. J. Ventroy, was interested in spiritual life and went to India via Sri Lanka in 1950 in the hope of finding his guru and then return to France to practice medicine. He had hoped to meet Ramana Maharshi and Aurobindo, but both had just passed away when he reached Chennai in January 1951. He met Ma Anandamayi in Varanasi on February 2, 1951, asked her if he could stay for two or three days in her ashram, she said yes, and then actually spent the next 59 years in her ashrams, and never left India. In the steps of the yogis is translated from French by Violet Khazoum.
Available from: http://www.anandamayi.org/wp-content/uploads/2016/03/In-the-Footsteps-of-Yogis.pdf
It All Abides in Love. Maharajji Neem Karoli Baba: Jai Ram
Ram Dass introduced Maharajji Neem Karoli Baba to Western spiritual seekers of the 60s and 70s. "It All Abides in Love" offers a contemporary view of this remarkable and completely enigmatic Indian sadhu, a spiritual renunciate who had more of an impact on America than anyone knows. Maharajji is known as the Miracle of Love. Maharajji raised the dead, turned water into milk or gasoline, made Himself and others with him to become invisible, cured many diseases, and never really gave any formal 'teachings.'
Available from Amazon.com
Jesus Died in Kashmir: A. Faber-Kaiser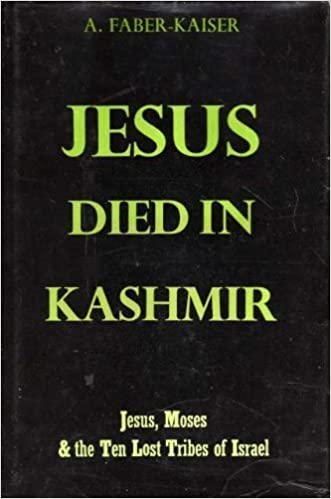 Andreas Faber Kaiser (1944 – 1994) was the first Western author to write a full-length book on the subject of Jesus in Kashmir. Andreas Faber-Kaiser has assembled an arresting body of evidence to throw new light on these questions. This evidence supports a completely new concept of Jesus. For Example, among a group of people living in Kashmir today calling themselves 'Children of Israel,' the author found a living descendent of Jesus with a complete family tree tracing his descent over 2000 years.
Calmly and persuasively, this book examines revolutionary new findings and theories to reveal how Christ survived the ordeal of crucifixion, went East to find the 'Children of Israel' – and completed his mission on Earth.
Available from Amazon.com
Jesus in Heaven on Earth: Khaja Nazir Ahmad
The fruit of 10 years of labour by the erudite lawyer Khwaja Nazir Ahmad, this book details the journey of Jesus to Kashmir, his preaching to the Lost Tribes of Israel and death and burial in Srinagar. This is a detailed research work, based on scriptural, historical and archaeological evidence, showing that the people of Afghanistan and Kashmir belong to the ten lost tribes of Israel, and that the Prophet Jesus, having survived death on the cross, came to this area to continue his mission among the "lost sheep" of Israel and died in Kashmir. The book offers proof that the tomb of the Prophet Jesus is in Srinagar, the capital of Kashmir. The sources of Christianity and of Islam, and various dogmas of the Christian Church are also discussed.
Available from Amazon.com
Jesus Lived in India: Holger Kersten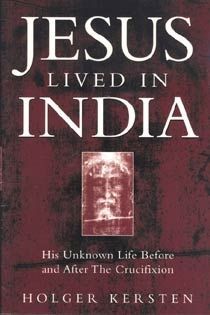 His unknown life before and after the crucifixion. Why has Christianity chosen to ignore its connections with the religions of the East, and to dismiss repeatedly the numerous claims that Jesus spent a large part of his life in India? This compelling book presents irrefutable evidence that Jesus did indeed live in India, dying there in old age. The result of many years of investigative research, Jesus Lived in India takes the reader to all the historical sites connected with Jesus in Israel, the Middle East, Afghanistan and India. As well as revealing age-old links between the Israelites and the East, the evidence found by theologian Holger Kersten points to the following startling conclusions: In his youth Jesus followed the ancient Silk Road to India. While there he studied Buddhism, adopting its tenets and becoming a spiritual master. Jesus survived the crucifixion. After the resurrection Jesus returned to India to die in old age. Jesus was buried in Srinagar, the capital of Jammu and Kashmir, where he continues to be revered as a saintly man. The tomb of Jesus still exists in Kashmir.
Available from Amazon.com
La Magdalena: William M. Valtos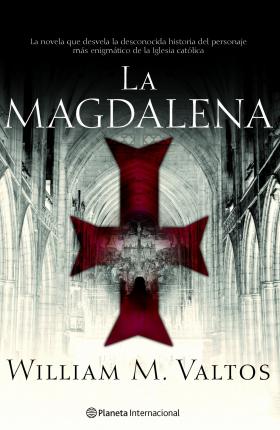 A fictional story about Mary Magdalene.
A chance encounter with a mysterious young nun, known only as La Magdalena, turns Private Investigator Theo Nikonos's vacation into an investigation that unearths the little-known and mysterious world of early Christianity.
A conversation with a priest, who tells a story that is stunning in its scope and heretical in its context, turns deadly. Nikonos realises that there is someone who will do anything to prevent the revelation of who La Magdalena really is. And who she is will shatter the foundation of the Christian world.
Available from Amazon.com
Living by the Words of Bhagavan: David Godman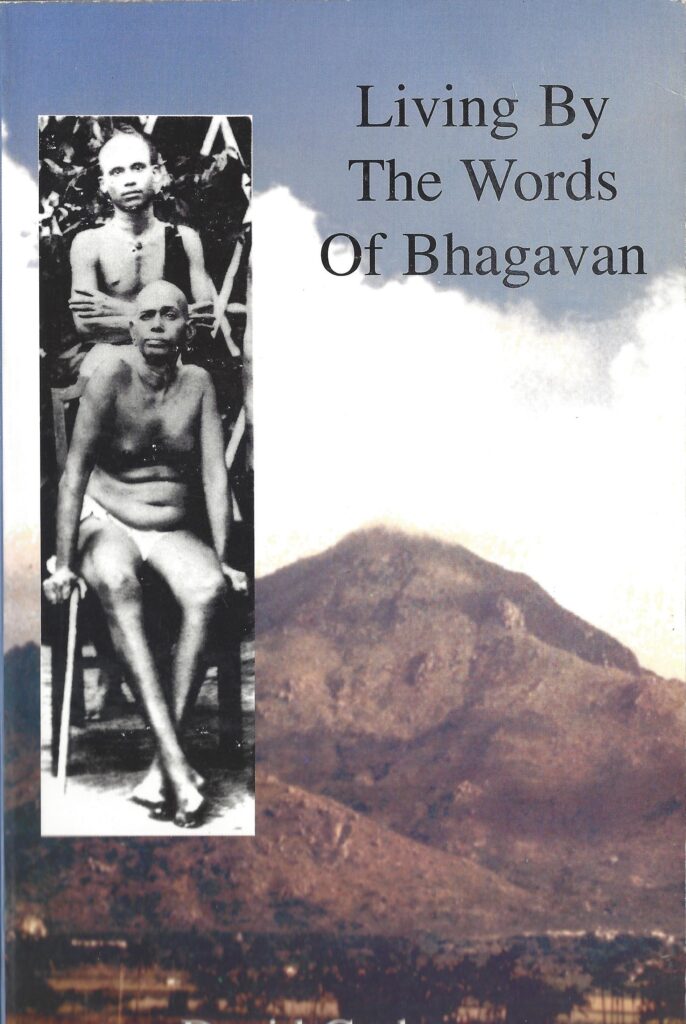 David Godman has written books on the life, teachings and disciples of Ramana Maharshi. He has lived in Tiruvannamalai, the town where Ramana Maharshi spent all his adult life, since 1976. In his early years there he looked after the Ramanasramam library, catalogued the ashram's archives and edited The Mountain Path, the quarterly journal published by Sri Ramanasramam.
This book is about the trials and tribulations of Annamalai Swami's life with Bhagavan Ramana Maharshi. Annamalai Swami spent many years supervising building work at Ramanashram under Bhagavan's direct supervision. This is a classic Milarepa-like tale of unwavering commitment to the Guru and his words. Many previously unpublished dialogues with Bhagavan are included, and the book also contains teaching dialogues that took place between Annamalai Swami and his own devotees in the late 1980s.
Available from: http://davidgodman.org/gen2/p/books/godman.living-by-the-words-of-bhagavan.html
Living with the Himalayan Masters: Swami Rama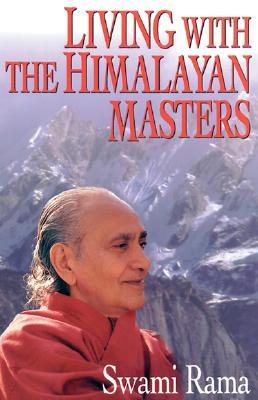 "I will tell you how I grew up and how I was trained, about the great sages with whom I lived and what they taught me, not through lectures and books but through experiences." – Swami Rama.
Reading this book, you will discover the human side to this yogic master. He is a young boy, full of mischief. He is a teenager, full of curiosity and adventurous zeal. He is a seeker, with certain strengths and weaknesses. He sometimes fails to distinguish the fake gurus from genuine masters, mistaking magic for spiritual achievement. It is one of those rare books that contains the seeds of transformation within its pages. This life-changing book will bring you face-to-face with some great twentieth-century masters, including Mataji of Assam, a 96-year-old sage who never slept; Gudari Baba, who taught Swami Rama the value of direct experience; Yogi Sri Aurobindo, who integrated meditation with action; Uria Baba, who demonstrated that every human being has the potential for healing; and Mahatma Gandhi.
Available from: https://shop.himalayaninstitute.org/products/living-with-the-himalayan-masters
Long Pilgrimage. The Life and Teaching of Sri Govindanda Bharati, Known As the Shivapuri Baba: John G Bennett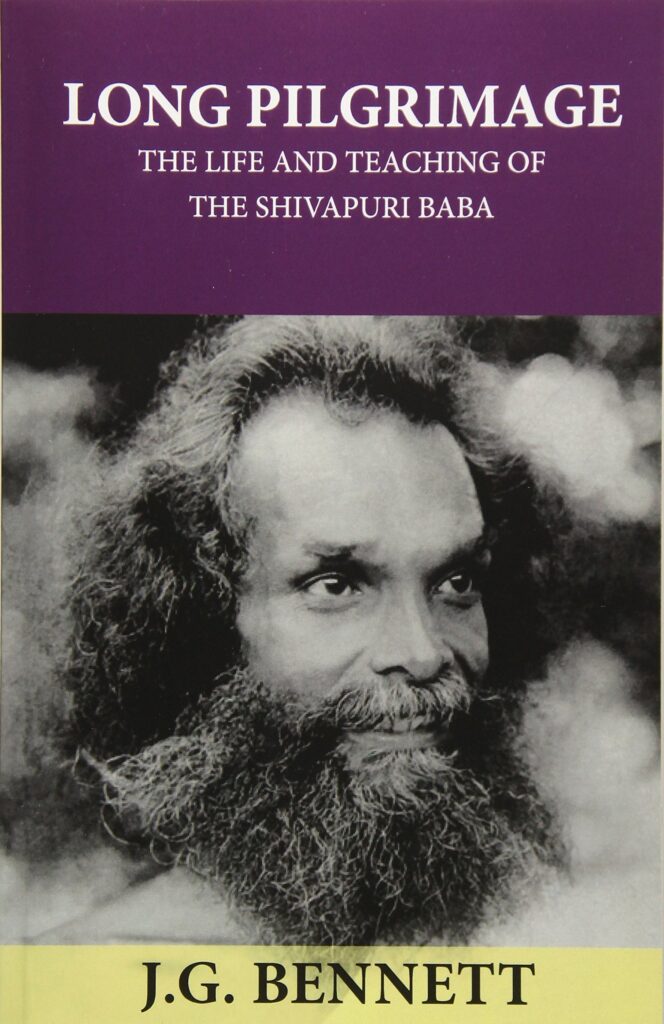 Shivapuri Baba completed a 40-year circumambulation of the world, meeting major world leaders of his day, and was followed by a 40-year retirement in a forest hut outside Kathmandu.
His practical teachings are so simply explained in the book and so universal that they will always be relevant to seekers. Shivapuri Baba himself described his teachings as "the Bhagavad Gita brought up to date." Shivapuri Baba left this life in January of 1963 at the age of 136. At that time few knew of him, and nothing at all had been written about him.
The present book was the first public account of the saint, appearing in 1965, it takes the form of six essays covering the life and teachings of Shri Govindananda Bharati, known at the time of his death as the Shivapuri Baba.
The first chapter describes his origins from his birth in 1826 in Kerala, his religious training and preparation and his 40 year circumambulation of the world, meeting all the major world leaders of his day, and his forty year retirement in a forest hut outside Kathmandu. Subsequent chapters, describe his practical teachings, which are so simply explained and so universal that they will always be relevant to seekers. The final chapter presents a revolutionary world view which reveals an immense wisdom and understanding of human destiny, presented in a form that all can appreciate.
The Shivapuri Baba left this life in January of 1963, and at that time few knew of him, and nothing at all had been written about him.
In 2001, Thakur Lal Manadhar's son Giridhar approached J.G. Bennett's family requesting the rights to republish in English and Nepali. Giridhar was able to provide a number of photographic images not published previously and many of which were from his own camera. The present edition is taken from the 2001 publication. At the launch of the book in Kathmandu in 2007, Giridhar was asked by a reporter whether the Shivapuri Baba had actually read what was written, noting that the text indicated that he had seen and approved it? Giridhar said that he believed that he had not read it, and stating that at the end of his life, the Shivapuri Baba did not want to engage with anything which would tie him to the world he was preparing to leave for the last time. To Dr Sarvepalli Radhakrishnan, visiting in 1956 he said: "I teach three disciplines: physical; moral spiritual." These disciplines form the foundation of Right Life – Swadharma, and the journals of Thakur Lal Manandhar relate how these disciplines were taught in the practical application to every day life. This is a simple but inspiring book from which everybody can benefit .
Available from Amazon.com
Love Everyone: Parvati Markus
The Transcendent Wisdom of Neem Karoli Baba Told Through the Stories of the Westerners Whose Lives He Transformed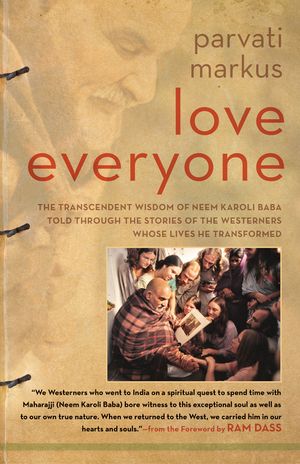 A celebration of Neem Karoli Baba, one of the most influential spiritual leaders of our time, the divine guru who inspired and led a generation of seekers—including Ram Dass, Daniel Goleman, and Larry Brilliant – on life – changing journeys that have ultimately transformed our world.
In 1967, Baba Ram Dass (former American Harvard professor Richard Alpert) left India to share stories of his mysterious guru, Neem Karoli Baba, known as Maharajji. Introducing idealistic Western youth to the possibilities inherent in spiritual development, Ram Dass inspired a generation to turn on and tune in to a reality far different from the one they had known.
From the spring of 1970 until Maharajji died on September 11, 1973, several hundred Westerners had his darshan (in Hinduism, the beholding of a deity, revered person, or sacred object). Those who saw him formed the Maharajji satsang – fellow travellers on the path. Love Everyone tells the stories of those who heard the siren call of the East and followed it to the foothills of the Himalayas. The ways they were called to make the journey, their experiences along the way, and their meeting with Maharajji form the core of this multicultural adventure in shifting consciousness.
The contributors share their recollections of Maharajji and how his wisdom shaped their lives. All have attempted to follow Maharajji's basic teaching, his seemingly simple directives: Love everyone, feed everyone, and remember God. All have found their own way to be of service in the world and, in so doing, have collectively touched the hearts and souls of countless others.