A collection of books of spiritual interest for the modern traveller. Contact Us, if you have any other recommendations for books that should also be added to this list!
---
Recommended Books:
---
Calcutta Yoga. How Modern Yoga Traveled to the World from the Streets of Calcutta: Jerome Armstrong
The publication of Calcutta Yoga in 2018 is the culmination of four years of research and fieldwork in Calcutta, India, and places around the world. The book includes original research translated from Bengali and over 100 photographs. It also includes memoirs of the travel, as the author delved into the history of yoga in Calcutta, and how it was modernised, and its voyage to yoga practitioners today.
Available from Amazon.com
Daughters of the Goddess. The Women Saints of India: Linda Johnsen
A search for the feminine face of God. Travel with Linda Johnsen for a fascinating investigation of the great women saints of India who manifest the divine in their lives.
Available from Amazon.com
Day by Day with Bhagavan: A. Devaraja Mudallar
A diary of events and conversations that took place in the Old Hall of Bhagavan Ramana Maharshi. In the book there are a variety of questions from devotees and visitors and Ramana Maharshi's answers to them. The Sage's humour, compassion and above all his mighty spiritual status are wholly brought out in this work.
Available from: https://selfdefinition.org/ramana/Ramana-Maharshi-Day-by-Day-with-Bhagavan.pdf
Divine Memories of Sathya Sai Baba: Diana Baskin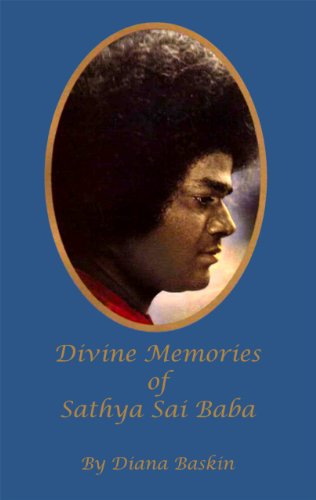 The author first traveled to India in 1969 at the age of 25. At the time she was leading a worldly life as a social secretary for the Italian government in Los Angeles. Her serious and persistent interest in the meaning and purpose of life led her to the other side of the World where she made a great discovery that would eventually completely change her life. In a South Indian village too small to be on the map she met the greatest spiritual teacher of this century acknowledged by millions as an Avatar (descent of Divinity in human form). In those early years there were few Westerners in Sathya Sai Baba's ashram and she was one of the fortunate few to have close contact with him while living in India for five years. In Divine Memories she describes her first trips, and day-to-day life with Sathya Sai Baba, the wondrous miracles and materialisations she witnessed and his transformational teachings. In this book, which has delighted readers in over 25 languages since 1990, Eastern philosophy is examined through a Western mind.
In 2009, she wrote Divine Lessons, a culmination of direct experiences and spiritual study recounting stories and extracting profound spiritual truths covering a span of four decades.
Available from: http://sathyasaibooksusa.org/product/divine-memories-of-sathya-sai-baba-by-diana-baskin/
Divine Romance: Paramahansa Yogananda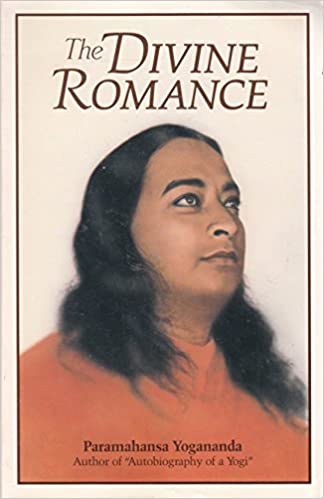 The Divine Romance includes nearly fifty talks and essays by Paramahansa Yogananda.
Readers will find these talks alive with the unique blend of all-embracing wisdom, encouragement and love for humanity that have made the author one of our era's most trusted guides to the spiritual life. The second book in a trilogy, which includes, Man's Eternal Quest and Journey to Self-realization – each of which are packed with information covering a vast range of spiritual topics – The Divine Romance speaks to the deepest needs of the human soul. The great master reveals how we can meet the daily challenges to our physical, psychological, emotional and spiritual well-being – by awakening our divine nature, the neglected reality at the core of our being.
Available from: http://bookstore.yogananda-srf.org/product/the-divine-romance-2/
Eat Pray Love: Elizabeth Gilbert
One of the most iconic, beloved, and bestselling books of our time, Eat Pray Love has touched the world and changed countless lives, inspiring and empowering millions of readers to search for their own best selves. In her early thirties, Elizabeth Gilbert had everything a modern American woman was supposed to want – husband, country home, successful career – but instead of feeling happy and fulfilled, she was consumed by panic and confusion. This wise and rapturous book is the story of how she left behind all these outward marks of success, and set out to explore three different aspects of her nature, against the backdrop of three different cultures: pleasure in Italy, devotion in India, and on the Indonesian island of Bali, a balance between worldly enjoyment and divine transcendence.
Available from: https://www.elizabethgilbert.com/books/eat-pray-love/
Empire of the Soul: Paul William Roberts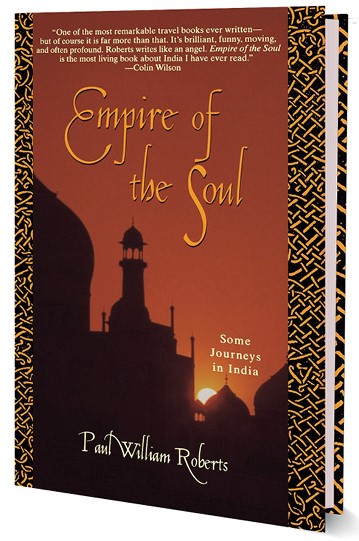 Journeys through India that span twenty years, Paul William Roberts creates a dazzling mosaic, by turns tragic and comic, of the subcontinent and its people. From the crumbling palaces of Maharajas to the slums of Calcutta; from the ashrams of holy men to a millionaire drug dealer's heavily guarded fortress on India's border with China, Roberts captures the lure of this enigmatic land.
Extract from Ian McGillis's Aug 29, 2015 article in the Montreal Gazette.
Writer's retreat: Paul William Roberts embraces quiet life in the Laurentians. In a small home in the Laurentian village of Val-des-Lacs lives one of Canada's most enigmatic writers. Paul William Roberts, who's been largely out of the public eye for almost a decade, sits down for a rare interview with Ian McGillis.
Paul William Roberts first came to international notice as the author of River In the Desert: Modern Travels in Ancient Egypt, a book followed in rapid succession by the bestselling Journey of The Magi: Travels In Search of The Birth of Jesus and Empire of the Soul: Some Journeys in India. These books were a new kind of travel literature: grounded in a seemingly bottomless knowledge of history and world cultures, they function both as sympathetic perspectives on their chosen subjects and as a form of true-life spiritual adventure story, with the endlessly curious and apparently fearless author at the centre of the action.
Delving back into the years with Roberts, a unifying thread soon emerges. In common with many who came of age in the 1960s, he was drawn to all things Indian partly through the evangelizing of the Beatles. In his case, though, the process was a little more direct. Through the sculptor father of a friend he ended up at a party at George Harrison's house in the stockbroker belt outside London, where the guitarist passed him a copy of Paramahansa Yogananda's Autobiography of a Yogi. A lifelong identification ensued, one whose depth is evident when Roberts is asked to name a favourite among his books.
"Empire Of The Soul was really written from the heart, a love letter to India," he said of the book, drawn from extended visits in the early 1970s and early 1990s, that has been an essential item in the backpack of many a subcontinent traveller. "When you love a subject, it changes everything. Although I predicted India would soon amaze the world, I didn't think it would be so soon. I often feel I should update some parts to reflect a country on its way back to where it was before the invaders and colonisers stole everything and crushed a great civilization under their boots. The wounds of colonialism are now healing fast, though, and the book needs to show an India that made it, rather than one trying. It is the only country where I kiss the ground upon arrival and feel I'm home at last once more."
Read the full article:
https://montrealgazette.com/news/local-news/writers-retreat-paul-william-roberts-embraces-quiet-life-in-the-laurentians
Available from Amazon.com
Encyclopedia of Hinduism: Constance A. Jones and James D. Ryan
Encyclopaedia of Hinduism explores a religion that emerged from prehistory and lives today in astonishing variety. Offering approximately 700 A-to-Z entries, this accessible encyclopaedia focuses on the most significant groups within this religion, noteworthy teachers and their contributions, the religions and cultural movements that enriched its history, and the diaspora of Hindu thought and practice around the world.
Available from Amazon.com
From Here to Nirvana: The yoga journal guide to spiritual India: Anne Cushman and Jerry Jones
From yogis to ashrams to temples, an in-depth travel guide to the spiritually significant sites of India provides detailed directions and contacts, information on food, facilities, tips on what to bring, photographs and maps, local lore, and much more.
Available from Amazon.com
Glimpses of the Divine. Working with the Teachings of Sai Baba: Birgitte Rodriguez
This is an account of the author's experience in the presence of Sri Sathya Sai Baba. The spiritual journey took her to many countries and through a variety of religious disciplines and practices in her search for truth and reality.
Available from Amazon.com
Good Chances: Howard Levin
Howard Levin visited India during the 1960s and while on his travels, he heard about Sri Sathya Sai Baba from others who had visited his ashram in South India. Howard decided to visit, with a small dog that he had picked up somewhere along the way in northern India. Both he and his dog were to become part of ashram life. Howard enjoyed many interviews with Sai Baba, and also experienced other phenomena that took place around the ashram. 'Good Chances' is an account from those days. Toward the end Sai Baba said to him "You must remember these days we've spent together. Now it is outside, next memory goes into your mind, then a permanent picture is there. When you all go back to America, if you think of these 'good chances' with Swami, it will be the same as meditation. The sequel is Heart to Heart published in 1996.
Available from: https://archive.org/details/goodchances00levi
Himalayan Memoirs: Navnit Parekh
NAVNIT PAREKH (1923-1998)
Navnit Parekh approached the Himalaya with humility and veneration.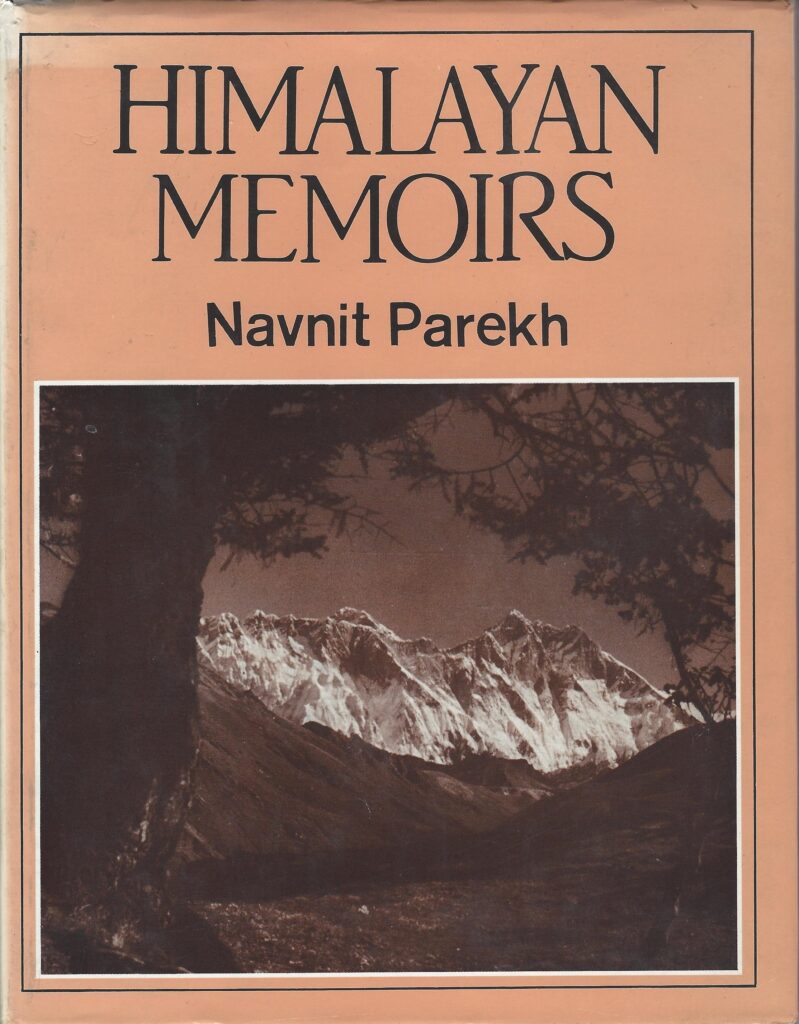 His first visit to the Himalaya was with his father in 1947 to meet Swami Krishna Prem at Mirtola ashram near Almora. They trekked 18 miles from Almora. He was a member of the First Indian Expedition to Nepal to attempt Pumori. His treks in the Himalaya covered many regions including Kailas and Mansarovar in Tibet, Muktinath in Nepal, Sikkim Bhutan, Arunachal Pradesh and Kashmir.
Navnit Parekh had taken excellent films of his visits to the Himalaya and these films were shown to thousands of people. His film on Kailas and Mansoravar was so popular that he was invited to show the film to the national leaders including the Prime Minister Jawaharlal Nehru, Vallabhbhai Patel, Maulana Azad and Jai Prakash, when the Congress working Committee meeting was held in Bombay.
He visited almost each and every pilgrim centre in the Himalaya including Amarnath and Badri-Kedar. He was not satisfied with his wanderings in the Himalaya and acquired Khali Estate near Almora in 1959 from Swami Bhaskaranand.
However, he started living at Khali for about 7 months in a year from 1963. The Khali Estate was originally purchased by Sir Henry Ramsay but it was Wilson the next successor, who constructed the present spacious bunglow-like a Spanish villa. One can get an excellent view of Nanda Devi, Trisul, Nand Kot, Nanda Ghunti, Kamet and Neelkanth from here.
He married Prassanaben, a teacher at Almora, in 1968. She shared his passion for Hindustani classical music and his lure for the Himalaya.
Navnit Parekh wrote a number of books in Gujarati on the Himalaya and his Himalayan Memories. These books give accurate information about his experiences and places of interest which he had visited. He had a large collection of books on the Himalaya, Indian Scriptures and Travel in his library.
Some of the important visitors to his Khali Estate were Swami Krishna-Prem, Madhav-Ashish, Lama Angarika Govinda, Swami Ishwaranand Giri, Swami Pranavanandji, Ravi Shankar Maharaj, Swami Anand, Kaka Saheb Kalelkar, and Ma Anand-Mayi.
He donated rest houses for bhotias at Almora, and Tibetan refugees at Dharamasala in the Kangra valley. He made arrangement with a doctor at Danapani, near Kaparkhan (Almora) to provide free medicines to local villagers.
Navnit Parekh was also keenly interested in Indian art and culture. He travelled extensively in the East Asia in 1956 including Japan, Java, Sumatra, Malaysia, Cambodia, Siam, Bornio and Burma and noticed extensive influence of Hindu culture. He started the 'Asian Arts and Culture Centre' in Bombay and was its' Founder Secretary for more than 15 years. He also wrote a series of articles in Kumar Magazine and wrote a book on the Footsteps of Rishi Agatsya covering his visit to the East Asian countries.
Navnit Parekh had the knowledge and understanding of Sanskrit language and this helped him in appreciating the Indian scriptures. He had taken up the assignment of translating 3 books of Rishi Bhartru-Hari namely Nitishatak, Shrinagar Shatak and Vairag Shatak. The first book is already published and the other two books were in the final stage of completion when he died.
Although he had met a number of saints in the Himalaya he found his Guru Swami Ramdas an embodiment of love, joy and bliss in the coastal state of Kerala. For Navnit Parekh, Himalaya was a place for solitude and contemplation. He tried to reach that state of bliss from his Himalayan abode where he breathed his last in May 1998.
Article by Shailesh Mahadevia
Out of print, limited availability
Holy Blood of the Holy Grail: Michael Baigent, Richard Leigh, Henry Lincoln
Is it possible that Jesus was married, a father with a bloodline that still exists, and that he did not die on the cross? Is it possible that parchments found in the South of France a century ago reveal one of the best-kept secrets of Christendom, containing the very heart of the mystery of the Holy Grail? According to the authors of this extraordinarily provocative, meticulously researched book, not only are these things possible, they are probably true! The book reinterprets medieval Grail legends to claim that Jesus had had a sexual relationship with Mary Magdalene, that their children grew up in exile in France and that their descendants subsequently intermarried with the Merovingian royal house. The existence of this Christ bloodline had been covered up by the Catholic church, and their secret protected by the shadowy Priory of Sion.
Available from Amazon.com
Holy Hell. A Memoir of Faith, Devotion and Pure Madness: Gail Tredwell
Amma, universally known as "The Hugging Saint," went through a two-decade transformation from a simple fisherman's daughter to an international wonder worshiped by millions. Gail "Gayatri" Tredwell was there every step of the way – from early devotee to head female disciple, ever-present personal attendant, handmaiden, whipping post, and unwilling keeper of some devastating secrets. In a gradual yet determined struggle, she managed to untangle herself from the web of myth and indoctrination. Gail's flight to freedom – her victorious recovery from a life of abuse and disillusionment – displays extraordinary strength and inspiring courage.
Available from Amazon.com
---