A devotees hotel from the past, the Bombay Ananda Bhavan Hotel set amongst the Raj-era bungalows in the cantonment of Bangalore, India.
The original address for this 12-room establishment built in 1920, was 10 Grant Road, before the renaming of the street, when it then became 68 Vittal Mallya Road. The guest's name and country of origin were displayed in the lobby, so no trouble to see who was checked in. Situated in the quietest area of Bangalore, the guests could easily walk to M. G. Road, via Lavelle or St. Marks Road to Koshy's famous Bar and Restaurant. Koshy's is today recognised as an 'establishment of Bangalore,' a very popular restaurant and hangout owned by the Koshy family since its founding in 1940. It is a meeting point for journalists, artists, theatre folk, students and foreigners. It retains an old-world charm with huge pillars and large fans. The Bombay Ananda Bhavan Hotel was demolished around 2005.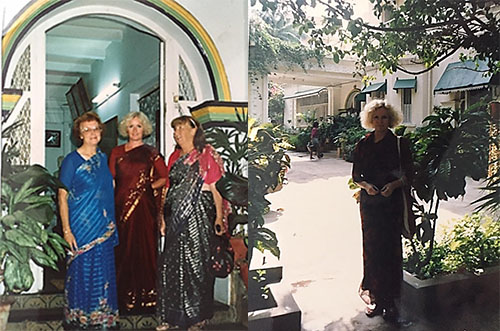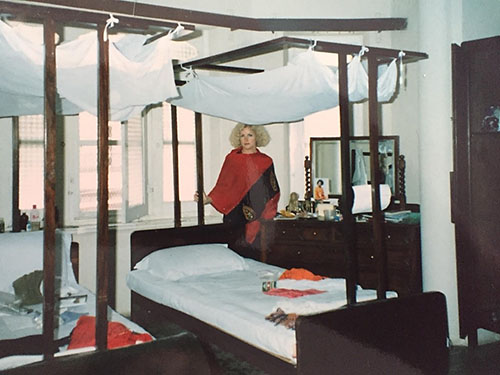 The main menu at the hotel consisted of puri bread, idli and other rice dishes, toast that came as 'jam butter toast' or 'butter toast,' toasted sandwiches, excellent omelettes of cheese tomato & coriander, tomato soup, tea (but not so much 'bed tea') and superb pots of coffee. While the owner Mr B. L. Gupta was running the establishment, his daughter in-law did most of the cooking in a traditional Indian kitchen out back in a dark corner of the building. Mr Gupta spent most of the day sitting in the lobby/reception area keeping an eye on things and didn't talk much. His son had died and so Mr Gupta took care of his wife and the grandsons, who would go on to inherit the establishment and live on the lane next door in modern apartments. The grandsons, Bobby (Vivek) and Bindy (Rohit) Gupta did an amazing service keeping the hotel running in the years that followed.
Many of the women guests were resourceful enough to secure items such as hair colour from outside the country, as India didn't allow certain 'luxury' imports. This did take a little effort and time to arrange. Hair colour was available in India, however only in 3 colours, black, black and black. Bangalore's best-known supermarket chain Nilgiri's, was a main source for items and some devotees even sent taxis from Sai Baba's main ashram 160 km away in Puttaparthi to the Brigade Road store in Bangalore to get soft toilet paper sold there. Indian made toilet paper tended to be very thin and non-absorbent back then.
Long-time receptionist was the quite beautiful Lata who kept the boys under control, including the head boy Muthu. She helped with many enquiry's, such as looking for someone who was not in, then you would be kindly informed that they were "out of station." One long term guest asked her where in the city she could buy Jewellery, looking at her as though she was a moron, she replied "Jewellery Street of course." The boys had extraordinary long days and dosed down on the floor late at night only when all the guests had retired for the evening. Lata went home each night to her husband and family. Muthu saw his wife and family further south, only once a year and only for a week.
Part of the daily routine for Muthu and his boys was to keep the electricity running by resetting the breakers as they tripped (Bangalore's power supply was notoriously, only mostly available at best), ensuring the hot water was on the boil and available for delivery through the antiquated piping system into the rooms. On more than one occasion guests helped him out with this by getting up into the ceiling with him to demonstrate the best way of keeping up with the problems. When the showers did not work, the buckets were in good supply and always available.
The hotel had its regular taxi drivers operating from there, the best guys in the world, Ali with an Ambassador with sometimes bald tyres, another operator with small and mostly uncomfortable Padmini, and Yousuff with a few cars, including a new Suzuki van. There were others that came and went as the patronage required. These drivers operated at all times and were often first with the news of where Bhagavan was as he moved around between Puttaparthi, Whitfield, Madras and Kodaikanal.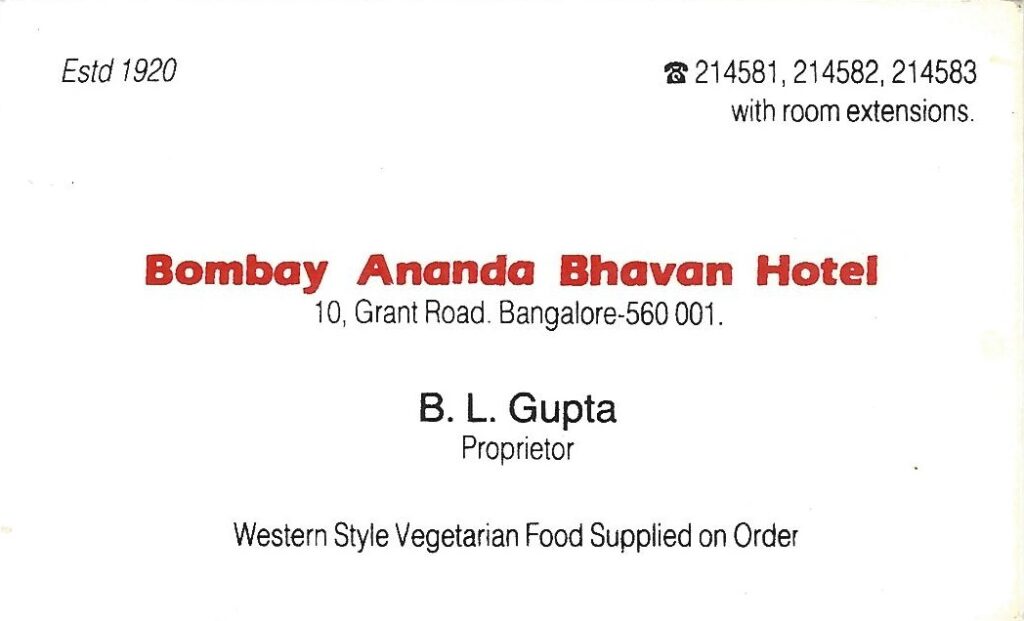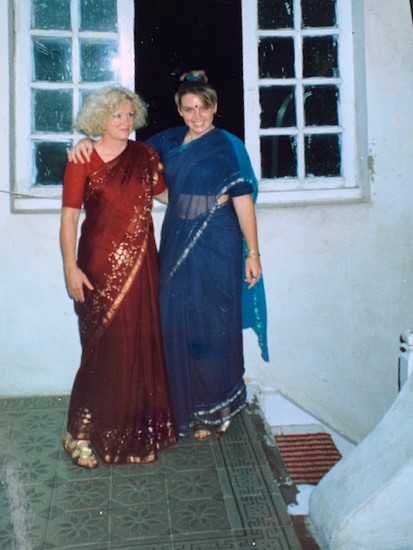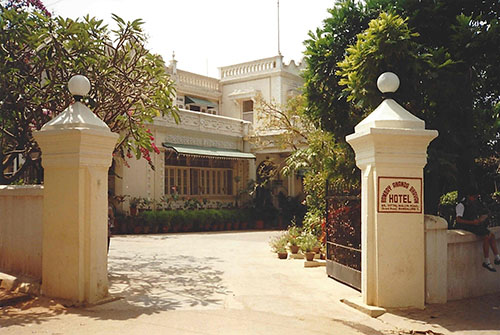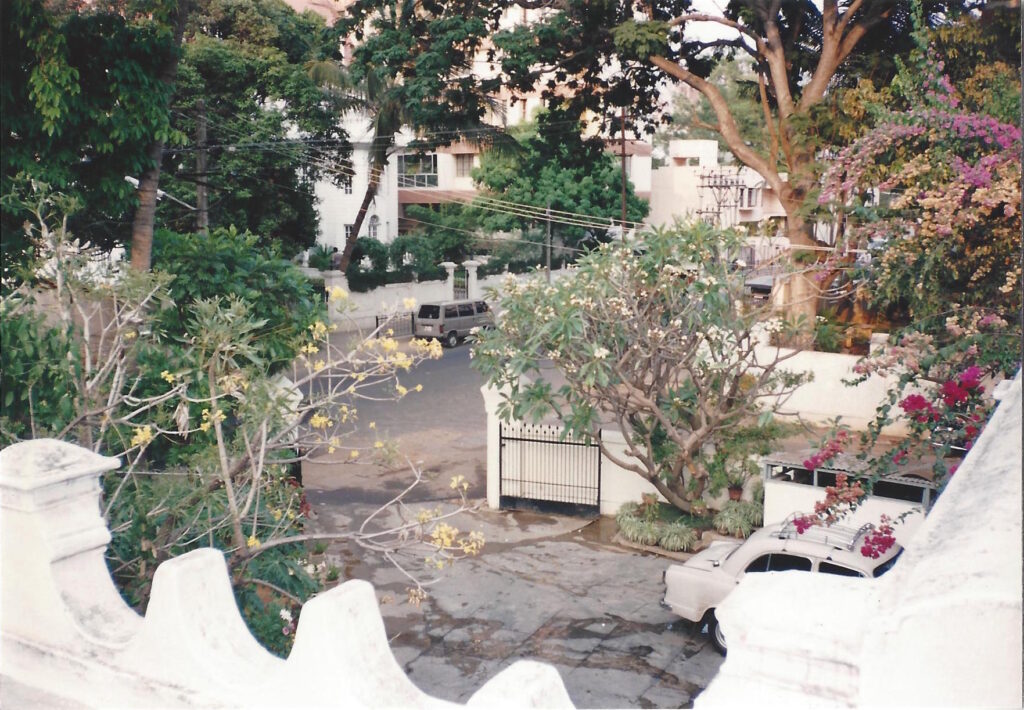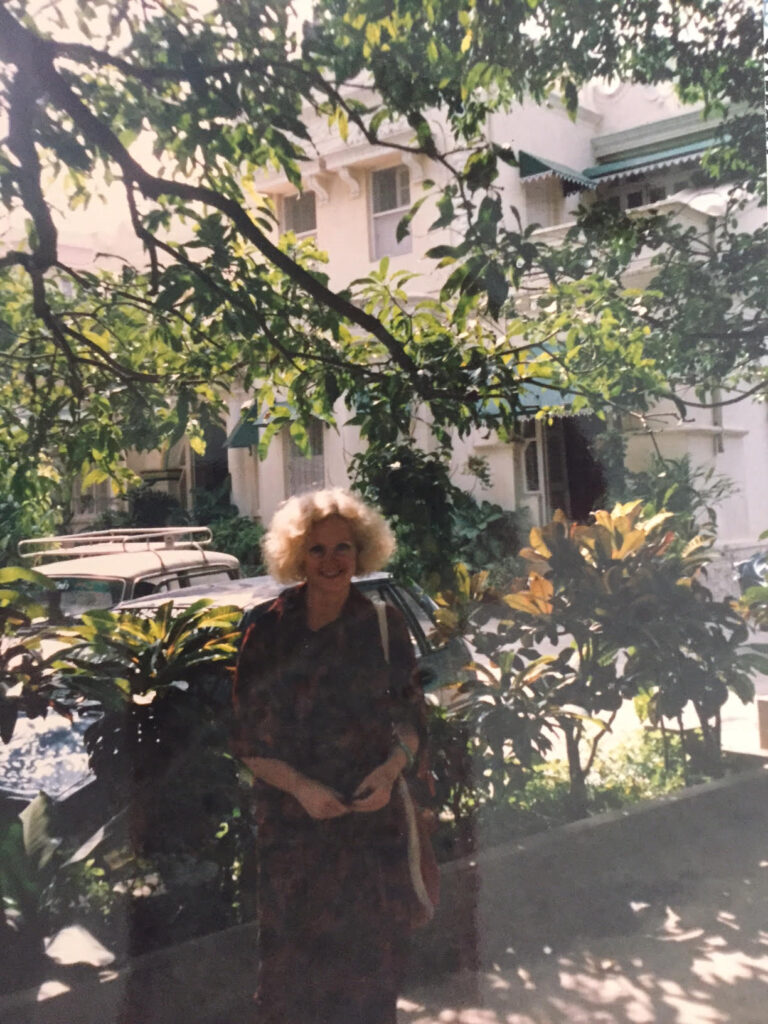 Many of the residents would take a buffet breakfast mid-morning at the Oberoi on M. G. Road after the early morning darshan of Sai Baba while he was in the suburb of Whitefield, just 19 km away. Some guests often spent part of their day at other 5-star hotels by the pool where for a few rupees they could get a decent shower afterwards, drying off with big fluffy towels, and all the while enjoying the silver service coffee.
After a long day in the hot and dusty crowded streets with constant horn tooting, it was always a joy for guests to return to the cool tranquil hotel, where the boys had just watered the plants and front lawn in late afternoon, making it feel fresh and cool. In the evenings, some of the guests went to the Windsor Manor, the West End and other 5-star hotels, where they enjoyed excellent meals and service for so little, due in part to the tax break offered to non-residents.
The hotel had long-term residents from time to time and management were always patient with the time it took to receive any payment from them. The hotel was a safe haven for all the devotees of Sathya Sai Baba, who felt very safe and welcome and often felt his presence there.
The Bombay Ananda Bhavan Hotel: Author Paul William Roberts recounts checking into the hotel in his book Empire of the Soul.
The Bombay Ananda Bhavan proved to be one of the stately houses, its title on a weather-weary board looking at once out of place and a sign of the times. A semi-circular drive drew you up to a robust, monsoon-proof porch over steps leading to double doors. After a screaming argument over the fare, my driver flew off, his machine sounding more and more like an angry bee trapped in a jar. A reception desk with a bell greeted my entrance. There was no sign of human life. I rang the bell, hearing an odd guttural gurgling, apparently from beneath the floor. I rang again, shouting out that I was here. Nothing. Just the subterranean sounds of a viscous drainage. A clock ticked. A pleasant breeze blew in, carrying perfumed greenhouse smells on its wings. A fly the size of a small bird – or possibly a small bird the size of a fly zoomed straight for my nose, veering drastically away at the last moment. I looked in a room to my left – a bed draped in mosquito netting – and a room to my right – a bed draped in mosquito netting, and an armoire the size of a van. Then I peeked behind the narrow reception desk, to discover a bearded man in a T-shirt and lungi sound asleep on the floor. The occasional gurgling was his snore, which aggravated a standardised fly that was busy gathering sebum from his glistening nose. It darted back and forth to the safety of a nearby shelf each time the man's mouth puckered with another imminent snore. He had toenails like a bear, this sleeper, and the soles of his feet looked like desiccated mudflats, riven with cracks half an inch deep in some places. They weren't like leather; they were leather. He looked serene, with his hands behind his head. I called to him quietly. No response. Finally, I shouted at him. Beyond an irritable gurgle, still no response. This was no ordinary nap. In the end I took him by the shoulders and shook, all but slapping his face as if he'd OD'd or passed out from booze, or both. Finally, his droopy eyelids fluttered.
Standing up, he could have been Peter Lorre's son. Both eyes looked off to the side, adding to the impression that he wasn't certain that I was there, that he was there, that it wasn't all a dream. Pretending he hadn't just woken up, he spoke gibberish and performed menial and meaningless tasks – dusting the counter, checking his saucer-sized wristwatch, and closing the heavy shutters about one-tenth of an inch. Then he indicated a ledger, handing me a ballpoint pen from the Sheraton Hotel, Kathmandu. The last entry in this huge tome read: 'Maynard Billings, San Diego. A really beautiful stay.' I wrote my name and address, assuming it was premature to comment. 'Mr. Billing,' the man said, pointing at the previous entry with swaggering pride. 'He like this place too much. Very good man, Mr Billing. Very good. You know him?' I confessed I did not. 'You want room, is it?' On one wall hung a framed photograph of Sathya Sai Baba, the local holy man, looking like Jimi Hendrix's grandfather. A garland of flowers placed around it perhaps a week before gave the image a funereal appearance. 'You come for Bhagavan?' asked the concierge, noticing my interest in the picture. 'Bhagavan' means God, basically, but in India, where all that lives, and much that is inanimate, is holy, it is a term liberally applied to gurus, yogis, sadhus, film stars, musicians, teachers, and even politicians. I had indeed come to Bangalore ostensibly to see the famous 'Man of Miracles,' Bhagavan Sri Sathya Sai Baba. 'Currently out of station,' the concierge informed me. 'Where?' 'Puttaparthi going.' Sai Baba, I knew, generally stayed near Bangalore, but had his main ashram in the village of Puttaparthi, in Andhra Pradesh, where he was born. Puttaparthi was notoriously difficult to get to, I'd been told, at least a day's journey away. I did not want to give this sleepy man the satisfaction of seeing I was disappointed. 'Any other gurus in the area?'
He pondered the question seriously, as if I'd asked him to recommend a good local restaurant. I assumed this was a preamble to saying no, but I was wrong. He mentioned someone apparently named Siva Bala Yogi – or possibly Sivabalayogi. 'Where do I find him?' Near the Bangalore Dairy was the closest I got to an answer.
My room had three four-poster beds in it, their mosquito nets hanging in the air like ectoplasm. It also had six doors – one an entrance, one leading to a bathroom containing a tap, a bucket, and a squatter, and the other four leading into adjacent rooms. I washed, lay down on bedsheets that felt as if they'd been baked in an oven full of dust, and listened for an hour to a couple of geckos wheezing endearments at each other across the peeling whitewash of the wall. A calendar adorned it, emblazoned with a highly retouched image of Mahatma Gandhi at his spinning wheel. He literally glowed with health and looked about eight years old. According to the mahatma, it was June 1963. From what I'd seen of Bangalore so far, it would be hard to refute this. In fact, it looked more like 1943 out there still.
Nearby the hotel is Koshy's on St. Marks Road.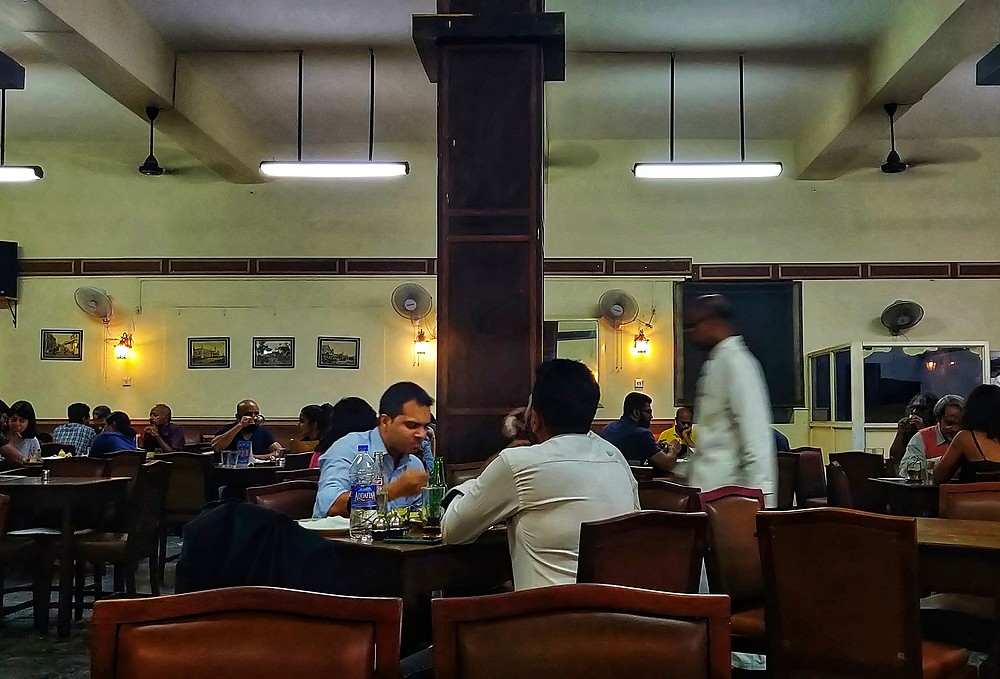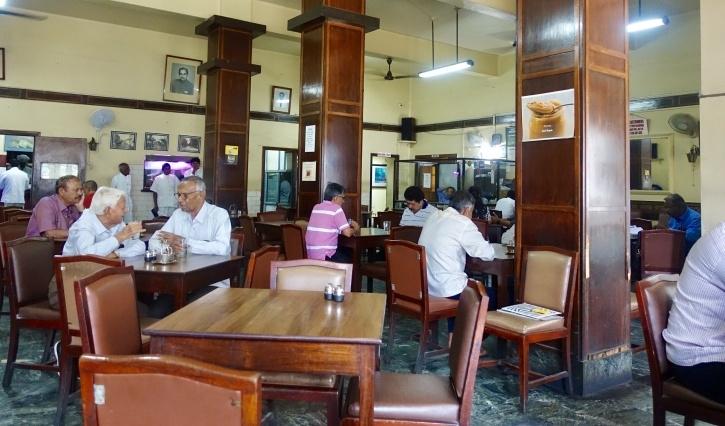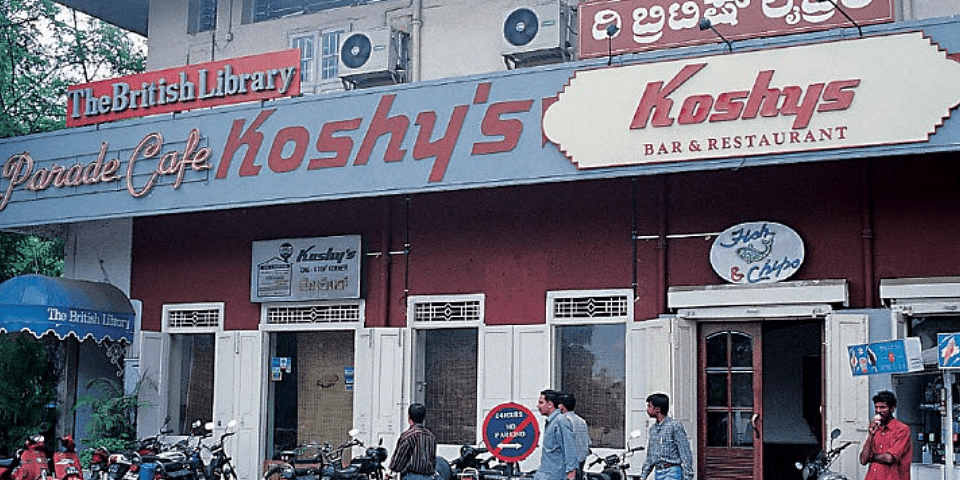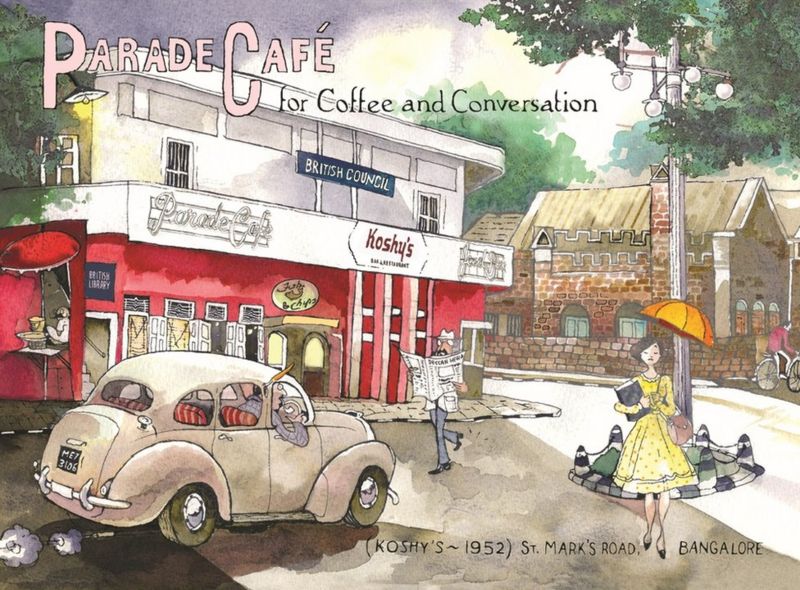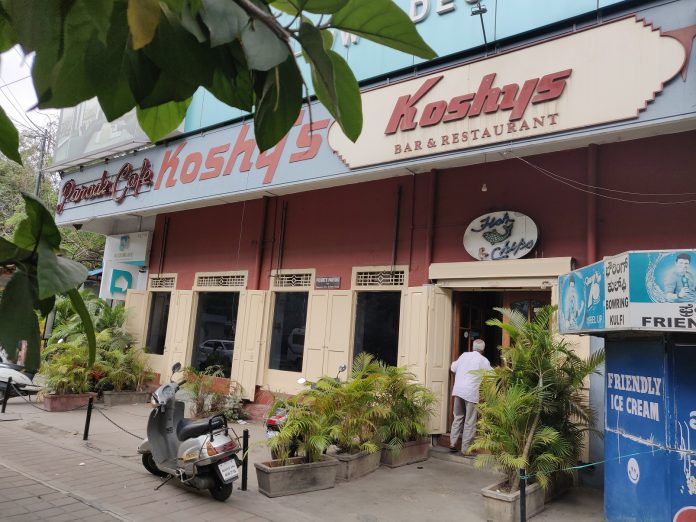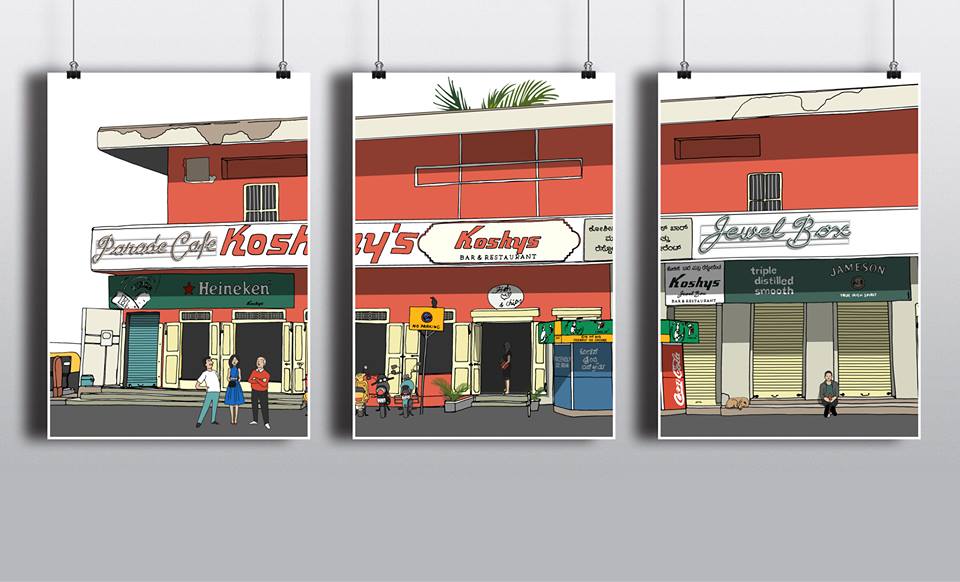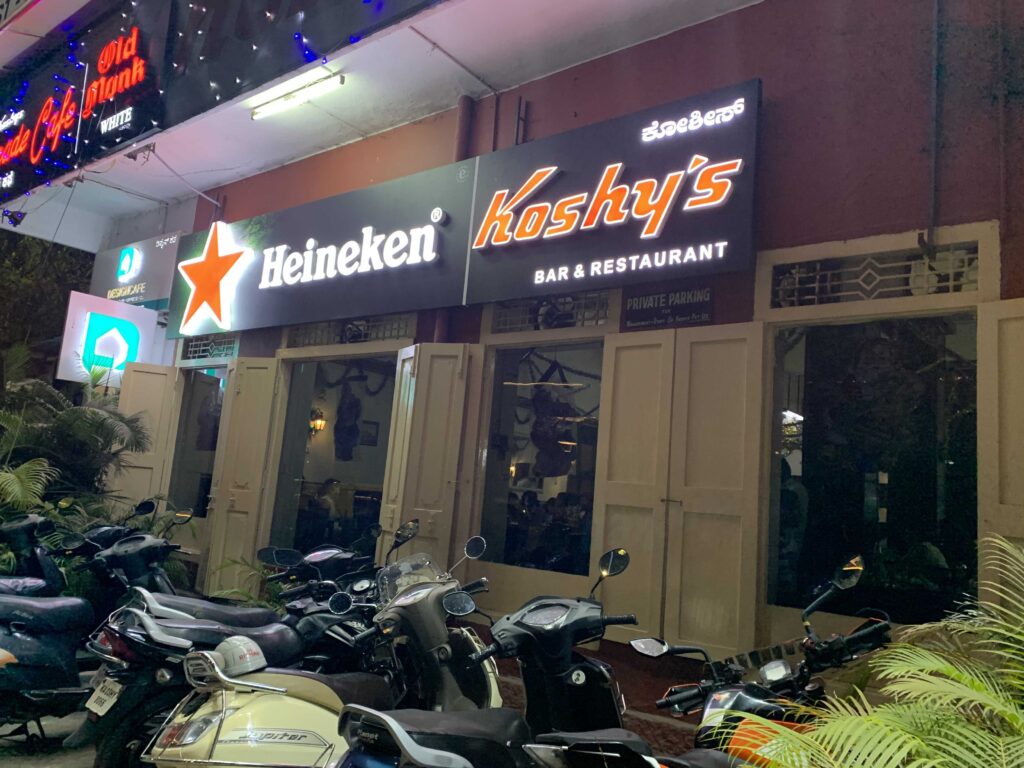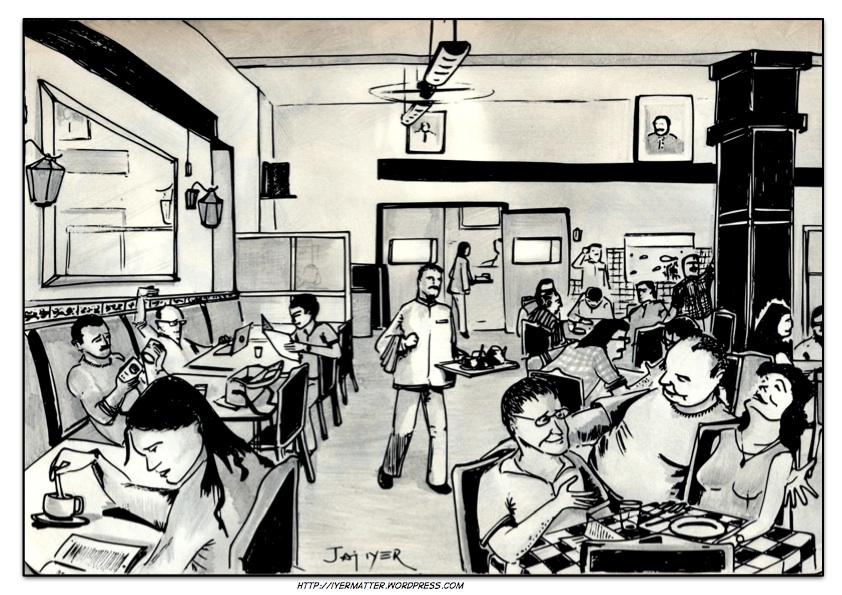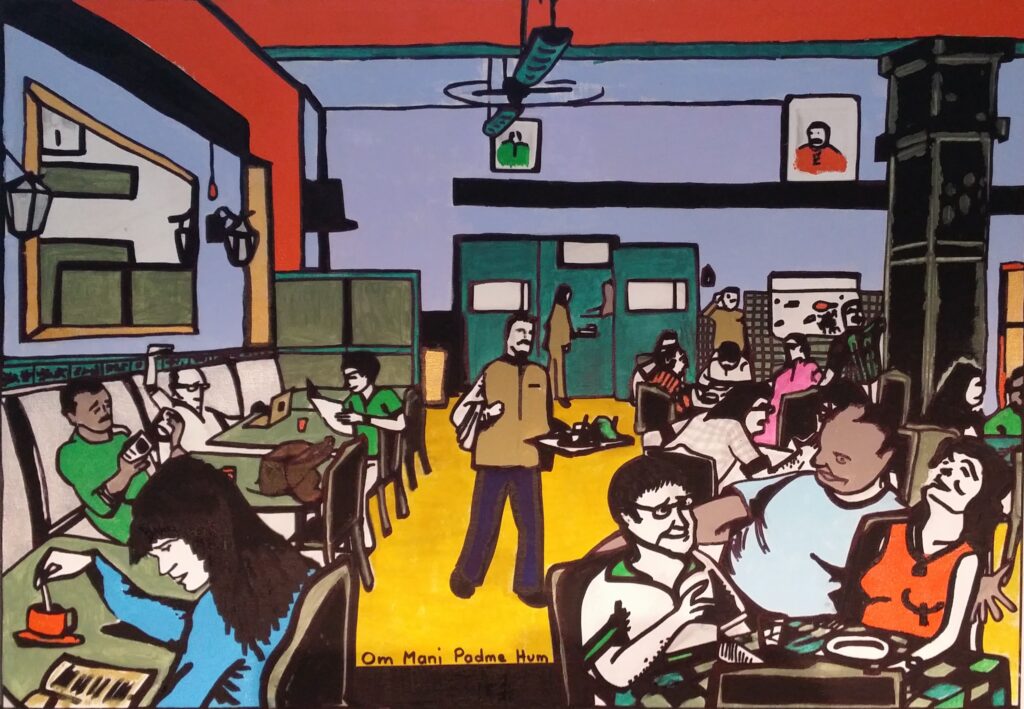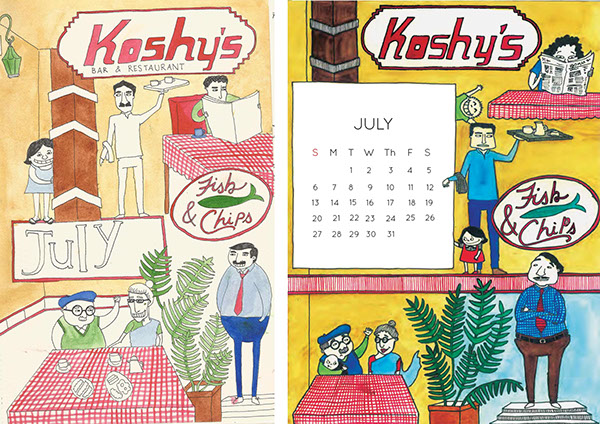 More photos taken at the Bombay Ananda Bhavan Hotel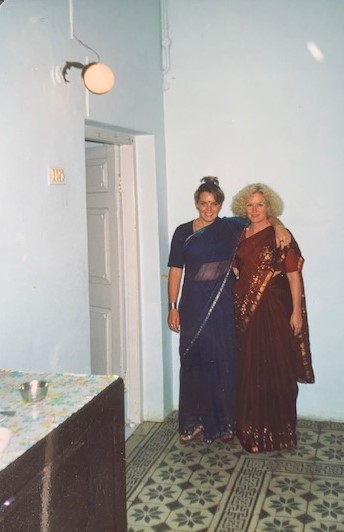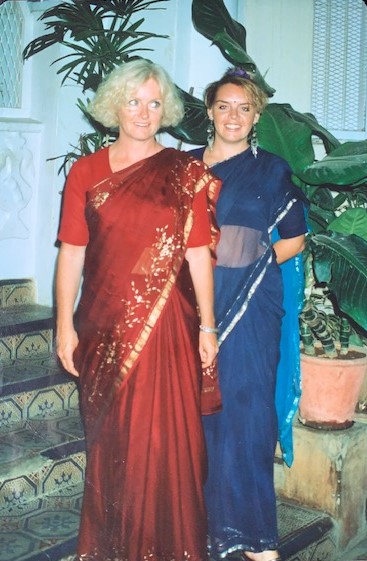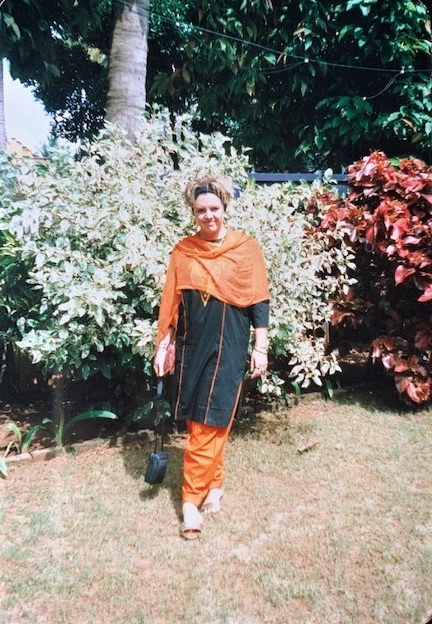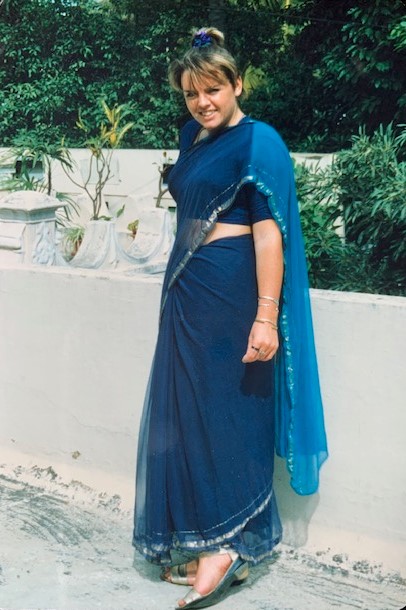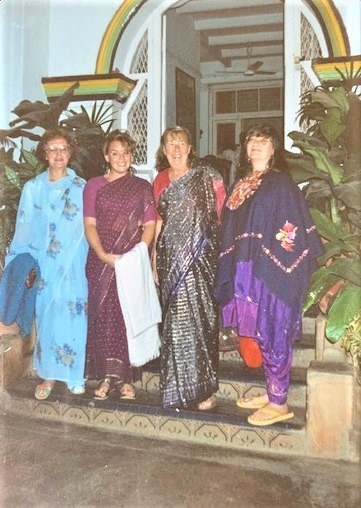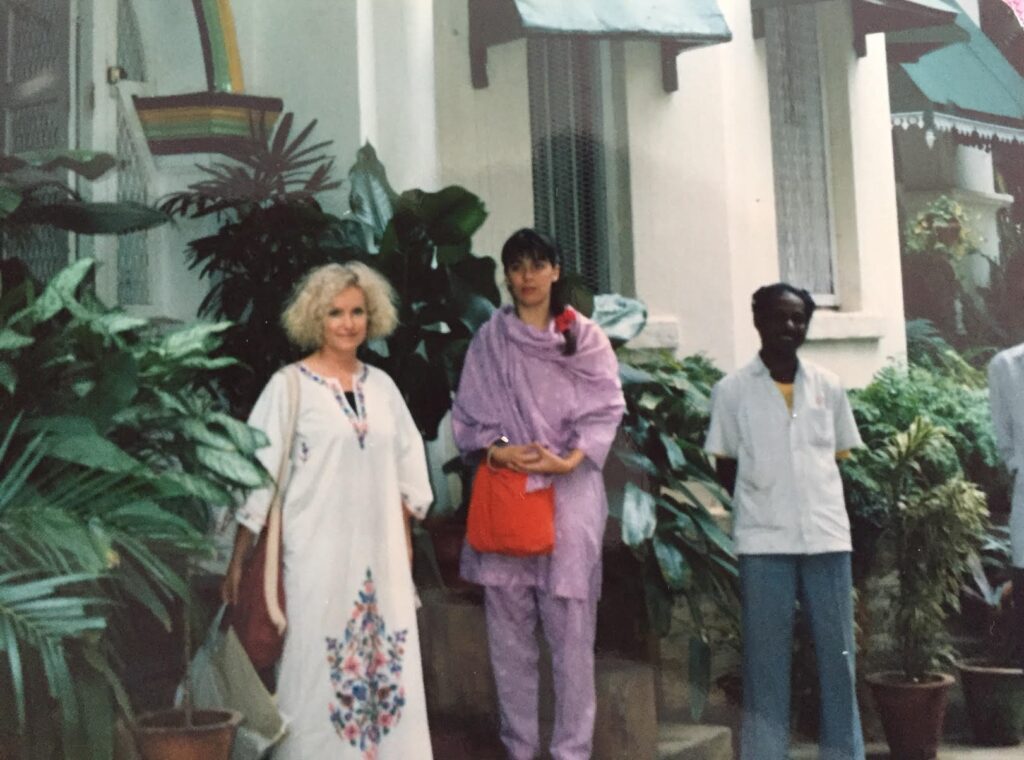 Hotel residents and devotees in Whitefield and Kodaikanal