A devotees hotel from the past, the Hotel Evelyn in Nainital, India.
Hotel Evelyn, The Mall Road, Nainital – 263002, Uttarakhand, India.
The following article is an excerpt from Ashrams of India.
Hotel Evelyn is among one of the oldest hotels in Nainital and has a rich history of hospitality. It has been serving guests even before the town became a retreat for city-weary folk. Before 1947, an English lady Mrs Page, ran a guesthouse of the same name, where the hotel stands today. Since Indian Independence, it has been owned and run by Mr S.L Sah's family. It was his dynamism that turned the small guesthouse into a 60-room hotel. It has a magnificent view of the Nainital lake.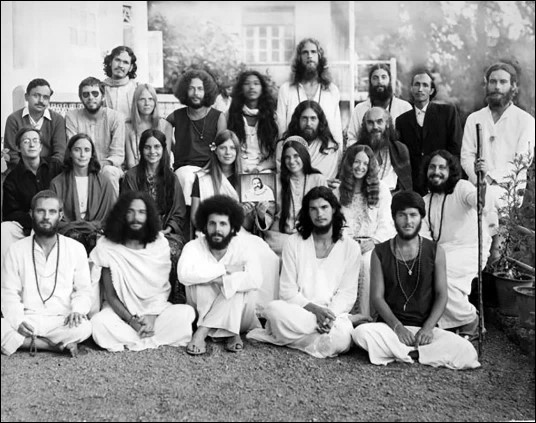 In the above group photo, the "Nainital High" spent 7 weeks at the Evelyn Hotel in Nainital while daily making the 19 km journey to Kanchi Dam (Shri Kainchi Hanuman Ashram). This glass plate negative photo was taken by a local photographer at the Evelyn Hotel which had by then become a sort of mini ashram.
1st Row L to R, Ram Dev (Dale Borglum), Raghvindra Das (aka Raghu Markus/Mitchell Markus and is also the brother of Lakshman Das), Jagganath Das (Danny Goleman), Dwarkanath (Joe Bonner), Vishu.
2nd Row L to R, R Karl, Uma, Annapurna, Anasuya (Teresa Weill), Parvati Markus, Radha Baum, Mohan Baum (holding the staff).
3rd Row L to R, M.L. Sah, Ravi Das (Ron Zimardi, Neem Karoli Baba considered Ravi Dass the reincarnation of the 15th/16th-century Indian Saint Ravidas), Sita (Susan McCarthy), Lakshman Das (Douglas Markus), Carlos Vishwanath, Krishna Das (Jeffrey Kagel), Ram Dass (Richard Alpert).
4th Row L to R, Surya Das (between Ravi Dass and Sita), Tukaram (Jean Nantel, behind Krishna Das), Rameshwar Das (James Lytton, behind Ram Dass), K.K. Sah, Balaram Das (Peter Goetsch).
Ganesh Dass writes on September 7, 2018
Darshan is to bask in the presence of a saint or holy being; to be so fully swathed in their presence, that their innate radiance shines even within you. While topically the experience may seem like people hanging out in an interpersonal exchange, there is something much deeper going on. It's an opening of sorts, to the intrinsic, connected oneness that underlies what we generally experience as a dualistic reality. To experience true darshan just once on this physical plane is to be in an immensely auspicious incarnation, but to be steeped in daily darshans for weeks on end with a saint as luminous and grace-endowing as Neem Karoli Baba, is an opportunity of a thousand lifetimes ripened. This very rare and fortunate gift was bestowed upon the young Westerners who came along with Ram Dass to spend time with Maharajji in Kainchi in the autumn of 1971.
Leaving their fruitful, but makeshift retreat in Kausani upon hearing news that Maharajji was back in Kainchi, Ram Dass and the Westerners trekked their way South to the remarkably serene setting of Neem Karoli Baba's Kainchi Dham Ashram, which would pose the backdrop for what would turn out to be nearly seven full weeks of consistent darshans. The matter of where this expanding throng of Westerners could stay during this time was easily answered, as a hotel run by a family of close Indian devotees was just a little over ten miles away in Nainital. The Evelyn Hotel, owned and operated by the accommodating and gracious Sah family, became a home base for the Western devotees who came together to make daily visits to Kainchi for darshan of Maharajji.
The Sah's sincerely and tenderly opened up their lives and hearts to the young Westerners, treating each of them as true extensions of their own family. These weeks, completely submerged in satsang, helped reinforce and fortify what were already strong bonds between devotees. The Westerners who took place in what turned out to be an ashram-esque experience at the Evelyn Hotel in the autumn of 1971 affectionately call this pivotal time "Nainital High." As elucidated so eloquently by Parvarti Markus in her book Love Everyone, "All in all, those seven weeks of almost daily darshans with Maharajji in Kainchi were an immersion into the heart of the bhakti experience. It also forged us as a satsang, with ties that have lasted now for well over forty years. We may not see each other often, but when we do get together it's as if no time has passed at all." It is my hope that this trip does the same for all of us.
https://www.thesloppybhakti.com/single-post/2018/09/06/Kainchi-The-Evelyn-Hotel-and-Nainital-High
---